News & Entertainment Sitting With Dogs
The Surprising Reason No One Wants To Adopt Him
Sitting With Dogs
Join animal advocate Rocky Kanaka on a heartfelt and authentic journey as he visits scared and lonely shelter dogs, armed with nothing but his iPhone and a deep desire to provide comfort and hope. In this unpretentious series, Rocky quietly sits with these homeless dogs, capturing their stories and unique personalities. Through the simplicity of his approach, he aims to shed light on the challenges they face and help them find loving homes. Experience the power of genuine connection and the transformative impact it can have on both humans and animals in this sincere exploration of companionship and second chances.
Vince – The One-Eared German Shepherd Is Looking For A Home
Meet Vince, the resilient 3-year-old male German Shepherd who found himself at the Animal Friends of the Valleys shelter after being discovered as a stray. Initially, Vince had a glimmer of hope when an adoption hold was placed on him, promising a fresh start in a loving home. However, that ray of hope dimmed when the hold was unexpectedly canceled, leaving Vince's fate uncertain.
Vince's past remains shrouded in mystery, as he arrived at the shelter without even a name. It was the compassionate heart of Pet Rescue Advocate Rocky that christened him "Vince," drawing inspiration from the iconic painter Vincent Van Gogh, as Vince's journey shared a similar trait – the absence of one ear. Rocky spent time getting to know Vince in his enclosure, and what he discovered was heartwarming. Everything about Vince exuded the quintessential qualities of a lovable, loyal, and sweet German Shepherd.
An Ear-Resistible Connection: Vince and Vincent Van Gogh
With an ear as unique as his story, Vince's journey continues at the shelter, where he awaits a second chance and a forever home where his loyalty and affection can shine. His story serves as a reminder that every stray dog, no matter their past, has the potential to become a cherished member of a loving family.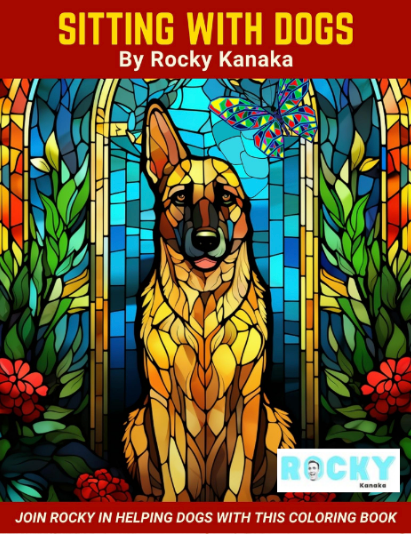 Check out my new coloring pages. Pay what you are able. Seriously, if you only have $3 pay $3. The money will be used to help Vince and dogs like Vince to find their forever homes!
Related Articles
---
Franklin Gets A Bath And A Second Chance At Happiness
Meet Franklin, a 5 1/2-year-old male Labrador Retriever mix, whose journey from a stray wandering near a freeway gas station to a beloved companion captures the heartwarming essence of rescue and transformation. The shelter named him after his chance encounter, embodying his journey from uncertainty to hope.
Rocky, a devoted pet rescue advocate, spotted Franklin in the shelter, pawing at his face in a corner, seemingly defeated. Upon closer inspection, Rocky discovered Franklin's painful eye infection, likely due to entropion. Yet, amidst the uncertainty, a glimmer of hope emerged when Mel, a compassionate groomer, offered Franklin a soothing bath. This act of kindness not only cleaned his body but also lifted his spirit.
Franklin's past may remain a mystery, but his interactions with other dogs and his remarkably well-behaved nature during grooming sessions paint a picture of his resilience and potential.
Related Articles
---
Mama Mastiff Seeks Forever Home
In a heartwarming tale of compassion and rescue, a 3-year-old Mastiff mother and her precious litter found themselves on the doorstep of an elderly woman, seeking help and refuge. The kind-hearted woman, recognizing the plight of this gentle giant and her five adorable puppies, wasted no time in bringing them to a nearby shelter, where their journey to finding loving homes began.
Puppies Will All Be Adopted Soon
The litter of five puppies, all just around 3 months old, were quick to capture the hearts of prospective adopters, with each of them already having adoption holds secured, promising them bright and hopeful futures. Their story highlights the remarkable capacity for compassion within our communities and the incredible potential for second chances in the world of animal rescue.
Mama Has No Prospects
However, as pet rescue advocate Rocky Kanaka underscores, this heartwarming narrative also shines a light on an unfortunate reality in the world of shelter animals. When litters arrive at shelters, they often enjoy rapid adoption rates, while their mothers are frequently left behind, facing an uncertain future alone. Now, Mama Mastiff finds herself in dire need of a loving and permanent home, mirroring the fate her pups are destined for.
Although not much is known about her past, Mama Mastiff embodies the characteristic calm and loyal demeanor often associated with her breed. Her story serves as a poignant reminder of the unwavering bond between humans and their four-legged companions, as well as the importance of giving these devoted animals the opportunity to find a forever home, just like her cherished puppies. Mama is available NOW for adoption!
Related Articles
---
Astro – A Rare Mix of Dalmatian and Pitbull
Meet Astro, a charming and playful 3-year-old pitmatian mixed breed residing at the Animal Friends of the Valleys animal shelter.
Astro's life has been a tumultuous one, as he was initially surrendered by his previous owner and subsequently adopted, only to be returned due to allergies within the adopter's family. This resilient Dalmatian-pitbull mix has bounced from one home to another, but his unwavering hope for a forever family never waned.
Enter Rocky Kanaka, a passionate pet rescue advocate, who decided to shine a spotlight on Astro's story through a YouTube live session, reaching over 1.5 million Facebook followers. Little did Rocky know that fate was working its magic. A family perfectly suited for Astro had tuned into the live stream and felt an immediate connection. Without hesitation, they made their way to the shelter for a meet and greet with their existing Shiba Inu dog siblings.
The meet and greet was a resounding success, sealing Astro's destiny. With tails wagging, Astro embarked on his freedom walk to a loving forever home, where he now has not just one, but two doting parents and two furry Shiba Inu companions. Astro's journey from shelter to family is a testament to the power of social media, compassion, and the unbreakable bond between humans and their canine companions.
Related Articles
---