Recipes Dog Food Nutrition & Recipes
3 Vet-Approved Pup Loaf Recipes Your Dog Will Love
If you're looking for a way to spoil your pup with homemade meals that are not only delicious but also nutritious, look no further! In this article, we'll delve into the world of pup loafs – a popular and easy-to-make dish for dogs that can be customized to suit your pup's taste preferences and dietary needs. With recipes featuring wholesome real, human-grade ingredients and step-by-step instructions, you'll be able to whip up gourmet-worthy pup loafs that will have your pup drooling with delight. So, let's get started on this culinary adventure and show your pup some culinary love with these scrumptious pup loaf recipes!
One of the most famous pup loaf recipes was created by veterinarian and pet nutrition expert, Dr. Judy Morgan. Informed by thirty-six years of clinical veterinarian experience, the formula is designed to provide complete and balanced nutrition for adult dogs.
Many variations now exist, but common proteins generally include beef, chicken, turkey, salmon, eggs, and certain seafood. Pup loaf is also supplemented with wholesome fats like coconut oil, complex carbohydrates like sweet potatoes and quinoa, and essential vitamins and minerals.
What Are the Main Benefits of Puploaf?
1. Improved Digestion
Puploaf is made with a blend of natural ingredients that are easily digestible and provide essential nutrients for your furry best friend. This helps to improve their overall digestion and reduce the risk of digestive issues.
2. Balanced Nutrition
When properly balanced, Puploaf contains all the necessary vitamins, minerals, and proteins that your dog needs to stay healthy and active. It can also be supplemented with probiotics to help to support a healthy gut microbiome.
3. Allergy Relief
Because it's made by you and in your home, you can customize your Puploaf to be free from common allergens such as wheat, corn, soy, dairy, and artificial colors or flavors. You can also feel confident not having to worry about strange preservatives or cross-contamination from allergens (if your pet has sensitivities).
4. Convenience, Customization, and Flexibility
Puploaf is easy to prepare and can be served as a complete meal or used as an extra treat or meal to break up the routine and increase nutrition. Puploaf offers you and your dog the flexibility to customize ingredients and recipes to find what works best for you both!
3 Vet-Approved Pup Loaf Recipes Your Dog Will Love
1. Dr. Judy Morgan Pup Loaf (Original)
Formulated to be straightforward and quick to prepare, Dr. Morgan's latest Pup Loaf is a spin on her classic recipe featuring easy-to-source ingredients.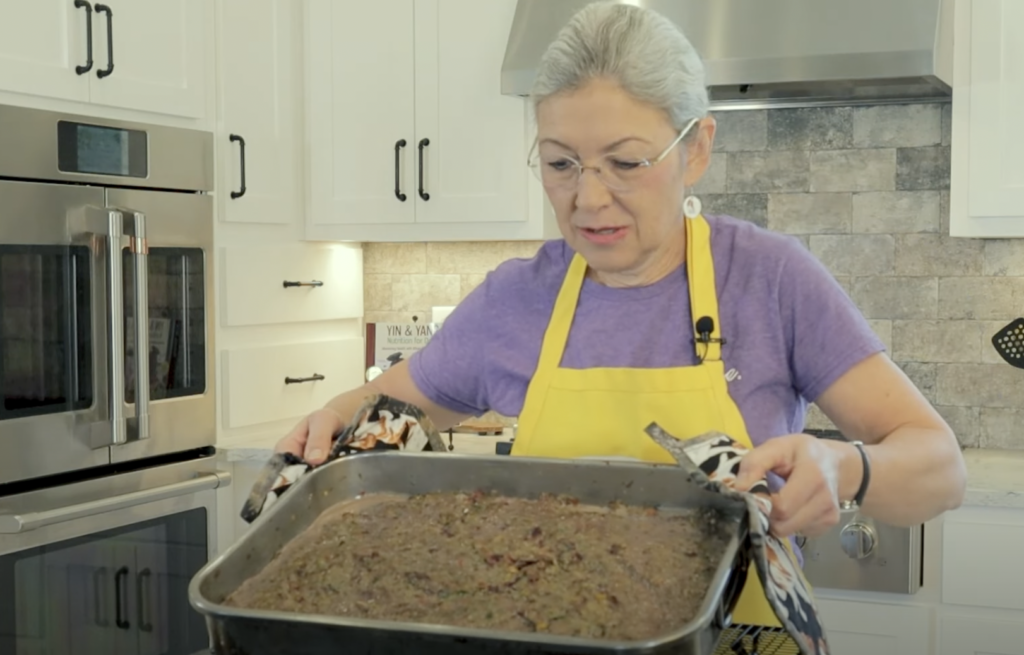 Gather the following ingredients:
3 pounds beef (90% lean)
8 ounces beef heart
5 ounces of beef liver
20 ounces chicken gizzards
3 cans of sardines in water, minus the juice
6 ounces mussels (or 3 teaspoons kelp for trace minerals)
2 teaspoons ground fresh ginger
5 eggs with shell
3 ounces red bell pepper
5 ounces mixed dark leafy greens (kale, chard, spinach)
4 ounces broccoli
6 ounces butternut squash
3 tablespoons flax seed oil
4 ounces cranberries
4 ounces Shiitake mushrooms
BONUS: 1 scoop The One
Preheat the oven to 325 degrees Fahrenheit. To prepare your Pup loaf, blend all ingredients with a blender or food processor. Bake for thirty to sixty minutes or until juicy in the center. This Pup Loaf is best served within three to five days, but extra portions can easily be labeled and frozen. Serve Dr. Judy Morgan pup loaf recipe warmed up to room temperature.
Note: If your dog is allergic to particular meats such as beef or chicken, turkey is a wonderful substitute in this recipe.
2. 4-Ingredient PupLoaf (Simple)
Running low on time or having trouble sourcing fancy indigents? No problem! This vet-approved, simplified version is by Clayton Veterinary Associates LLC. and Churchtown Veterinary Associates LLC. features just four ingredients and its base are easily substituted with The One or another trusted supplement. Enjoy all of the convenience of the original Dr. Judy pup loaf recipe with this quick, modified twist on it.
Gather the following ingredients:
1 pound ground beef (85% lean or higher)
1 pound ground turkey
2 eggs
Preheat your oven to 350 degrees Fahrenheit and mix the ground beef and ground turkey together in a large bowl. Crack two eggs into the meat mixture and continue mixing until homogenized. Add The One into the meat and egg mixture, stir, and pour into one or two lightly greased loaf pans (olive oil is best). Bake for forty-five minutes to an hour, then remove and let cool before slicing. The loaf is best served warm and should be stored in the refrigerator or freezer until feeding.
Notes:
The recommended serving size is 4 ounces per 10 pounds of body weight twice daily.
This recipe can also be supplemented with probiotics and digestive enzymes at your pet's mealtime if desired.
3. Raw Grain-Free Pup Loaf
Created by Walkerville Vet, the recipe is designed for pet owners who want to be more discerning about what their dog is eating, either due to allergies or intolerances or simply out of a desire for a more natural, preservative-free meal option.
Make sure you have:
250g chopped beef or lamb, raw
1 cup chopped carrots, raw
1 cup chopped apple, raw
¼ cup frozen peas, defrosted
1½ cups chopped pumpkin or squash
⅔ cup brown or basmati rice (will cook to 3 cups)
4 teaspoons sunflower oil
4g fish oil
Start by cooking your rice and pumpkin together, heating until soft. Let cool, then mix in your raw ingredients. No need for further baking. This puploaf can be refrigerated for up to three days and leftovers can be safely frozen for up to two weeks.
FAQs
Here are some of the most frequently asked questions regarding puploaf and dog nutrition:
What are the benefits of feeding my dog a homemade puploaf instead of commercial dog food?
Peace of mind: When you make a homemade pup loaf, you control exactly what your pup is consuming. This allows you to avoid any potential allergens or unhealthy ingredients that may be present in commercial dog food. 
Holistic nutrition: Homemade pup loaves are typically more nutrient-dense than commercial dog foods because they are made with fresh, whole ingredients. This means that your pup will get more vitamins and minerals from the homemade meal than from processed kibble or canned food. 
Increased savings: Making homemade pup loaves is often cheaper than buying commercial dog food, especially if you use leftovers or buy in bulk. This means that feeding your pup a homemade meal can save you money in the long run! 
Variety: Homemade meals provide variety for your pup's diet which helps to keep them interested and excited about their meals!
How often can I feed my dog puploaf?
If you're wondering how much pup loaf to feed, the answer is quite simple: it depends. Each dog's nutritional needs vary according to their age, breed, allergies and intolerances, and other vet recommendations. Speaking with your pet's veterinarian is always the best way to understand your dog's unique food needs. However, you can calculate approximately how much pup loaf per pound of weight your dogs needs thanks to this handy chart from Dr. Morgan!
Are there any dietary restrictions for these puploaf recipes?
All of the ingredients used in puploaf recipes are completely safe for dogs to eat. However, if your dog has any food allergies or sensitivities, it's always best to consult with your veterinarian before using any of these recipes. Speaking with them can help ensure all of your dog's nutritional needs are being met.
Can I substitute some ingredients in the recipes if my dog is allergic to certain ingredients?
You're in luck! Most proteins like beef and chicken are easily substituted for one another, ensuring you can easily swap out ingredients for ones that work for your dog's individual needs. For example, if your dog is allergic or sensitive to beef, try subbing with turkey or chicken.
Can I make a larger batch of puploaf and freeze it for future meals?
Absolutely! Simply label and freeze unused portions, then gently warm them up to room temperature for a quick and wholesome meal.
How do I store leftover puploaf?
Puploaf is best used within three to five days after being made and can be safely stored in the fridge during this timeframe. Extra portions can be frozen and are best used within two weeks.
Are there any precautions I need to take while handling raw meat when making puploaf?
Yes; when making any kind of pup loaf, it is crucial to follow all food-safety practices regarding handling and consuming raw meat. When making raw puploaf, remember:
-Always wash your hands before and after handling raw meat. 
-Make sure to use separate cutting boards and utensils for the meat and other ingredients. 
-Cook the meat thoroughly before adding it to the pup loaf mixture (unless making the raw recipe — see instructions).
-Refrigerate or freeze any leftover cooked pup loaf immediately after preparation. Don't forget to appropriately label and package the extra portions as well!
Can I add supplements or vitamins to these recipes to make them more nutritious?
Yes, adding supplements or vitamins to a pup loaf recipe is an excellent way to make them more nutritious. We recommend Front of the Pack's The One. This formula is specially designed to ensure your dog is getting everything he or she needs for a long and happy life with you!
It's key to remember speaking with your veterinarian should not be neglected. Schedule an appointment or call your veterinarian before adding any supplements or vitamins to your pup's diet. They may even be able to recommend specific ones for your dog's health and lifestyle!
How do I know if my dog is getting all the necessary nutrients from the puploaf recipes?
I know it would be prudent of me to say to check with your veterinarian. However, if we're being honest some vets just aren't up to date on nutrition and may try to sell you Science Diet, which isn't the best thing for your dog (but may be the best thing for their wallet.)
The good news is that you can figure out if the meal is balanced all by yourself, and without spending a cent at the vet.
There's a  handy online tool that figures out if the meal is balanced. It's called BalanceIt. You basically enter the ingredients and this nifty calculator will tell you if you need more or less of a particular ingredient.
Another thing I always recommend is adding a supplement to your dog's food, no matter what you feed them, so you have peace of mind they are getting the nutrition they need. The one I use is called "The One" – it has all of the nutrients your dog needs and it comes in a powder so you can mix it right in. Learn more about the One.
Can I make adjustments to the recipes to accommodate for my dog's age or weight?
Adjustments vary from recipe to recipe, but there are a few general guidelines for adjusting ingredients and portions. For a senior or overweight pup, you may consider reducing the amount of fat in the recipe. Another option is to substitute some of the meat for lower-fat proteins like fish or eggs. Try swapping carbohydrate sources with more vegetables to make your dish leaner. If your pup has any allergies or sensitivities, be sure to adjust the ingredients with safe and nutritious substitutes.
What is a pup loaf?
A pup loaf is a homemade dish for dogs that resembles a meatloaf or a loaf of bread, typically made with ingredients that are safe and nutritious for dogs. It usually consists of a protein source, such as ground meat or poultry, combined with healthy grains, vegetables, and other dog-friendly ingredients, all baked together into a loaf shape.
Can I make pup loafs for dogs with dietary restrictions or allergies?
Yes! One of the great things about making your own pup loafs is that you have full control over the ingredients, making it easy to accommodate dietary restrictions or allergies. You can choose alternative protein sources or substitute grains or vegetables depending on your dog's needs. Just be sure to consult with your veterinarian if your dog has specific dietary requirements or health concerns.
Are pup loaf recipes difficult to make?
Not at all! Pup loaf recipes are typically simple and straightforward, with easy-to-follow instructions. Most recipes require basic cooking skills and common kitchen tools. The key is to ensure that the ingredients are safe and appropriate for dogs, and to follow the recipe carefully to ensure the right proportions and cooking times for a properly cooked and tasty pup loaf.
Can I customize pup loaf recipes to suit my dog's taste preferences?
Absolutely! One of the fun parts of making pup loafs is that you can experiment with different ingredients and flavors to suit your dog's preferences. You can try different types of meat, grains, and vegetables, and adjust the seasonings to tailor the pup loaf to your dog's liking. Just be mindful of any ingredients that may be harmful or toxic to dogs, and avoid using them in your pup loaf recipes.
What is the best food for your dog?
The three foods that are super healthy and that almost every dog loves, even the pickiest dogs, are:
1. The Farmer's Dog.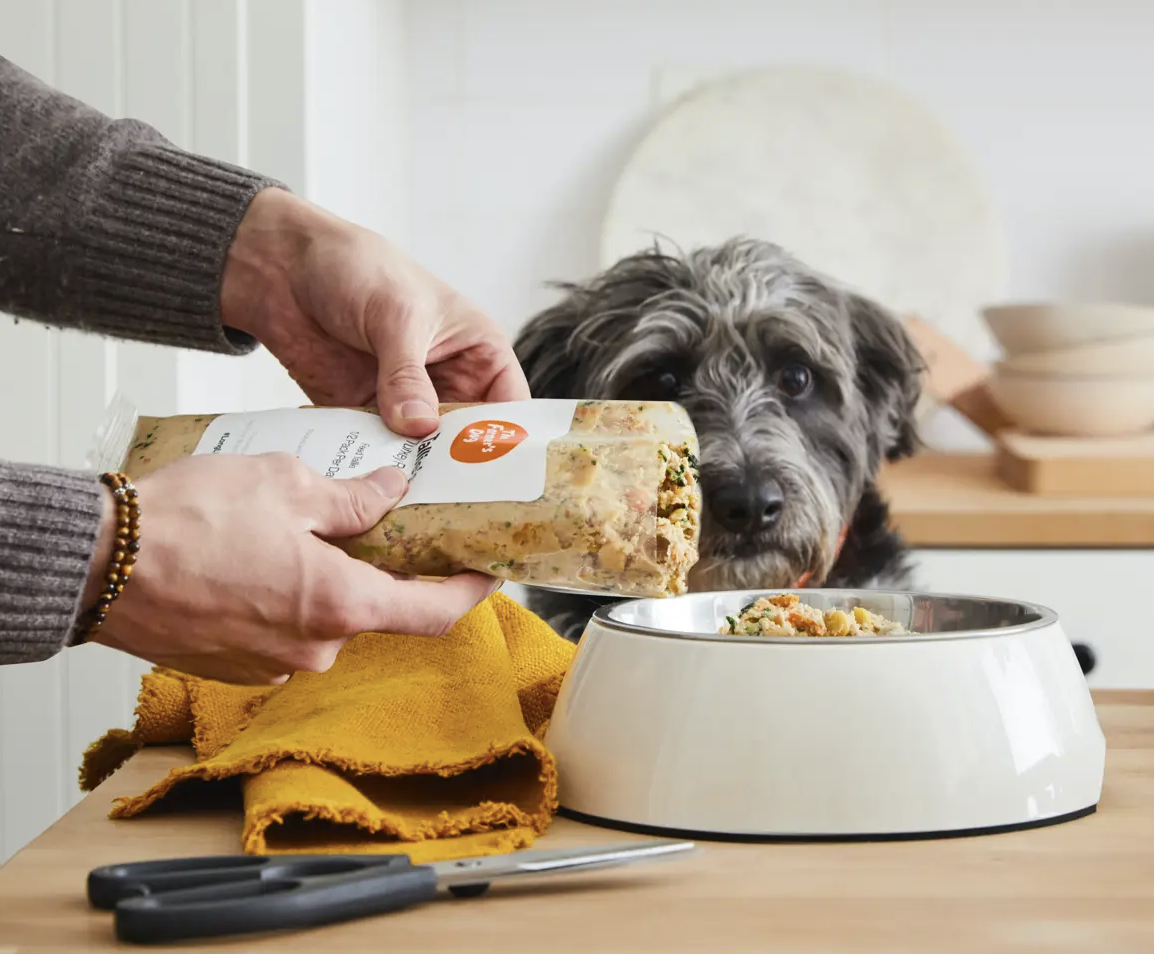 This is a fresh-frozen food that's delivered to your home in just the right amounts for your dog. There are a number of fresh frozen dog foods available on the market and I tested them all. The Farmer's Dog came up the winner with my picky dogs. You can see the fresh frozen food test here.

Save 60% on your first order
—
2. Sundays Food For Dogs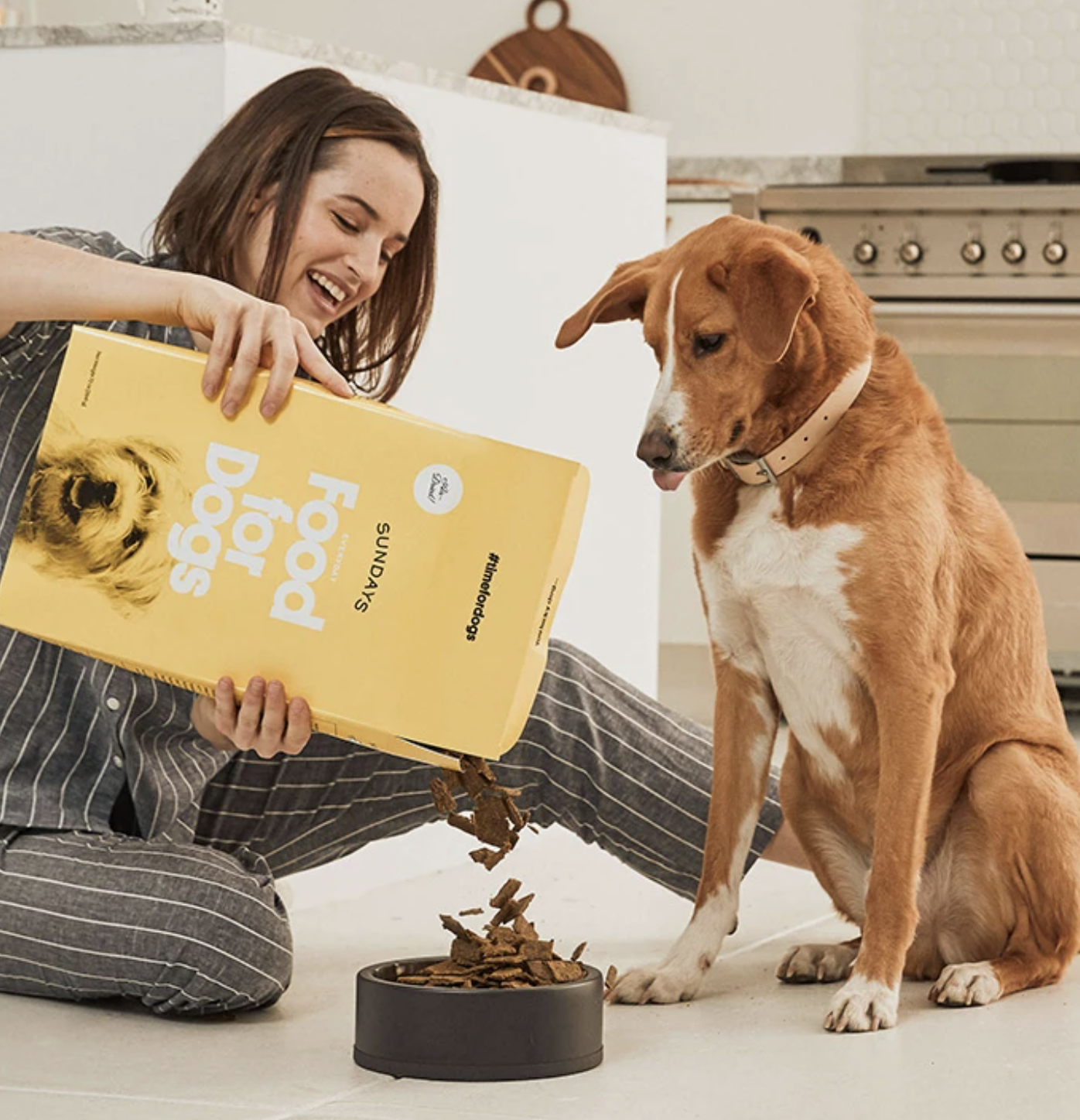 This is an air-dried food. It has the convenience of kibble (just pour it in the bow) but is much much healthier. It's like little pieces of jerky, so dogs go crazy for it. There are a number of air-dried foods on the market. My dogs tested 3 of them. You can see the results of the air-dried food test here.

Get 35% off your first order + free shipping w/ code ROCKY35

3. We Feed Raw.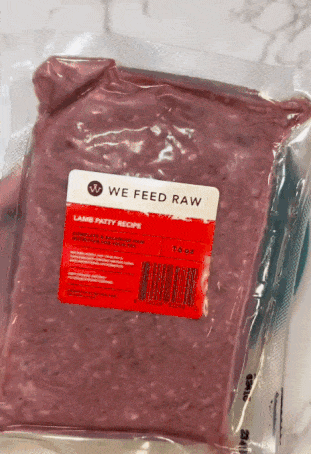 This raw food for dogs comes delivered to your home is perfectly sized portions for your pup. They primarily source their ingredients from trusted U.S. farmers, with two exceptions: venison and lamb. These ingredients are sourced from New Zealand, where some of the highest-quality and most ethically raised venison and lamb can be found. Pasture-raised and grass-fed and finished, we highly recommend trying these formulas if you're interested in the best-quality ingredients. Save 25% on your first order.

Supplements: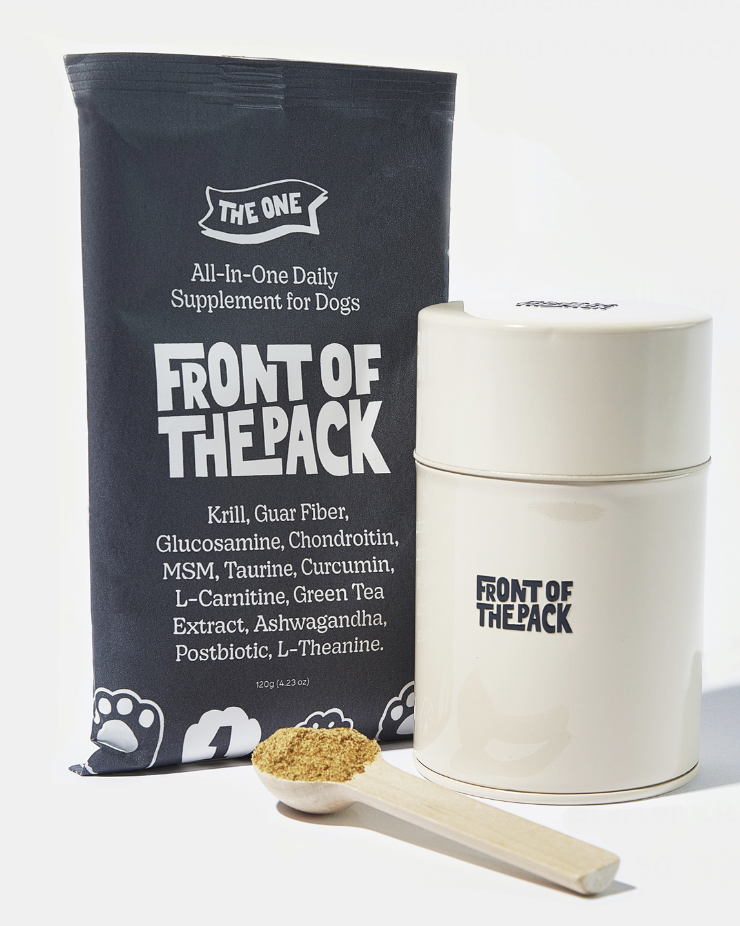 I highly recommend using a supplement on your dog's food, not matter what you feed them, to ensure the meal is balanced and they are getting all the right supplements to help them stay healthy. The supplement I use is called The One from Front of the Pack. It has 12 ingredients that have been clinically-proven to keep your dog's joints, skin, heart, digestion, and even their breath in tip-top shape. It's also a powder, so easy to sprinkle on your dog's food. For a limited time, when you buy one month you get a second month free.

---
Related Articles: