Salmon Dog Food Recipes You Can Make at Home
Have you ever fed your dog fish? Lots of people haven't! While many people know that cats love fish, and there are many commercial cat foods that prominently feature fish, dogs love fish, too! And while most types of fish are tasty to dogs and healthy for dogs, one fish, in particular, stands out in the crowd.
Today, we're going to talk about why you should feed your dog salmon and share some homemade salmon dog food recipes that are sure to be a big hit with your dog!
Why Should You Feed Your Dog Homemade Food with Salmon?
Salmon is a delicious, nutritious food for dogs and humans alike. It's a nutritional powerhouse that contains all the essential amino acids that the body needs to build and repair muscles, tissues, and organs. It's packed with heart-healthy omega-3 fatty acids. These good-for-you fats have been shown to reduce inflammation and improve heart and brain function. And that's not all salmon has in it!
Let's take a look at the top nutrients in salmon and what they can do for your dog.
| | |
| --- | --- |
| Nutrient in Salmon | Function For Your Dog |
| Protein | Essential for growth, repair, and maintenance of tissues |
| Fat | Source of energy, helps with absorption of fat-soluble vitamins, supports skin and coat health |
| Omega-3 Fatty Acids | Supports immune function and skin and coat health reduces inflammation |
| Vitamin B12 | Involved in the production of red blood cells, nerve function, and DNA synthesis; maintains the health of the intestinal lining and promotes proper nutrient absorption |
| Vitamin B6 | Involved in a variety of metabolic processes and neurotransmitter production, regulates the immune system and hemoglobin production |
| Selenium | Important for immune function, antioxidant, supports thyroid function |
| Niacin (Vitamin B3) | Energy production, supports the metabolism and nervous system function |
| Thiamine (Vitamin B1) | Energy production and nervous system function |
| Phosphorus | Supports a healthy skeleton and teeth, helps regulate kidney function |
| Pantothenic Acid (Vitamin B5) | Supports the metabolism, energy production, and the synthesis of important compounds for neurotransmitters and metabolic pathways |
So, why should you feed your dog salmon? Salmon is an amazing protein to feed your dog. In addition to its incredible nutrition, salmon is also a protein that few dogs have allergies to. This is a vital consideration when choosing dog food because food allergies are one of the top health concerns that dogs have. One of the easiest ways to deal with food allergies is simply to avoid the allergen. But when dogs have a protein allergy, it can be really difficult. Fortunately for these dogs, novel proteins, or proteins not commonly found in dog food, can be fed.
How To Prepare Homemade Dog Food with Salmon
If you want to feed your dog salmon, you're in good company. Lots of the most nutritious dog food brands include salmon as an ingredient, and the AKC recommends salmon as a food for dogs. However, you shouldn't just feed your dog a raw salmon filet.
There are two main reasons you need to prepare your dog's salmon. First, salmon bones are brittle and sharp, and could easily become lodged in your dog's stomach or intestines, causing them pain and distress. They could even choke a small dog!
Second, raw salmon can contain Neorickettsia helminthoeca, a parasite that can cause a disease called salmon poisoning. This disease is treatable, but only if it's caught in time. To avoid any risk of it, just make sure that your dog's salmon is cooked.
If you want to feed your dog salmon, feed them cooked, boneless salmon or canned salmon that has been packed in water. Salmon packed in oil might be too fatty and lead to diarrhea or an upset stomach– but salmon packed in water is just fine for dogs.
Top Recipes for Homemade Salmon Dog Food
Ready to start cooking salmon dog food recipes like a pro? These recipes are a great place to start your journey into cooking homemade dog food. Salmon recipes for dogs are a healthy way to get more variety into their diet and increase the nutrition they're getting.
1. Basic Salmon & Broccoli Dog Food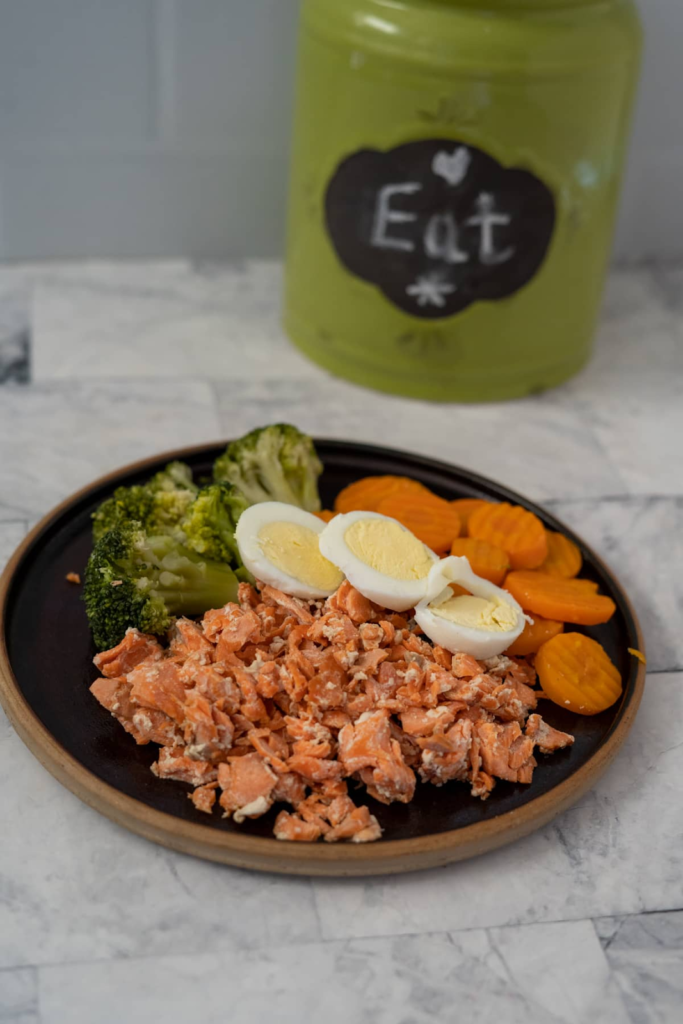 A delicious plate of steamed veggies with salmon and a hard-boiled egg? Who is this meal for, you or the dog? Actually, it could be for both of you! This meal is totally "people food" that's perfectly healthy for dogs! It's grain free and full of the nutrition your dog needs to be happy and healthy. Carrots and broccoli provide fiber, while eggs and salmon provide a ton of protein and heart-healthy fats. This low-carb meal is perfect for sharing because it's just as delicious as it is nutritious.
Ingredients:
1 filet salmon
1 teaspoon coconut oil or olive oil
½ cup broccoli florets
1 medium carrot
1 large hard-boiled egg
Instructions:
Steam the broccoli for 8-10 minutes until soft.
Peel and chop or slice the carrot. Steam for 10 minutes until soft.
In a medium pan or skillet, heat the oil on medium heat.
Cook the salmon skin side down for 5 minutes, then turn over and cook for a further 4 minutes.
Remove the salmon from the pan. Use a fork to remove the skin and flake the salmon, removing any pin bones you find as you go. The skin can be served with the dish or set aside for a treat.
Peel the hardboiled egg and slice.
Assemble the cooked ingredients on a dish and top it with the sliced egg.
Let cool and serve.
Important Notes:
This makes one portion for a human or a medium to large dog. Smaller dogs should have a smaller portion. You can store this dog food recipe with salmon in the fridge for a couple of days.
---
2. Canned Salmon Loaf Recipe for Dogs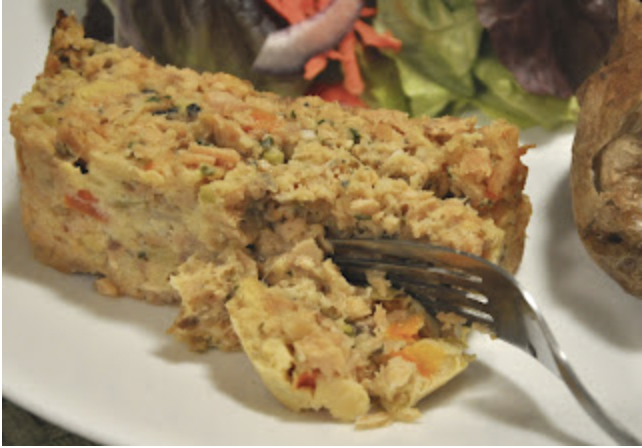 Salmon loaf is a classic American comfort food, and this version is full of wholesome ingredients that will nourish and support your dog. This recipe is particularly good for senior dogs who need extra protein or dogs who prefer a softer diet because its texture is so easy to chew. This recipe also has a calcium boost from cottage cheese, but you can omit this if your dog has a dairy allergy.
Ingredients:
1 16-ounce (450g) can of salmon
1 cup plain breadcrumbs
1 egg
1 carrot
1 stick celery
½ teaspoon finely chopped parsley
1 tablespoon cottage cheese
Instructions:
Preheat your oven to 350ºF.
In a medium-sized mixing bowl, combine the salmon, egg, cottage cheese, and breadcrumbs well with a fork. Be sure to break up all the salmon pieces and remove any bones you find.
Dice the carrot, parsley, and celery finely and add these to the mix. If the mixture is too moist, add some more breadcrumbs. The mixture should have the consistency of ground meat; it should stick together without being too loose.
Place the mixture in a small loaf pan and bake for 30-40 minutes.
When the loaf is cooked through and a skewer or knife inserted into the middle comes out clean, remove it and leave it to cool.
Slice into sections to serve.
Important Notes:
Store any unused portions in an airtight container in the fridge for up to 2 days, or in the freezer for up to 2 weeks. This recipe can be easily modified depending on your dog's dietary needs. For example, you could substitute cottage cheese with a tablespoon of pumpkin purée if your dog needs additional fiber in their diet. You could also add additional vegetables if you wanted to get more of those in your dog's diet.
---
3. Salmon Dog Food with Spinach & Pumpkin
This salmon and rice dog food recipe has lots of fiber, so it's great for dogs who need digestive support or have sensitive stomachs. It features pumpkin as an ingredient. Pumpkin is packed with fiber, and it has a ton of vitamins A, E, and C, as well as potassium and iron. Spinach is another great source of iron for your dog, and rice provides a source of energy, as well as additional dietary fiber. All said this recipe will be great for your dog's digestive system… and all of their other systems!
Ingredients:
3 pounds boneless salmon filets, skin on or off
1 cup brown rice
1 cup frozen peas
½ cup plain pumpkin purée (make sure you use pure pumpkin, not pumpkin pie filling, which has sugar added!)
2 cups frozen spinach, thawed
Instructions:
Preheat the oven to 375ºF.
Place the salmon on a parchment-lined baking tray and bake for 20-25 minutes or until flaky.
While the salmon is baking, cook the brown rice. Place the rice and 2 cups of water in a small saucepan and bring to a boil. Cover, turn the heat to low, and let simmer for 25 minutes or until tender.
Halfway through cooking the rice, add the frozen peas. Drain once the rice and peas are cooked.
Remove the cooked salmon from the oven. Remove the skin if present. Flake the salmon with a fork and remove any pin bones you come across.
In a large bowl, add the salmon, rice, and pea mixture, spinach, and pumpkin purée.
Mix well and serve when cool.
Important Notes:
A serving of this food is one cup for a medium dog. Large dogs will need more, and small dogs will need less. This recipe makes eight one-cup servings.
You can use fresh spinach if you want, but be aware: fresh spinach shrinks a lot as it cooks because of the water that cooks out. A pound of fresh spinach is about equivalent to 1.25 cups of frozen spinach.
You can store this food in the fridge for three to four days, or separate it into portions and freeze.
---
4. A Meal for You and Your Dog
Are you looking for a healthy and easy recipe to feed both you and your furry friend on-the-go? Look no further! This recipe is not only eco-friendly, but it also uses parts of the broccoli that we would usually toss out, making it an excellent way to minimize waste. Plus, it includes a bonus tip on how to turn salmon skin into a crunchy and nutritious treat for your dog!
Cooking for your dog means you get to be mindful of what you both eat, and it's a great way to spend some quality time with your family, whether they have two or four legs. We give this recipe four paws up! (watch the video at the top to see a step by step demonstration)
Ingredients:
2 tablespoons olive oil
2 salmon portions SKIN ON (1 oz per 10 pounds of dog plus any amount you would like
1 squash
1 head of broccoli (with stem)
3 potatoes (any kind)2 carrots
Directions: (For Dog's Meal)
Cut broccoli stem, peel carrots and cut squash. Keep the peelings as this is for your dog. Mix together and steam in rice cooker or bake in oven. Check out Rocky's favorite rice cooker.
Air fry potato shavings after pouring in 1 table spoon olive oil in air fryer (or place in oven.
Pan fry salmon in 1 table spoon olive oil with skin on. Start with skin side down on the pan at a medium temp. After flipping, pull off crisp salmon skin off both pieces of salmon and place in dog bowl.
Once everything is finished cooking mix all together in dog bowl. Chop to small bitesize for ease and a cleaner floor!
Balance the meal by sprinkling on a supplement. My favorite supplement for dogs contains 12 clinically-proven ingredients.
WARNING: Your dog will be very excited about this meal but it MUST COOL. Let it cool for 15-20 minutes.
Directions: (For The Human Meal)
Cut broccoli, carrots, squash and steam in rice cooker (or bake in oven. Rocky's favorite rice cooker)
Slice potato chips with a slicer. If you only have a knife, make french fries instead. Trying to cut thin potato chips by hand is not easy.
Air fry potato chips after pouring in 1 table spoon of olive oil in air fryer (or place in oven). Check out the air fryer that Rocky LOVES.
Pan fry salmon in 1 table spoon olive oil with skin on. Start with skin side down on the pan at a medium temp. After flipping pull off crisp salmon skin off both pieces of salmon and place in dog bowl.
BONUS: Watch Rocky Kanaka's video (at the top of this page) to see a pro tip on what to do with Salmon skin that is usually discarded. Your dog will thank you!
—
ALTERNATIVE
If you don't have time to cook for your dog but want to feed salmon, I highly recommend the Salmon & Cod food from Spot & Tango
Or put some wild Alaskan salmon oil onto your dog's current food. This is easy, inexpensive while still getting some fishy goodness into your dog.
Add Nutritional Supplements
If you make your pup's meals from a simple homemade dog food recipe, they may need nutritional supplements to make sure they're getting the right amount of micronutrients, vitamins, and minerals. If that's the case, there are some great supplements out there that will boost your furry friend's health and keep them feeling their best.
Made with a blend of 12 clinically-proven ingredients, it targets your dog's physical and cognitive health. Formulated by expert vet nutritionists, it offers eight essential benefits including support for resilient joints, heart health, mental sharpness, digestion and immunity, mental sharpness, anxiety and fresh breath.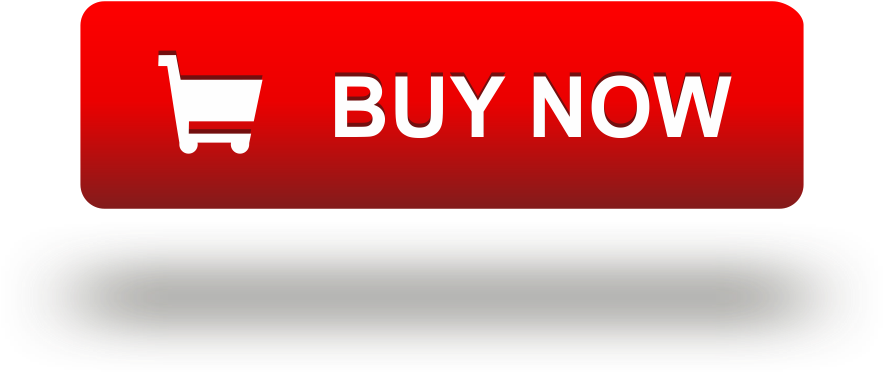 ---
---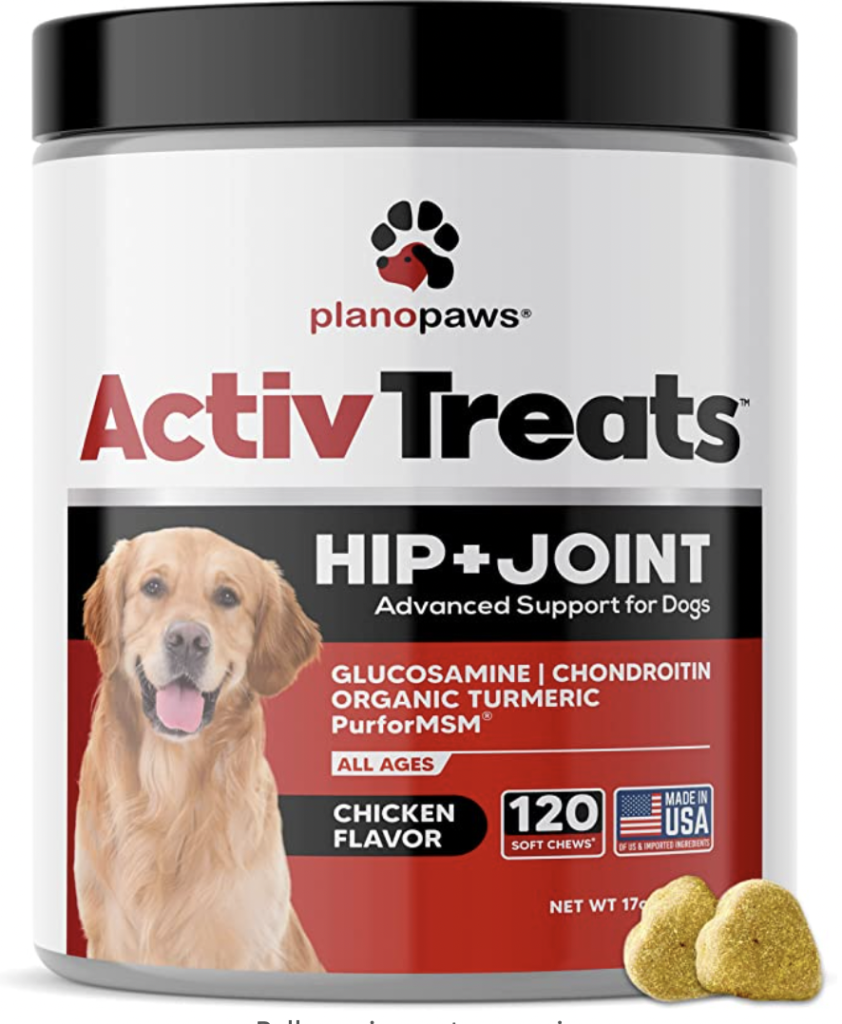 ---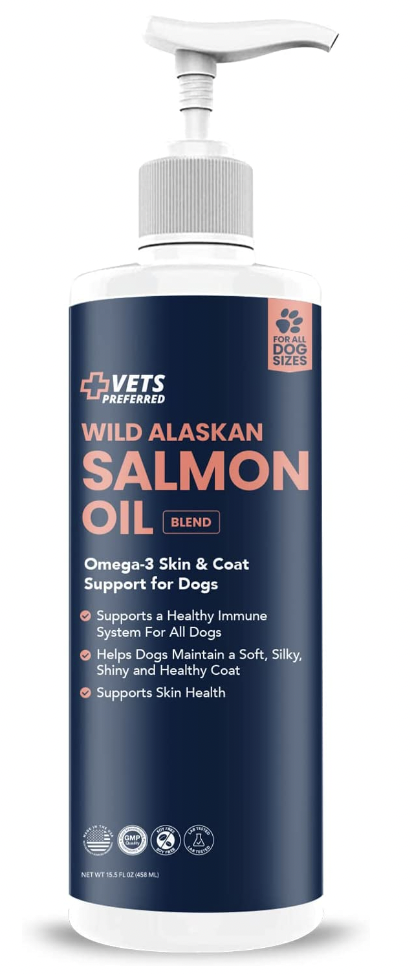 ---
---
Best Store-Bought Salmon Dog Food
Commercial dog food recipes sometimes use salmon, too! These salmon recipes are a great way to get this heart-healthy fish into your dog's diet without having to take extra time to cook.
If you don't have time to cook for your dog but want to feed salmon, I highly recommend the Salmon & Cod food from Spot & Tango
It's 100% fresh, whole ingredients. More convenient than fresh-frozen. 40% less expensive and much healthier than kibble.
2 Taste of the Wild Pacific Stream Smoke-Flavored Salmon Recipe
Taste of the Wild dog food uses roasted meat and fruits, veggies, and legumes chosen for their dog-friendly nutrition. Pet parents like it because it has probiotics for immune and digestion support, and dogs like it because it's delicious. Many of the reviews from pet owners mention that picky dogs enjoy this flavor and that it has helped their dogs with their skin allergies.
| | |
| --- | --- |
| First 5 Ingredients | Salmon, Ocean Fish Meal, Sweet Potatoes, Peas, Pea Flour |
| Guaranteed Analysis (crude) | 25% Protein — 15% Fat — 4% Fiber — 10% Moisture |
| Food Type | Kibble |
---
3. Zignature Limited Ingredient Canned Salmon Formula
This canned food has all the goodness of salmon with added fiber-rich legumes and veggies that are low on the glycemic index. This food is made with one protein source and only a handful of other ingredients, creating a clean recipe that is great for pups with special nutritional needs or allergies.
| | |
| --- | --- |
| First 5 Ingredients | Salmon, Fish Broth, Salmon Meal, Peas, Chickpeas |
| Guaranteed Analysis (crude) | 10.5% Protein — 6.5% Fat — 1.5% Fiber — 78% Moisture |
| Food Type | Canned, wet |
---
Homemade Salmon Dog Food FAQ
Are you curious about how to add salmon to your dog's diet? Curious about making it yourself? Here are some of the questions that pet parents just like you have.
Can I add salmon to my dog's food?
Yes! If you don't want to feed a salmon recipe, you can easily add a little bit of canned salmon or cooked salmon to your dog's food as a topper. 
How much salmon can I give my dog?
This varies by how big your dog is! A good estimation would be 100 grams of salmon for every 10 pounds of your dog's weight. If you're making homemade meals for your dog, you should talk to your vet and use a calorie calculator to figure out how much food your dog should be eating.
Is salmon better than chicken for dogs? 
"Better" is a relative term. Chicken is leaner than salmon, but salmon is less likely to be an allergen and has more omega-3s than chicken does. Talk to your veterinarian about your dog's specific needs to know if salmon or chicken is better for your dog.
---
Related Articles: