Recipes Dog Food Nutrition & Recipes
4 Vet-Approved Homemade Dog Food Recipes
If you want to feed your dog a homemade diet, the safest way to do so is to look for vet-approved dog food recipes. These recipes are nutritionally balanced and will keep your dog healthy.
What is "Vet-Approved" Homemade Dog Food?
Vet-approved homemade dog food is homemade dog food made with recipes created by or created in consultation with a board-certified veterinary nutritionist. This is a veterinarian who has specialized in animal nutrition and is an expert in feeding both healthy and sick animals. When these veterinary nutritionists approve a dog food recipe, they are saying that it will provide a dog with a balanced diet.
Why Should You Feed Your Dog a Homemade Diet?
There are lots of reasons to feed your dog a homemade diet. Some dogs need a homemade diet because they have medical issues, like major food allergies, that are too hard to meet with commercial dog food. Older dogs may also thrive on homemade dog food diet because these diets tend to be softer and more appealing than commercially produced food. Some pet parents prefer to have a higher level of control over their dog's nutritional intake and prefer knowing exactly what's in their pup's food. 
Important Things To Consider When Feeding Dogs Homemade Food
The biggest, most important consideration when feeding your pup a homemade diet is nutritional balance. According to the Association of American Feed Control Officials, or AFFCO, standards, a healthy canine diet for an adult dog should include:
At least 18% protein, such as chicken, turkey, fish, lean beef
Up to 50% carbohydrates, such as brown rice, or sweet potatoes (also provides some fiber, and are appropraite for a grain-free diet). Other grains (like quinoa) and oats are also common sources of carbohydrates for dogs.
About 2.5-4.5% fiber, which can come from vegetables like peas, green beans, and carrots
At least 5% fat, usually in the form of olive oil, fish oil, or another heart-healthy oil
Dog-specific vitamin and mineral supplements that contain all the micronutrients your dog needs, like The One by Front of the Pack
It is important to point out that while your dog needs at least 18% protein and 5% fat in their diet, these are not maximums. They are minimums, so recipes that have more fat and protein are ok. One major dog food study has shown that dogs fed a higher protein, lower carbohydrate diet have better digestive health and are able to better absorb nutrients from this type of diet. Talk to your vet about your dog's nutritional needs, and don't be afraid to make changes or experiment with your dog's home-cooked meals!
Tips for Preparing Homemade Food for Dogs
Are you ready to be your dog's personal chef? Here are some tips for getting started with making homemade dog food, vet approved, your kitchen!
Keep everything as clean as possible. Consider having a dedicated food processor or blender that you only use for your dog's food.
Be careful with the cooking methods and utensils you use.
Choose balanced ingredients– and don't try to create balance by using too many recipes. Every meal should be balanced.
Avoid ingredients that are unsafe for dogs.
Follow the recipe– don't make unapproved substitutions.
Don't forget to scale portions for your dog's body weight and activity level.
1. Generic Homemade Dog Food Recipe for 15 lbs Dog from MSPCA-Angell
This homemade dog food recipe from MSPCA-Angell is a basic recipe that was originally designed during a wave of pet food recalls. This recipe for homemade dog food (vet approved) is easy to make and well-balanced, and the serving size can easily be scaled up or down depending on how big your dog is. 
Ingredients
Protein source: Cooked dark meat chicken, 80 grams
Carbohydrate source: Cooked white rice, 190 grams
Fiber source: Mixed vegetables, 15 grams
Fat source: Vegetable oil, 5 to 10 grams
Nutritional supplement: The One, 1 scoop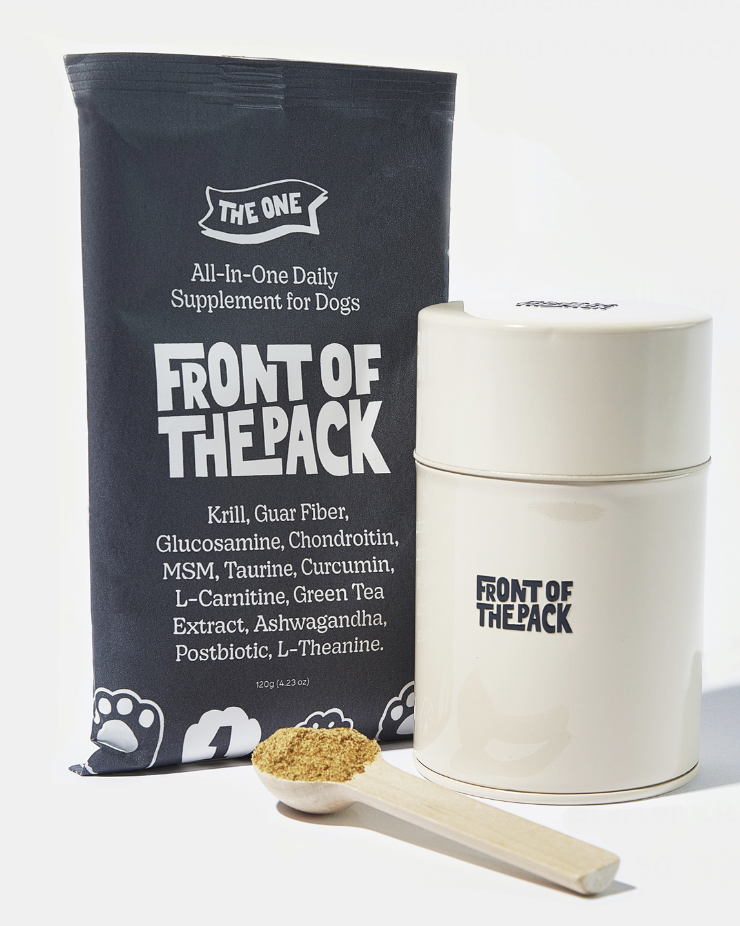 Directions
Cook your chicken and rice, then measure out each ingredient by weight.
Mix all ingredients, including the nutritional supplement.
Serve.
Important Notes
This vet approved homemade dog food recipe includes several safe substitutions; the important thing is to keep the quantities the same. Here are the vet-approved substitutions for each of the ingredients:
Protein: Beef, pork, lamb, turkey, eggs
Carbohydrates: Brown rice, sweet potato, pasta, oatmeal, barley, corn, peas
Fat source: Olive oil, coconut oil, corn oil
---
2. Cooked Food Recipe for a 20 lbs Dog from Northwest Holistic Pet Care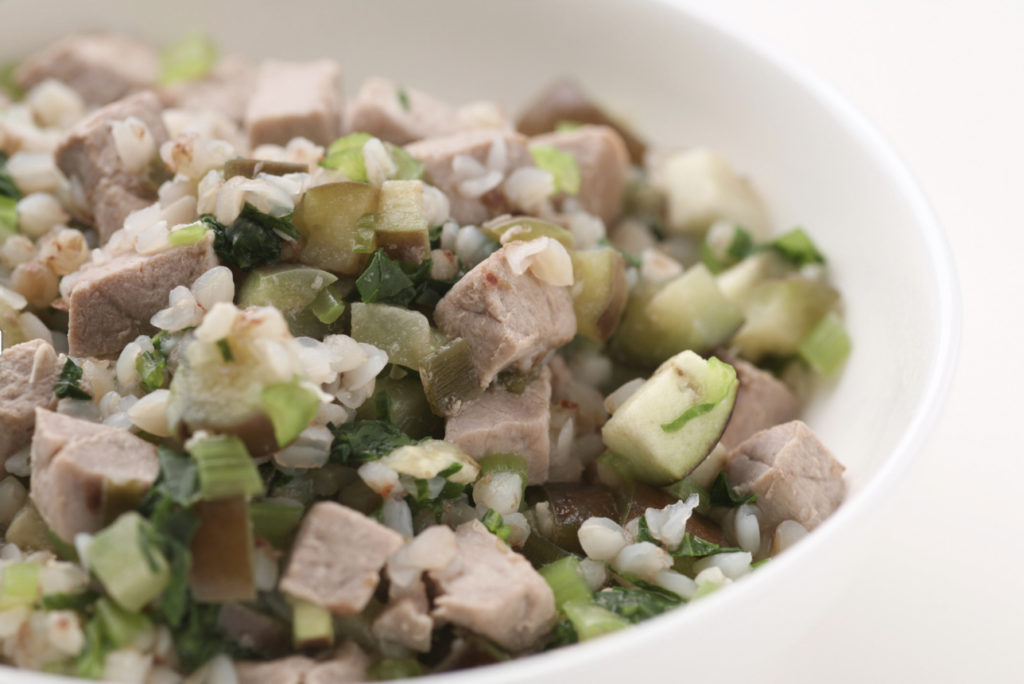 This cooked food recipe for a 20-pound dog comes from Northwest Holistic Pet Care and includes calcium citrate as a calcium source. If you don't have this ingredient, it can be substituted for eggshell powder.
Ingredients
8 ounces ground boneless organic turkey thigh
2 tbsp ground organic turkey organ meat (liver, gizzards, hearts)
¼ c finely grated organic veggies
1 tsp ground raw sunflower seeds
½ tsp organic coconut oil
½ tsp salmon oil
500 mg Calcium Citrate (must include this!)
1 scoop of The One nutritional supplement
Directions
Blanch veggies and set aside.
Gently cook the (boneless) ground turkey thigh and organ meat at a medium-low temperature.
Remove from burner when most of the meat has turned white, but some remains pinkish.
Place blanched veggies in a food processor or clean coffee grinder and pulse until finely grated in appearance.
Mix all ingredients together and serve after making sure the mixture has cooled down enough to eat.
Important Notes
This recipe scales easily depending on the size of your dog.
10 lb. Dog: Above amounts divided by 2
40 lb. Dog: Above amounts x 2
60 lb. Dog: Above amounts x 3
80 lb. Dog: Above amounts x 4
---
3. Founders Veterinary Clinic Basic Homemade Dog Food Recipe
This homemade dog food recipe, from the Founders Veterinary Clinic, provides basic guidelines with a number of substitutions that you can make. This recipe is based on a 20-pound dog, so you can change the quantities or amount fed depending on how big your dog is. If your dog is 10 pounds, feed half. If your dog is 40 pounds, make a double batch. 
Ingredients
¼ pound of skinless chicken or other meat (see substitution list below)
1 cup cooked brown rice
½ to 1 cup peas & carrots
¼ tsp salt substitute (potassium chloride)
1 tablespoon vegetable oil
250 mg calcium citrate or eggshell powder
1 scoop of The One daily nutritional supplement
Directions
Cook your chicken and set aside.
Cook your veggies- you can steam, blanch, or boil them.
Optional: Once your veggies have cooled, you can put them in a food processor and pulse until they look grated. This can help with nutrient absorption.
Add all ingredients to a large bowl and mix until combined.
Serve to your dog. This recipe makes one day's worth of food for a 20-pound dog.
Important Notes
Here are the substitutions that can be made to this recipe!
Protein source: Skinless chicken, boneless fish, lean ground turkey, lean ground beef, lamb, cooked eggs (3-4 eggs), low-fat cottage cheese (½ to ¾ cup)
Carbohydrate source: Brown rice, potatoes, yams, sweet potatoes, pasta
Vegetable source: Fresh or frozen green beans, broccoli, squash, cauliflower, peas, carrots
This recipe must include supplements and a calcium source.
---
4. Homemade Raw Food Diet Recipe from Walkerville Vet
There are lots of good reasons to feed your dog a raw diet, but a nutritionally-balanced raw diet can be hard to make at home. This vet approved homemade dog food recipe from Walkerville Vet provides 3-4 days of food for an 8 kg dog– roughly 17 pounds. 
Ingredients
250g chopped beef or lamb, raw
1 cup chopped carrots, raw
1 cup chopped apple, raw
¼ cup frozen peas, defrosted
1½ cups chopped pumpkin or squash
⅔ cup brown or basmati rice (will cook to 3 cups)
4 teaspoons sunflower oil
4g fish oil
3 or 4 scoops of The One daily nutritional supplement
Directions
Cook the rice and pumpkin together until soft, and allow to cool
Mix in the raw ingredients (dogs mostly also like their peas raw)
Feed the required quantity per day, refrigerate or freeze the remainder
Important Notes
This dog food recipe makes several days worth of food. To figure out how much to feed your dog using the above recipe, 32 divided by your dog's weight in kilograms equals the number of days of food it will make. For example, if you have a 4 kg pup, it will feed for 8 days. You can also choose to add the supplement daily instead of mixing it in. 
---
Store-Bought Homemade Dog Food Alternatives
When pet parents feed homemade dog food, they usually make this choice because they want their dog to have the best quality ingredients for the best quality nutrition. And that's great! But if you don't have the time or don't want to worry about balancing the ingredients, here are some great options that aren't 
1. The Farmer's Dog
This fresh-frozen food is delivered right to your door and features delicious, human-quality ingredients for top-quality canine nutrition.
---
2. A Pup Above:
A Pup Above offers frozen patties and dry food that looks like kibble but has the same great nutrition you'd expect from a premium pet food company.

---
3. Just Food For Dogs
Focusing on simple, clean ingredients, Just Food For Dogs sells DIY ingredient packs that let you cook your dog's meals at home, if you want to make homemade dog food but don't want to worry about nutritional balance.

---
4. Nom Nom
Nom Nom's recipes are formulated by board-certified veterinary nutritionists, so you can feel safe knowing that you're feeding your dog everything they need.

---
5. Ollie
Ollie's mission is to provide healthy, all-natural dog food that gives your dogs the nutrition they need for a long, happy life.

---
6. Raised Right
The human-grade pet food that Raised Right makes provides your dog with a low-carb diet full of nutritional goodness to keep them going.

---
7. Spot & Tango
Spot & Tango's "unkibble" provides great nutrition in a format that your dog is likely already familiar with.

---
---
Vet-Approved Homemade Dog Food FAQ
Do you have questions about homemade dog food? Read on to see what pet parents like you want to know about making and feeding their dogs homemade food.
Is it ok to feed dogs homemade food?
Yes! Dogs can thrive on a homemade diet, so long as it is nutritionally balanced and complete. In fact, a 2003 study that looked at 552 dogs found that dogs that ate homemade food with fresh ingredients lived almost 3 years longer than dogs that ate kibble. While today there are lots of foods that use fresh ingredients, including fresh frozen and air-dried foods, homemade dog food can offer a lot of nutritional benefits to your dog.
Are eggs good for puppies?
Yes, eggs are good for dogs of all ages. They're a good source of healthy fats and protein, and the shells can be a great way to get more calcium in a dog's diet.
Do vets recommend homemade dog food?
Sometimes! There are a lot of factors that go into creating dog food, and many vets are concerned with the risk that homemade dog food will not have essential nutrients, especially micronutrients, that a dog needs. If you want to switch to homemade dog food, you need to talk to your veterinarian about making these changes. 
What are the best ingredients to use in homemade dog food?
The best ingredients to use in homemade dog food are whatever's listed in the vet-approved homemade dog food recipe! Remember that vet-approved recipes were created in consultation or by board-certified veterinary nutritionists– professionals who are experts in knowing what's good for your dog. Stick to their recommendations and use a complete nutritional supplement and you will be good to go. See below for my recommendation for best dog supplements for homemade food.
What can you not put in homemade dog food?
Ingredients that are toxic to dogs have no place in homemade dog food. These include, but are not limited to: 
Almonds
Apricots
Chocolate
Coffee grounds
Macadamia nuts
Tomato and potato leaves and stems
Avocados
Onions
Grapes
Raisins
Rhubarb
Is there a recipe for homemade dog food for dogs with gastrointestinal problems?
Homemade dog food, in general, will be gentler on your dog's stomach than processed and store-bought foods. Homemade dog food is also a good option for dogs with allergy-related stomach problems since you can easily eliminate allergens from their diet or choose to include novel proteins instead of traditional proteins like beef and chicken. 
What are the best dog supplements for homemade food?
The best dog supplement for homemade food is called "The One". This supplement is the REAL DEAL! I know this company and they invest in top notch vet nutritionists to develop their products.
It's not loaded with  fillers (95% active ingredients which is extremely good) + it's made in USA by people who actually care.
It's called the "The One" because it's the only supplement your dog will need with 12 powerful clinically proven ingredients. Also, it's a powder which is another reason I think it's the best dog supplement for homemade food.
---
Related Articles