Best Dog Foods for Dogs Who Need To Gain Weight
Maintaining a healthy weight is critical to a dog's health, and being underweight can be detrimental to it. Dogs need to gain weight for a wide range of reasons, and it's not always as simple as not eating enough.
In this guide, we're covering some important tips for helping your dog gain weight and sharing our recommendations for the best weight-gain dog food.
Related Articles:
Why Would a Dog Need to Gain Weight?
Before you embark on a mission to help your dog gain weight, you should schedule a visit with their vet. Your veterinarian will be able to help you identify why your dog is underweight, and recommend a meal plan to help them gain weight safely.
Some reasons your dog might need to gain weight include:
Malnourishment: Many adopted dogs are underfed, or come from neglectful or abusive backgrounds.

Poor development: Some puppies may experience stunted growth, and may be prescribed high-calorie diets to help them gain weight.

Picky eating: Some dogs simply don't like their food, and will turn their nose up to the point that they lose weight.

Allergies: When dogs are allergic to an ingredient in their food, it can impact their nutrient absorption and ability to retain muscle mass.

Aging: Like people, some dogs lose weight as they age, and their metabolism changes.

Hyperthyroidism: This condition produces an over-active metabolism, and can result in unwanted weight loss.
---
How To Help a Dog Gain Weight
The most important thing to remember about helping your dog gain weight is to take things slow. Gaining weight too quickly can have negative effects on heart health, blood pressure, and your dog's joints. Slow, steady, deliberate weight gain under the supervision of a veterinarian is the best and safest way to get your dog to the appropriate weight.
1. Increased Meal Frequency
The first recommendation your veterinarian will likely have for your dog to gain weight is to increase their caloric intake and daily meals. Rather than feeding two large meals per day, many weight-gain programs involve feeding multiple smaller meals a day.
More frequent smaller meals help your dog better digest and metabolize their meals. Note: don't go more than about 5 hours between meal time. And for your own ease, make the entire day's food and simply serve it more frequently.
2. High-Quality Proteins & Carbs
Protein is the most important nutrient for your dog, whether they are gaining weight or not, but is particularly important for gaining weight and muscle. The protein needs to be high quality, but what exactly does that mean?
High-quality protein refers to whole protein derived from animal sources (e.g. beef). The best dog food to gain weight and muscle should include high-quality protein within the first five ingredients, and should never include animal byproduct meals or soy as a protein source. (We'll go over the best foods to feed in the next section)
Carbohydrates can also be helpful for weight gain, but it's important to choose carbs that are healthy for your pup. Whole grains like oats and healthy veggies like potatoes and sweet potatoes are all excellent options.
3. Write It Down In A Journal
Keep track of your dog's meals and treats including the amount fed and calories (if you know), exercise and even your dog's mood that day. Once you see everything written down you'll be able to connect the dots to see what is working and what's not.
4. Exercise!
While it may seem counterintuitive for your dog to exercise while trying to gain weight, exercising helps to build muscle mass which your thin dog really needs. In addition, the extra activity should help stimulate their appetite.
5. TREATS!
What dog doesn't love a good treat? Feed your dog healthy weight-gain, nutrient dense snacks in between meals. Treats like jerky have lots of protein and dogs love jerky!
6. Use Toppers On Your Dog's Food
To add even more calories, use nutrient-dense food toppers your dog will love like peanut butter and pumpkin. Just scoop some out and put on top of your dog's food. With peanut butter, be sure to get a brand that doesn't contain xylitol, saturated fat, hydrogenated oils etc. We like Buddy Butter that's made just for dogs.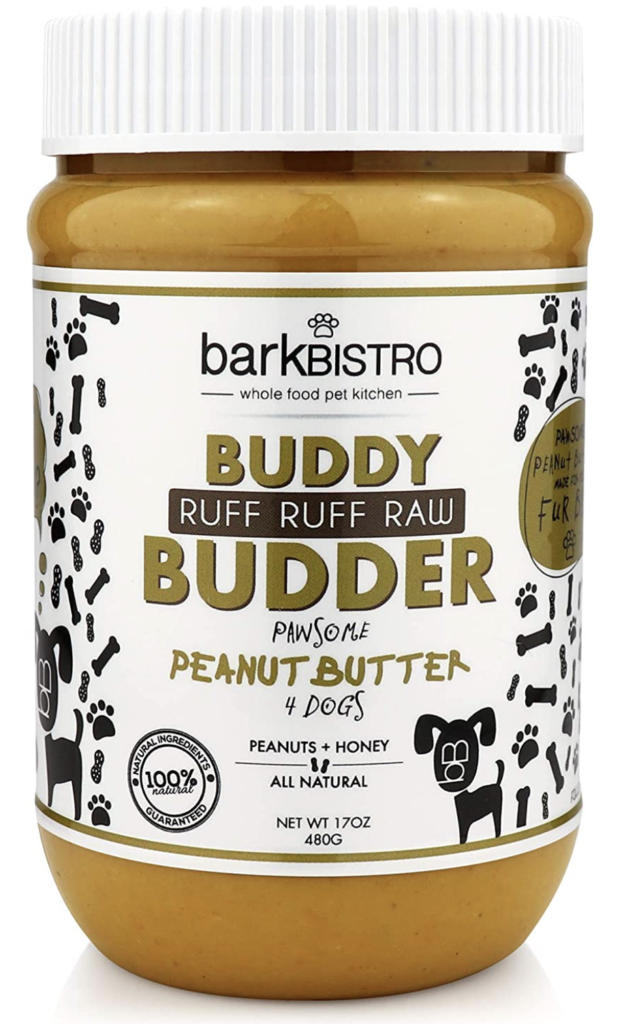 There are also brands of pumpkin puree you can get that's made just for pups, that don't contain pumpkin spices.
You can also make the puree yourself. Here's how you make it.
7. Supplements
Adding a supplement to your dog's food is a great way to supercharge your dog's diet so they are getting extra vitamins and minerals. There are two that we really like
We love this one by WOOOF because it's a supplement and a topper all in one. In fact, it's more of a saucy supplement so it evenly coats all of the food and makes it really yummy. Think Thanksgiving Dinner in a bottle with ingredients like pumpkin (1st on the list), cranberry and turkey. Also has glucosamine, organic apple vinegar, cider, zinc, biotin and and a ton of vitamins.
"The One" from Front of The Pack
Made from a blend of 12 clinically-proven ingredients, The One delivers targeted support to the most vulnerable areas of your dog's physical and cognitive health. Formulated by vet nutritionists, this daily supplement contains ingredients like Antarctic Krill, glucosamine, taurine, curcumin, brown kelp and more.
---
Best Dog Food To Gain Weight and Muscle
Time to dive into our top four picks for the best dog foods to gain weight. Each option on this list is made from whole ingredients and was selected for being relatively high in calories and protein.
1. Best Raw: We Feed Raw Duck Recipe
Because raw diets are made up almost entirely of animal protein, they are fantastic for helping your dog build lean muscle. We Feed Raw's duck recipe is their most calorically dense formula and is packed with healthy meat, organs, and added minerals for a complete and balanced diet.
Duck also has a slightly higher fat content than other animal proteins, making it a good choice for weight gain.
Save 25% off your first subscription trial box.
| | |
| --- | --- |
| First 5 Ingredients | Duck, Turkey Gizzards, Turkey Liver, WFR Vitamin + Mineral Mix |
| Guaranteed Analysis (crude) | 12.6% Protein – 10.6% Fat – 1% Fiber – 71.5% Moisture |
| Calorie Information | 52 calories per ounce |
---
2. Best Air-Dried: Sundays For Dogs Beef Recipe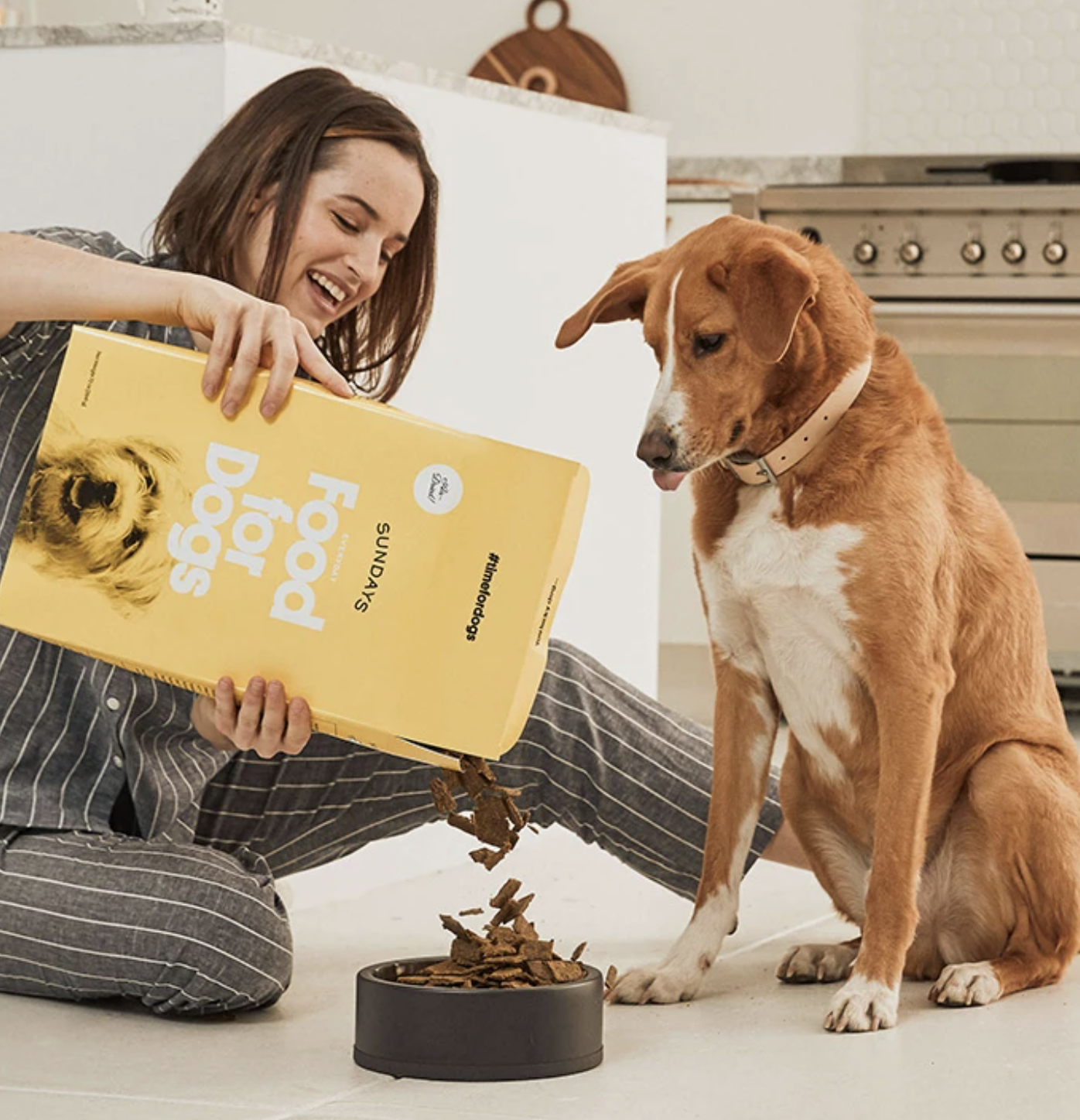 With a high protein-to-fat ratio and clean ingredients from top to bottom, Sundays For Dogs' air-dried formula had to make our list. Other than the delicious recipe, we think Sundays For Dogs deserves consideration for best food for dogs thanks to the turmeric to reduce inflammation, blueberries for antioxidant and immune support, and tart cherries to protect the joints. 
Get 35% off your first order + free shipping w/ code ROCKY35!
| | |
| --- | --- |
| First 5 Ingredients | Beef, Beef Heart, Beef Liver, Beef Bone, Quinoa |
| Guaranteed Analysis (crude) | 30% Protein – 20% Fat – 3% Fiber – 15% Moisture |
| Calorie Information | 520 kcal/cup |
---
3. Best Fresh Frozen: The Farmer's Dog Beef Recipe
You can literally see the difference between The Farmer's Dog and other dog food brands, and believe us when we say, dogs can seriously taste the difference. Made from fresh ingredients just like you would use at home, The Farmer's Dog also creates custom meal plans based on your dog's specific nutritional needs.
Their most calorically dense recipe is their beef formula, which also includes sweet potatoes, a fantastic source of carbohydrates for weight gain.
| | |
| --- | --- |
| First 5 Ingredients | USDA Beef, Sweet Potato, Lentils, Carrot, USDA Beef Liver |
| Guaranteed Analysis (crude) | 11% Protein – 8% Fat – 1.5% Fiber – 72% Moisture |
| Calorie Information | 45 calories per ounce |
---
4. Best Healthy Kibble: Spot & Tango Beef & Barley UnKibble
Our most high-calorie dog food on the list, Spot & Tango's UnKibble packs an impressive punch with 134 calories per ounce. Feeding your dog a calorie-dense food is a good choice for healthy weight gain since you can give your dog more calories without increasing their physical serving sizes.
Unlike traditional kibble, Spot & Tango's UnKibble is made from whole ingredients and zero filler, and it's not brown, burnt, or bland!
| | |
| --- | --- |
| First 5 Ingredients | Beef, Barley, Flax, Carrots, Green Beans |
| Guaranteed Analysis (crude) | 26.58% Protein – 16.43% Fat – 3.18% Fiber – 2.04% Moisture |
| Calorie Information | 134 calories per ounce |
---
Canine Weight Gain FAQ
Before we wrap up, let's go over some common questions other dog owners have about helping their dogs gain weight.
What are some tips to make a dog gain weight fast?
Slow and steady wins the race, at least with weight gain! You should only make your dog gain weight as quickly as your vet recommends, and you should never over-feed your dog to try to speed up the process unless specifically instructed by a vet.
What human food can I give my dog to gain weight?
It's best not to feed your dog human food, since human food is not nutritionally balanced for dogs. 
Is the Royal Canine weight gain dog food good?
We don't recommend Royal Canine's food for weight gain or any other purposes. Royal Canine uses animal byproduct meals and other filler ingredients in its formulas and does not use whole animal proteins. 
Is Purina weight gain dog food healthy? 
No, we don't recommend Purina's dog food for any purpose. Like Royal Canine, Purina uses fillers and animal byproducts rather than whole or fresh ingredients. 
What is the best dog food for weight gain in Pitbull puppies?
Pitbulls trying to gain weight would do well on any of the dog foods we've listed here! The best dog food for Pitbull puppies to gain muscle is going to be high-protein and made from whole ingredients. Remember to chat with your vet about portion sizes. 
What is the best senior dog food for weight gain?
We recommend soft food for a senior dog trying to gain weight. We Feed Raw's raw formula and The Farmer's Dog's fresh-frozen recipes are excellent soft dog food options that can be used to help your dog gain weight. 
What is the best dog food for hypothyroidism? 
Hypothyroidism is a condition that causes the metabolism to slow, causing unwanted weight GAIN. Because of this, dogs with hypothyroidism typically need a low-calorie diet, not a high-calorie one.
Conversely, dogs with HYPERthyroidism may need a high-calorie diet to aid in weight gain.  
What is the best puppy food for weight gain? 
Any of the dog foods we've included on this list would be a good option for a puppy who needs to gain weight! However, it's important to talk to your vet about the best options for your puppy's specific needs. 
Also you can find 13 novel proteins that dogs with allergies & GI issues can eat, HERE!