Logan The Giant Cane Corso Was Returned.
Sitting With Dogs
Join animal advocate Rocky Kanaka on a heartfelt and authentic journey as he visits scared and lonely shelter dogs, armed with nothing but his iPhone and a deep desire to provide comfort and hope. In this unpretentious series, Rocky quietly sits with these homeless dogs, capturing their stories and unique personalities. Through the simplicity of his approach, he aims to shed light on the challenges they face and help them find loving homes. Experience the power of genuine connection and the transformative impact it can have on both humans and animals in this sincere exploration of companionship and second chances.
Logan Is Back At The Shelter
Meet Logan, a cane corso who has had a tumultuous journey in search of a loving home. This gentle giant, along with his sister, was brought to the shelter in a pitiful state – emaciated and lethargic. Sadly, they were owner turn-ins and ended up in the care of Animal Control. While Logan's sister was fortunate enough to be adopted, he was left behind, yearning for a chance at a new life.
Thanks to the dedicated efforts of the shelter staff, Logan slowly but surely regained his health. During this time, Rocky kept him company, getting to know the affectionate and down-to-earth side of this lovable dog.
Logan's first adoption seemed promising, but an unfortunate and dangerous altercation broke out between him and another dominant dog in the household, leading to his return to the shelter. Despite the incident being clearly not Logan's fault, the previous owner, heartbroken but with no other option, had to make the difficult decision due to the living circumstances and lack of available family or friends to take him in.
Now, the focus is on finding this Cane Corso a permanent home where he can thrive, preferably with a less dominant dog or without other pets.
After a short-lived second adoption, it became apparent that Logan had separation anxiety issues, prompting his return to the shelter once again. This sweet dog had faced disappointment twice, but hope was not lost.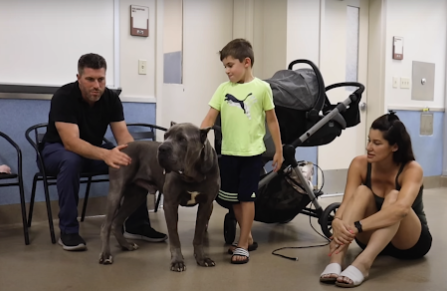 For the third and final time, Logan found his forever home with Shara, Collin, and their five children. Passing his cat test with flying colors and demonstrating responsiveness to the children's commands, Logan fit right in with his new family. To aid in his smooth transition and ensure a positive experience for everyone, Rocky generously offered them three free training lessons with the esteemed Glenn Massie. Learn more about how to conduct a cat test.
With a sigh of relief and a sense of joy, Rocky witnessed Logan finally settling into his permanent and loving home. This heartwarming tale serves as a reminder of the resilience and enduring spirit of shelter dogs, like Logan, who just need a chance to find their perfect match and a place to call their own.
Related Articles
---
The Best Food For Your Dog – Sundays
Kobe is a picky eater and has high anxiety due to his heart problems. Sometimes he will go days without eating, so when I gave Kobe Sundays Dog Food and he gobbled it up, I was so relieved. It has a slightly crumbly and meaty texture, which makes it easy. The air-dried process used by Sundays for Dogs locks in the natural flavor and aroma of the ingredients, making it highly palatable.
Now, let's talk about the taste
The air-dried process used by Sundays seems to have enhanced the natural flavors of the ingredients, making it highly palatable for Kobe. It's a win-win for both of us – Kobe gets a mealshe enjoys, and I have peace of mind knowing that he's getting the nutrition and ingredients she needs AND that she isn't leaving the food in her bowl like she does with other dry food or kibble.
I Highly Recommend This Air-Dried Dog Food
Sundays for Dogs has been a positive addition to Kobe's meal plan. His positive response to Sundays for Dogs, coupled with the brand's mission to make a difference for pets and the planet, has made me consider it as a long-term option for him.
---
Daphne Is Starting To Blossom
Let me introduce you to Daphne, a charming canine with a unique story of resilience and hope. Daphne's journey to the shelter began when a kind-hearted individual spotted her as a stray and decided to lend a helping hand. Taking her into their own home, they cared for her diligently, hoping to reunite her with her owner. However, despite their best efforts, no one came forward to claim this sweet pup.
Regrettably, the good samaritans faced a challenging decision as Daphne struggled to get along with the dogs already residing in their household. Faced with the difficult reality that their home might not be the right fit for her, they made the heart-wrenching choice to bring her to the shelter, hoping she would find a more suitable forever home.
Daphne's transition to the shelter environment has not been without its challenges. The sudden change and unfamiliar surroundings have left her feeling afraid and uncertain. Fortunately, the caring staff at the Animal Care center, along with the support of Rocky, have taken Daphne under their wing. They have been working patiently to help her overcome her hesitations and coax her out of her shell.
---
Adopt Ernie
Amidst the uncertainty surrounding Bertha and Ernie's past, fate took a positive turn for them at the shelter. While hardly any information was known about the two when they arrived, a stroke of luck shone upon Bertha as she found her forever home and was joyfully adopted by a loving family. However, Ernie's journey took a slightly different route.
Despite their charming personalities, these sweet dogs were in dire need of grooming when they arrived. Their fur had taken on a yellowish hue, which can be attributed to various factors.
👉 Best Dog Food for Shih Tzus: Expert Recommendations
One common reason for a dog's fur turning yellow is due to urine staining. In Bertha and Ernie's case, being small dogs, they may have faced difficulty finding suitable spots to relieve themselves while on the streets, leading them to inadvertently soil their own fur. This can occur when they squat to pee, and the urine comes into contact with their lower body and fur, causing staining over time. Find out more about what to do if your dog's fur is yellowing.
Ernie's heartwarming rescue tale began when Last Chance at Life rescue stepped in to offer a lifeline. Recognizing the sweet and endearing spirit of this 8-year-old Shih-Tzu mix, the rescue organization decided to take him under their wing. With their intervention, Ernie was given a chance at a new lease on life.
Although Ernie has been saved from the shelter's confines, his journey is far from over. With hope in their hearts, the dedicated team at Last Chance at Life rescue is committed to finding the perfect forever home for this adorable companion. Ernie's affectionate nature and unwavering loyalty make him an ideal candidate for a loving family who can cherish him for the rest of his days.
As Ernie eagerly waits for his new family to come along, he continues to warm the hearts of everyone he meets with his adorable charm. Those who have had the pleasure of spending time with Ernie describe him as a true gem, deserving of all the love and care the world has to offer.
So, if you're searching for a furry companion to bring love, joy, and endless cuteness into your home, Ernie might be the one you've been waiting for. Through all the twists and turns, Ernie's story serves as a testament to the power of compassion and the hope for a brighter future. As Last Chance at Life rescue works tirelessly to find Ernie his perfect match, they remain determined to ensure that this charming little Shih-Tzu mix finally finds the loving forever home he so rightfully deserves.
---
Audrey
Let me introduce you to Audrey, a brave and timid soul who found herself at the shelter with the help of a compassionate good samaritan in late June. When she arrived, Audrey was visibly frightened and overwhelmed by her new surroundings. However, her path to confidence and security took a heartwarming turn when she met Rocky, a dedicated member of the shelter staff.
With Rocky's patient and gentle presence, Audrey slowly began to open up and shed her inhibitions. Gone were the days when she would stand frozen, unsure of her surroundings. Instead, she started to find her footing and gain the confidence to explore her surroundings.
Building trust was a gradual process for Audrey, and even when offered treats by Rocky, she remained cautious. Only accepting the treats when Rocky turned away, Audrey's difficulty with eye contact became apparent. Yet, as time passed, Audrey would approach Rocky when he looked away, demonstrating her growing trust in the human touch. Learn more about gaining trust with a fearful dog.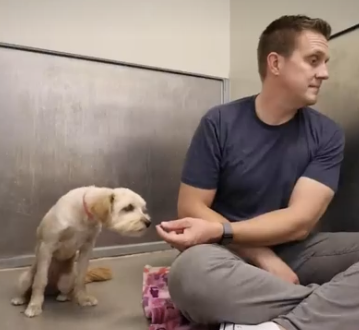 Miraculously, Audrey's journey from shelter to home was a brief one. Just a few days after her encounter with Rocky, she found her forever home with a loving and caring family. Reports suggest that she has settled in beautifully, and her transformation from a timid stray to a happy and content companion has been remarkable.
Despite Audrey's positive progress, her owner has chosen to remain private and has not provided any further updates or media. Nevertheless, Audrey's story is a testament to the incredible impact that patience, kindness, and understanding can have on a shelter dog's life.
UPDATE:
Audrey has been ADOPTED! She's doing great in her forever home now with a family who loves her.
Related Articles
---
Shampoos To Keep Your Dog Clean & Fresh