Blind Puppy Willie Finds His Perfect Forever Home.
Willie is a 5 month old purebred labrador puppy. This sweet and playful pup has had a rough start to life – he ended up at a shelter with a severe eye infection at a very young age. The infection could have been treated if Willie had received the proper medical attention right away.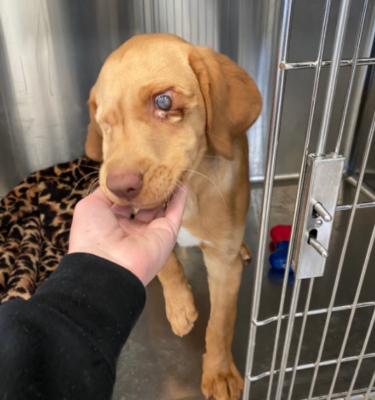 One eye was immediately removed, upon entering the shelter, because of the severity of the infection. That's when the rescue group I Stand With My Pack (ISWMP) got involved. They wanted to do whatever they could to help sweet Willie keep his other eye and set him up on a path to success.
Willie Had To Get Both Eyes Removed
After more doctor visits, ISWMP realized that Willie was in a lot of pain and was struggling to see out of his one remaining eye. Despite their best efforts, the best decision for Willie was to remove his second eye. At only 3 months old, Willie had already had multiple surgeries.
Life With A Blind Dog
A newly blind dog, Willie suddenly had a much different world to adapt to. Blind dogs often have behavioral issues with biting, food aggression, fear and anxiety. The sooner you can work with a blind dog, the more you can get ahead of training and guiding them, and the more likely they are to thrive in life.
I've found that being blind has very little impact on their quality of life because dogs have a much stronger sense of smell and hearing. They can live just as good of a life as any dog, as long as they have the proper training geared towards guiding them to rely on their other stronger senses.
I have seen this first hand in fostering blind dogs. In fact, I adopted my last blind foster dog, Kobe, and he is living a really great life! He is happy and gets up every day ready to explore.
Getting Ready For His Forever Home
That's when I knew I had to step up and do everything I could to help Willie on his journey. With my experience in fostering and adopting other blind dogs, I knew that I was uniquely positioned to help this little guy get prepared for his forever home. My wife and I have spent weeks preparing him and that day has come – Willie is finally ready for adoption!
Willie still needs a lot of continued training and work. He is a special needs puppy after all! BUT, he is also extremely, loving, loyal, and quick to learn. Willie already has mastery of a few simple commands that many dogs, even those with full eyesight, struggle to understand.
Willie Was Adopted!
After Willie's name and face had been spread just about as far and wide as possible, promotions by Rocky and I Stand With My Pack reached just the right person. Savanah had experience with blind mini horses from running a mini horse rescue, and she also had a fluffy herding dog, Carson, who hit it off immediately with Willie. "She was just perfect," Rocky says. "It just couldn't have been a better situation for Willie, and it's something he really deserved.
My thoughts on the perfect home for dogs like Willie:
1. No small children: Blind dogs often feel with their mouth and this could be a big issue for a small child.
2. You have a well mannered dog: Willie needs a seeing eye dog. He will learn a lot from whoever trains him but having a dog sibling will help Willie understand what the proper behavior is. He will use your dog to help guide his energy levels, where to go and how to act.
3. You know how to train dogs: While you don't have to be a dog trainer, having experience in training a dog will be key. Training is important for all dogs, but Willie's life depends on it. Small behavioral issues could easily develop into major problems for a blind dog. He will be a big dog 60-80 lbs so food aggression and biting will turn dangerous if not corrected early on and managed later in life. Food aggression is common in blind dogs. Think about it – would you be nervous if you thought someone was always trying to take your food? I would.
4. Lots of Space: Willie needs room. You don't have to have a ranch, but a backyard is a must. And the more space you have the better. His nose and ears will be working overtime so New York City life, for example, would be really stressful. He also needs space so he can stretch his legs a little without running into things. Don't worry, he will map the place out and most wouldn't realize he is even blind! But the more room he has to run without running into something the better.
5. Going on walks: Taking Willie on walks is important so he learns to walk beside you. Otherwise blind dogs have a tendency to walk between your legs, including Willie. It is really cute right now, but when he is 75 lbs and knocks down grandma trying to go between her legs, it could be bad.
6. Scent training: You can study how to do this on your own or hire an expert, but I have found this really helps blind dogs. Willie is still a little rambunctious for this, but in the coming weeks or month he should be ready to start.
7. Location: I Stand With My Pack chooses the best home for the dog and, while location in close proximity is helpful, it isn't mandatory. That being said, they will not allow dogs to fly as cargo and do require an in person meet and greet so only fill out an application if you are close or think you can travel for a meet and greet, and then travel again to pick up Willie. I Stand With My Pack is located in Southern California.
8. You are ready to take on a Retriever Puppy: Willie is very active, playful, and mischievous – he loves to have a good time. Some of his favorite activities include playing with toys, chewing on bones or frozen PB treats, and wrestling with Kobe and Flip. Willie, like a lot of puppies doesn't stop….ever! You have to be ready to put in the work. BUT if you are willing to do that he is such a happy boy that even getting a bath sounds like fun to him! If you can get through the puppy months/years he will be the best dog you'll ever have.
Applications are closed at this time but for a good reason. Some awesome news is coming soon and until then please follow @istandwithmypack on Instagram