5 Indestructible Dog Toys for Chewing Monsters
Your dog has chewed through dozens of toys.
It can be frustrating, especially when you spend good money on a toy and it gets ripped to shreds the moment you set it down.
I get it.
But your pup means no harm. Chewing is a primal instinct for dogs. It's what they do when they're anxious, stressed, happy, bored, or teething.
The best thing you can do is to steer your dog away from destructive chewing by training and providing safe and long-lasting and heavy-duty dog chew toys.
I've rounded up five of the best chew-proof dog toys on Amazon to help you pick the most suitable one for your furry friend. While choosing the best heavy-duty dog toys, we're focusing on toys that can actually outlast your dog.
Table of Contents
1. Stuffingless Squeaky Snake – Outward Hound Indestructible Dog Toy
Plush toys are easy to grab, tug, and carry around, making them a fun toy for dogs. However, aggressive chewers can easily shred them to pieces, leaving a messy cloud of fuzzy fibers on your carpet.
This Outward Hound Invincibles Squeaky Snake with an impressive 4-star rating and over 24,000 reviews on Amazon is your best bet if you're looking for durable, stuffing-free heavy-duty plush dog toys.
Outward Hound ditches the poly filling common in most stuffed toys for squeaky balls that'll delight your dog at every chomp. In addition, the squeakers will continue to function even when punctured, ensuring your dog gets long-lasting fun out of this toy.
The outer fabric is made with an inner Dura-Tuff lining backed by double-stitched seams which can help withstand your dog's quest to maul the Squeaky Snake.
You'll love that:
The snake toy comes in three different sizes—large with 3 squeakers, XL with 6 squeakers, and XXL with 12 squeakers—so you can find the perfect

heavy-duty squeaky dog toys

for your dog.
It's cuddly, light, and measures over three feet long, making it easy for your dog to grab from any end and carry it around.
The squeaks are low-volume which means your dog can be entertained without disrupting your quiet time.
Although this toy is stuffing-free, the outer lining does contain tiny fibers that may spill out onto your carpet when your dog eventually rips it apart.
However, since the Squeaky Snake is made to survive even the toughest shredders, your dog is sure to have a blast before it starts to wear out. Remember, high-quality dog chew toys aren't meant to be indestructible–just harder to destroy!
See also 7 Soothing Foot Bath Recipes for Your Dog's Itchy Paws
2. Arm & Hammer Super Treadz Dog Chew Toy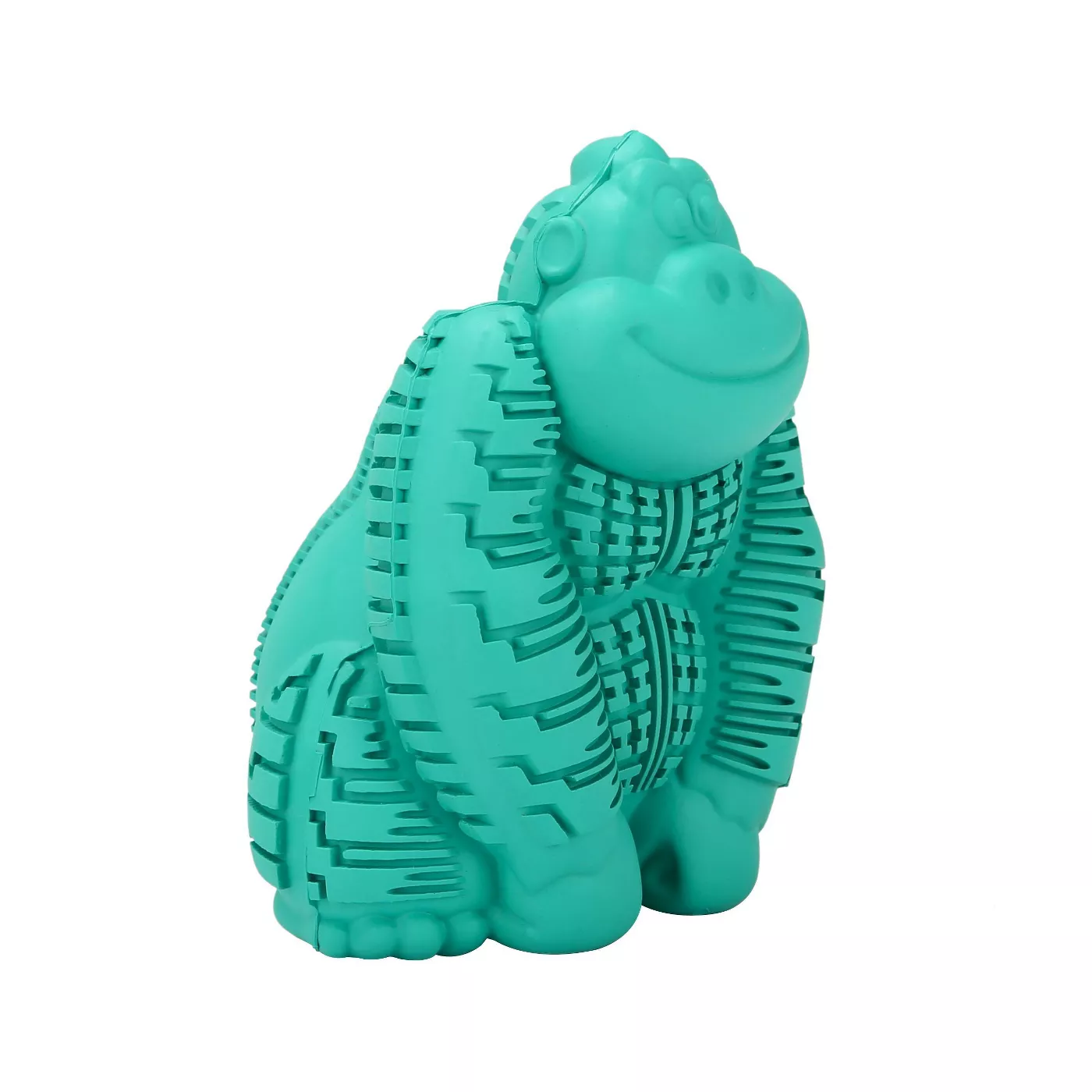 This adorable gorilla-shaped Super Treadz Chew Toy will amp up your pup's playtime and also leave his breath smelling fresh.
The toy is made from natural rubber that's sturdy enough to thwart your dog's destruction efforts. The rubber also keeps the toy lightweight and bouncy, making it easy to carry around and play fetch with.
It also has a small hole at the bottom that you can fill with treats. It will then slowly dispense the goodies as your dog gnaws away.
Perhaps the most outstanding feature of this gorilla toy is its dental hygiene prowess. Arm & Hammer ensures that their heavy-duty rubber dog toys meet a high standard of cleanliness by:
Infusing the rubber with their signature baking soda to safely cleans your dog's teeth and fight bad odor.
Designing the toy with special grooves that scrape off tartar and plaque while massaging the gums—a plus for your teething puppy.
Being dishwasher safe to make cleaning easier and prevent dirt buildup.
It is worth noting that this dental-friendly toy is only suitable for small and medium breed dogs of up to 35lbs, so you may want to consider other chewy options for your Mastiff.
That said, this indestructible dog toy is worth buying for appropriate sized dogs, as demonstrated by the stellar reviews on Amazon:
"Right away I was excited with this product because of the smell, texture, and thickness. Smells minty fresh which does help with breath smell. The texture is great, having smooth areas and rigid areas all while being soft and durable. The product is pretty thick, which I needed for my Pit-Bull."
Josh K, United States
3. KONG Extreme Dog Toy
Are you looking for the perfect indestructible dog toy chew to help your fur baby cope with separation anxiety or to hack crate training?
This Kong Extreme Dog Toy has been super helpful for me when crate training my blind dog, Kobe as it gives him something to do. One of the key feature of hard rubber dog chew toys is not being too hard, since you don't want your dog to chip their teeth, and Kong gets the texture just right.
Also, my rescue boxer Flip will occupy himself (up to an hour) working on a peanut butter filled Kong.
This black, funky-shaped, multifunction toy comes with:
A tough rubber that will give destructive or aggressive chewers something to gnaw, calm their nerves, and exercise their jaws.
A bouncy yet lightweight feel that is sure to send your pup into a frenzy during playtime.
A hollow center, which you can fill with your dog's favorite kibble or treats, acts as a tasty distraction when he's left alone.
A variety of sizes ranging from small to XXL so you're sure to find something for your pup
A dishwasher-friendly material that you can quickly sanitize and give back to your fur baby to play.
See also Can You Leave Your Puppy in a Harness All Day?
Pro tip: Add an extra challenge for your dog and increase mental stimulation by freezing the treats before stuffing them in the hole—they're harder to get out this way.
[do_widget id=text-13]
VIDEO
Buying a Homeless Pit Bull ALL the Dog Toys From the Pet store!
4. Ultra Durable Solid Ball – Monster K9 Dog Toys
Bonding with your furry friend over a game of fetch is the perfect way to spend a summer afternoon at the dog park.
At least until your excited pup clamps her strong jaw through the fragile tennis ball you brought along.
Pop! Game over.
If you're looking for indestructible dog toys that can survive vigorous chomping, tossing, squashing, and any other spirited annihilation your pooch may launch during playtime, this Monster K9 Ultra Durable Solid Ball is it.
The ball is made with tough industrial rubber that can stand up to the most aggressive chewers including German Shepherds, Mastiffs, and Pitbulls, and is easily top tier in the league of unbreakable chew toys for dogs.
You'll also love that:
The ball is made from approved natural rubber that is non-toxic to ensure your pet's safety.
It comes in a convenient, tennis ball size that's easy for you to throw and your pup to retrieve and run with.
The rubber makes the ball bouncy, so your energetic pup can toss and play alone when your arm is swollen from all the throwing.
It comes with a lifetime replacement guarantee that gives you a one-time replacement or full refund if your dog chews through the ball sooner than expected.
Safety tip: While rubber makes the chew toy indestructible, it also makes it heavy. Therefore, if your pup is playing alone, remove all breakable items in the play area to prevent damage and injuries.
5. West Paw Zogoflex Hurley Tough Dog Bone
Okay, I'll hit you with one last scenario: You've bought tens of chewy rubber toys, but your doggy won't touch them because she hates the rubbery smell. She loves her toys plastic and odorless, yet she chews right through them in record time. Plus, you're constantly worried that the splinters may cause her dental and digestive problems.
The West Paw Zogoflex Hurley Tough Dog Bone will be your saving grace.
See also 4 Interactive Dog Toys You Can Make Yourself
This chew-resistant dog bone is made from sturdy, high-quality plastic that's:
FDA-compliant, BPA-free, and non-toxic to ensure your pet's safety.
Made from recycled toys to conserve the environment.
You'll also love that:
The toy is made with floatable material, making it ideal for pets who can't get enough of water games.
The floating bone is also bouncy and lightweight, making it perfect for playing fetch (and a safer alternative to wood sticks which can splinter).
This toy comes in three sizes and three color options.
The material doesn't absorb drool and is dishwasher safe, making it easy to clean.
Here's a raving review from an Amazon customer:
"West Paw Design Zogoflex are the best toys we've ever had. We have bulldogs that love to chew and tug. We have two of the Hurleys and one of the Tux treat toys and will probably order some of the balls. After months of daily use, these still look new. The dogs also choose these toys every time they play. They have no smell (unlike rubber … toys that our dogs never play with). They float, they are durable, entertaining, non-toxic, recyclable, dishwasher safe, BPA/phthalate free and made in the US. Plus they'll send you a replacement if your dog happens to destroy it!"
Happy Dog, Happy Life!
Dogs bring warm sunshine into our lives. We can attest to this through the enjoyable experiences we've had raising, fostering, and volunteering in dog rescue.
That's why we're committed to giving pet parents the best dog care tips to help you enjoy every minute of raising your fur baby.
Those indestructible dog toys really help too. Here's one last look at them:
| | |
| --- | --- |
| Indestructible Dog Toys | Why We Recommend It |
| Stuffingless Squeaky Snake – Outward Hound Invincibles Dog Toy | It's cuddly, light, and quiet too. |
| Arm & Hammer Super Treadz Dog Chew Toy | It's both healthy for your dog's teeth and dishwasher safe. Win win! |
| KONG Extreme Dog Toy | You can fill this toy with treats — perfect for rewarding your Pup + It's an almost indestructible dog toy |
| Ultra Durable Solid Ball – Monster K9 Dog Toys | It's long-lasting with lots of endurance. |
| West Paw Zogoflex Hurley Tough Dog Bone | It's FDA-compliant, made from recycled goods, and perfect for the environment! |
Watch: Cheap Toy vs. Expensive Toy – Letting My Dogs Decide
BONUS: Best Toy For Power Chewers
The best chew toys for hard chewers are toys that have a little bit of give (to protect their teeth) but can't be ripped apart. Power chewers will also chew for a long time, so the toy needs to be comfortable for the dog to hold in their mouth for extended periods of time without the risk of choking or hurting their jaw.
Older dogs can benefit from the same design factors, so we also recommend these chew toys for older dogs, too.
Our pick for the best dog toys for excessive chewers is also our #1 squeaky toy for power chewers from Rmolitty.
Best Chew Toy For Big Dogs
Introducing our #1 large dog toy for power chewers: the Goghnuts Virtually Indestructable Ring. Smooth and easy to hold in the mouth, tough dog toys for large dogs are often too bulky to really get a good chew on, but this one lets your dog get as into their chewing as they want.
Easy DIY Dog Chew Toy
If you can't find heavy duty chew toys near you, you can also DIY dog toys for strong chewers. The easiest way to create a toy for an excessive chewer at home is by creating a rope toy. We love rope toys for heavy chewers because they are difficult to fray, and dogs are unlikely to eat any of the fibers.
The easiest way to do this is by purchasing a large piece of rope from your local hardware store, cutting it to length, and knotting either end. Offer your DIY dog toy to your pooch, and encourage them to get into a game of tug'o'war!
Since dog toys for excessive chewers can get quite expensive, this is also a good option for saving a little bit of money.