How To Get Free Samples of Dog Food & Supplements
If you've got a picky dog, you know the struggle of buying a $60 bag of dog food and barely making it through the first few meals. Wasted dog food, wasted money, and frustration are just a few of the pitfalls of finding dog food your pup will like, but it doesn't have to be that way!
Lots of dog food companies will happily send you samples of their food, so your dog can taste test before you commit to a full bag. In some cases, dog food brands will send you free samples outright, whereas others might offer low-cost trial-sized bags of their food instead.
Whether you're trying to find the right food for a dog who snubs most kibbles or want to test out different formulas for a dog with dietary restrictions, free dog food samples can make life a whole lot easier and less expensive.
Here, we've gathered a list of brands that send free and affordable samples of their dog food, supplements, and treats, plus tips to find even more freebies for your pooch.
Best Free Samples
It used to be pretty common to find dog food brands offering free samples, but many of the brands that once reliably handed out freebies have discontinued these programs. Luckily, there are still some generous brands that will happily send their customers (or future customers) sample packs of their food. Here are just a few of the best options out there.
---
1. Sundays Food for Dogs
Another quality air-dried option, Sundays Food for Dogs formulates its recipes with 90% meat, bone, and organ meats followed by a blend of carefully selected superfoods. Dogs enjoy the meaty, almost jerky-like texture of Sundays, and dog owners love how easy it is to store and serve. Claim a free 2.5 oz. sample of Sundays chicken or beef formula to give this recipe a try.
---
Best Free Dog Supplement & Health Samples
While you can tell within a meal or two if your dog likes a new brand of dog food, it's not quite as easy with supplements. Taking a supplement once or twice won't do anything for your dog, since nutrition requires long-term commitment to produce a cumulative effect. Because of this, most companies offering free samples of their dog supplements are generous enough to send enough of their product for a few weeks or even a full month.
3. Hip & Joint Chews
To give you plenty of time to test products before you buy, PetJoy offers new customers a free 30-day supply of either its Hip & Joint supplement or its Multivitamin. These soft chews are nutritious, delicious, and easy to chew!
PetJoy's Hip & Joint supplement features a powerful combination of glucosamine, MSM, fish oil, and more to reduce and prevent inflammation, reduce stiffness and pain, and support comfortable movement.
---
4. Free Multi Vitamin
The Multivitamin is an everyday supplement intended for dogs of all ages to support energy, immunity, and overall health. PetJoy has also formulated this recipe with a breath aid to give your pooch at least slightly fresher breath!
---
5. FREE Unlimited Vet Service – 30 Days
FREE On Call Vet For 30 Days!
Get answers about injuries, accidents, behavior, anxiety, itchy skin, and more! 24/7 phone and video consultation. No appointment is necessary. Up to 75% off Pet prescriptions covers all pets in your home!
ACTIVATE YOUR 30 DAY FREE TRIAL!
6. "The One" Supplement You'll Ever Need- Buy One Get One Free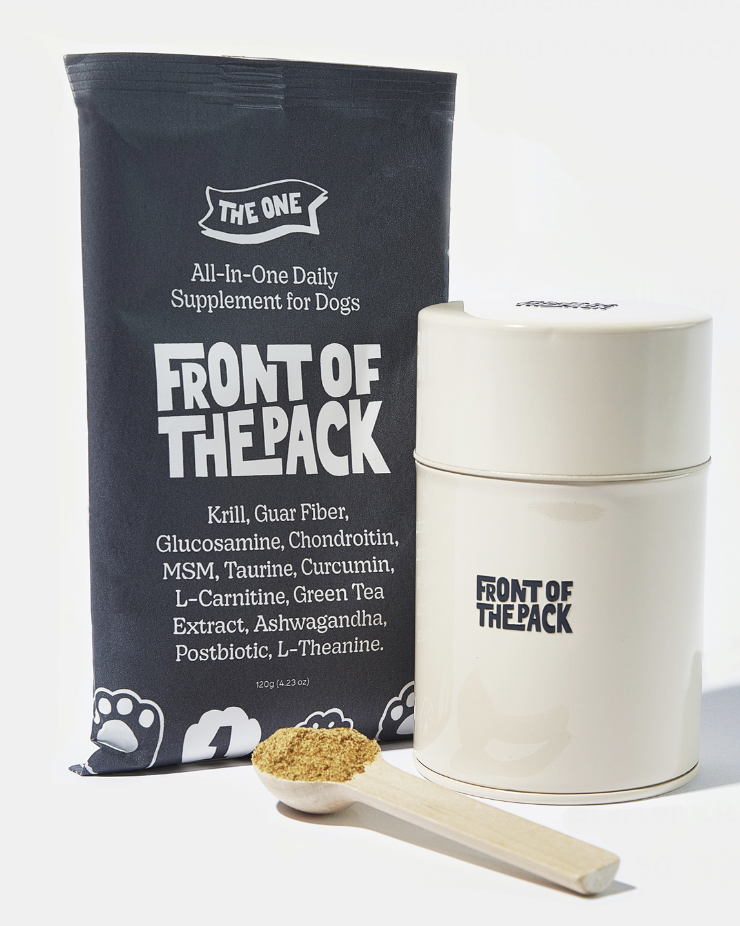 Buy one get one free – when you buy a month of this supplement you'll get a month free!
"The One" This supplement is the REAL DEAL! I know this company and they invest in top notch vet nutritionists to develop their products.
It's not loaded with fillers (95% active ingredients which is extremely good) + it's made in USA by people who actually care.
this all-in-one supplement is one of the few supplements we recommend adding to almost all homemade dog food recipes. The One is designed to target the areas of your dog's health that aren't always supported, even with a fully balanced diet. Some of the benefits of adding The One to your dog's home-cooked food for dogs recipes include protecting joints, fresher breath, supporting immunity, and many more.
Key Ingredients: Krill, Guar Fiber, Glucosamine, Chondroitin, MSM, Taurine, Curcumin, L-Carnitine, Green Tea Extract, Ashwagandha, Postbiotic, L-Theanine
7. Pet Wants
Made in small batches from fresh, whole ingredients, Pet Wants dry dog food is an infinitely healthier kibble option than the majority of store-bought brands. Because dog food made by Pet Wants is never stored long-term and doesn't include heavy preservatives, it's essentially the freshest kibble you can get.
Give your dog a taste of fresh-from-the-factory kibble by claiming your free sample—choose from any of Pet Wants' recipes including special formulas for seniors, weight management, puppies, and more.
---
8. Taste of the Wild
To get a free sample of Taste of the Wild dog food, customers can call the brand directly, or check with their local pet stores. Taste of the Wild is very generous with its samples, so most pet stores that carry it will also have a few tester bags on hand. Family-owned and operated, Taste of the Wild dog food comes in a huge range of flavors, and heavily features novel proteins.
---
9. Zignature
Known for novel-protein-based formulas and allergy-friendly ingredients, Zignature knows how important it is to choose the right dog food for your pup. Zignature's free sample program is super comprehensive and includes samples of almost every formula offered by this high-end brand. Especially helpful if your dog has allergies, Zignature asks that you share your pup's dietary restrictions, and will ensure none of your samples include ingredients they can't eat.
10. Nexderma
For all of your dog's dermatological needs, Nexderma makes a 100% natural solution. Focused on creating products for wound care and gentle healing, Nexderma's products range from shampoos and bath products to topical treatments for hot spots, skin irritation, sores, and more.
Nexderma offers customers a chance to sample a few products with their free sample program. Just share a few bits of information about yourself and you'll receive samples of two of Nexderma's best-selling products: Silvet Spray and Stem Gel.
Silvet Spray is a topical antimicrobial spray that can be used to clean and treat wounds, irritated skin, hot spots, and much more. Stem Gel can be used to help heal wounds, and is made from a combination of plant stem cells and extracts to stimulate more rapid recovery.
---
---
Affordable (But Not Free) Dog Food,Treat & Supplement Sampler Packs
Many companies have discontinued their free sample programs, but have replaced them with low-cost sample options. For just a few dollars, these brands will happily send you trial bags, variety packs, and more. If you like to use dog food as treats, these sample packs are also a great way to purchase small portions that work well for training or using on the go.
1. Fish4Dogs
$0.50 for individual samples of fish-based dog food. Fish4Dogs also offers sampler packs.

---
2. Great Lakes Pet Food
$5.50 for 1 lb of dog food — choose your formula.
---
3. Farmer's Dog
Save 60% on a trial of fresh food formulated by board-certified veterinary nutritionists to be complete and balanced, and made with human-grade ingredients that are gently steamed to help retain their maximum nutritional value. Choose from a variety of fresh, personally portioned recipes including chicken, beef, turkey and more!
---
4. Life's Abundance
$1.08 for 2.5 ounces of dog food, or try the dog treat sampler pack for $3.99.
---
---
5. Redbarn Pet Products
$1 for 4-ounce samples of kibble, plus treat samples, fresh food samples, and more.

---
6. The Honest Kitchen
$6.99 for 1 lb of dog food — choose from tons of flavors!

---
7. The Simple Food Project:
$3.28 for 1 oz. samples of food, or $8.49 for a 3-pack bundle including Duck & Trout, Chicken & Turkey, and Beef & Salmon formulas.
---
How To Get Free Dog Food Samples & More
Because it's so rare to find pet food companies offering free samples these days, pet parents have to get a little more creative. Getting freebies requires a little bit more effort than it used to, and to get started, you'll definitely need help figuring out where to look.
Here are just a few techniques we recommend for getting samples and free items for your dog.
Ask for Samples at the Pet Store
When pet stores receive shipments of dog food from retailers and distributors, they'll often receive packs of free dog food samples, too. In some cases, pet stores will even get visits from sales representatives who want to sell new products, or sales reps checking in on how their products have been selling.
Because pet stores get these for free, they're usually happy to give them away for free, too! Just ask at the register, or chat with a sales associate the next time you visit.
Some larger pet stores (like Petco and Petsmart) may ask you to sign up for their free membership programs, which often include offers of free bags of food, sample packs, etc.
Ask Your Veterinarian for Samples
Veterinarians are regularly approached by sales reps from all kinds of pet companies, hoping to sell their products. Consequently, your veterinarian probably has an array of freebies lying around that they have little to no use for.
Next time you visit your vet, consider asking them if there are any free samples you can take off their hands. It's extremely common for vets to get this question, and many will happily load you up with bags of dog food, treats, supplements, dog bath products, and anything else they have on hand. Even better, they'll likely be happy to load you up with samples, because all that stuff just gets in the way after a while.
If you have a puppy, asking your vet for samples at their first vet visit can also be a good way to start testing different kinds of products for your new pup.
Contact New Dog Brands Directly
Larger, well-established brands are less likely to offer free samples than new and smaller brands. Because large brands already have a huge following and plenty of customers, they simply don't have the same motivation to offer freebies. Because of this, it's better to reach out to small and new brands if you're going to contact a manufacturer directly.
While you aren't guaranteed to get samples simply because you ask, many brands are at least willing to consider it if you give them a compelling reason. In some cases, they might be happy with knowing that you just want to try their products, while other brands might be hesitant unless you're a person with an online following that could help get them new customers.
Either way, if you're really interested in testing out a brand but don't want to buy a full bag of food, it's worth reaching out to their customer service line.
Be Active on Social Media
Some manufacturers do giveaways and other promotions on their social media pages rather than permanently offering samples on their websites. Some brands do giveaways in the form of raffles or contests, while others keep things simple by just sharing the occasional special offer.
By following dog food, treats, and supplement brands your dog likes, you can stay up to date on the latest offers, and get a chance to win freebies on occasion! If you stay engaged, like their content, and are willing to share a post or two, you could win some exciting items from your favorite companies.
In some cases, social media engagement is even more powerful than reaching out to a company over the phone or email. Posting on their Facebook page, leaving comments, or even DMing your favorite brands can afford you the opportunity to receive items, even if the company isn't running a promo.
Shop Strategically Online
Many brands offer freebies with purchases on their website, so you can test new products while you buy old standbys. Some dog food manufacturers do this on their brand sites, while others participate in giveaways with pet stores and retailers.
For example, if you check Petco's monthly coupon codes and promos, you'll find brand-specific deals, special offers, and even the occasional free item.
---
Related Articles