Enrichment & Fun News & Entertainment
The Most Hilarious Dog Birthday Memes
In a world where the internet has seamlessly woven itself into the fabric of our daily lives, it's no surprise that even our furry companions have taken center stage in the digital realm. From heartwarming stories to hilarious antics, pets, and particularly dogs, have captured the hearts of netizens worldwide. Among the many endearing ways we celebrate our four-legged friends, the rise of dog birthday memes stands as a testament to the special place these loyal companions hold in our lives.
Gone are the days when a dog's birthday was simply marked by a pat on the head and a treat. Today, social media platforms are flooded with a delightful array of happy birthday dog memes that encapsulate the essence of our canine friends' birthdays. These memes not only bring smiles to our faces but also highlight the deep bond between humans and their beloved dogs. As we dive into the world of dog birthday memes, we explore how these light-hearted creations have become a cultural phenomenon, spreading laughter and love while underlining the extraordinary relationships we share with our furry family members.
The Evolution of Canine Celebration
The tradition of celebrating a dog's birthday isn't entirely new. Dog owners have long found ways to commemorate their pets' special days, whether through homemade treats, lavish presents, or adorable photoshoots. However, with the advent of social media, these celebrations have undergone a transformative shift. Pet enthusiasts and meme creators alike have harnessed the power of the internet to craft humorous and relatable content that resonates with dog owners across the globe.
Dog birthday memes offer a fresh perspective on celebrating these cherished occasions. They not only highlight the quirks and idiosyncrasies of our canine companions but also allow us to connect with others who share similar experiences. The universality of the emotions conveyed through these memes transcends cultural boundaries and language barriers, creating a shared language of laughter and camaraderie.
In the following sections, we will explore a curated collection of dog birthday memes that capture the essence of these celebrations. From the classic cake-smashing antics to the comical "age is just a number" sentiments, each meme serves as a testament to the unbreakable bonds we share with our dogs and the joy they bring to our lives.
So, fasten your seatbelts as we embark on a journey through the amusing, heartwarming, and sometimes downright goofy world of happy birthday dog images and happy birthday gifs of funny dogs. Get ready to chuckle, "aww," and nod in agreement as we uncover the magic of celebrating our furry friends in the digital age.
1. Why did you light my cake on fire?!
---
2. When all you want is cake!
---
3. 8 Year old me when my mum made me ring people to thank them for my birthday presents!
---
4. Smile .. Its's your Birthday – Best Happy Birthday Dog Images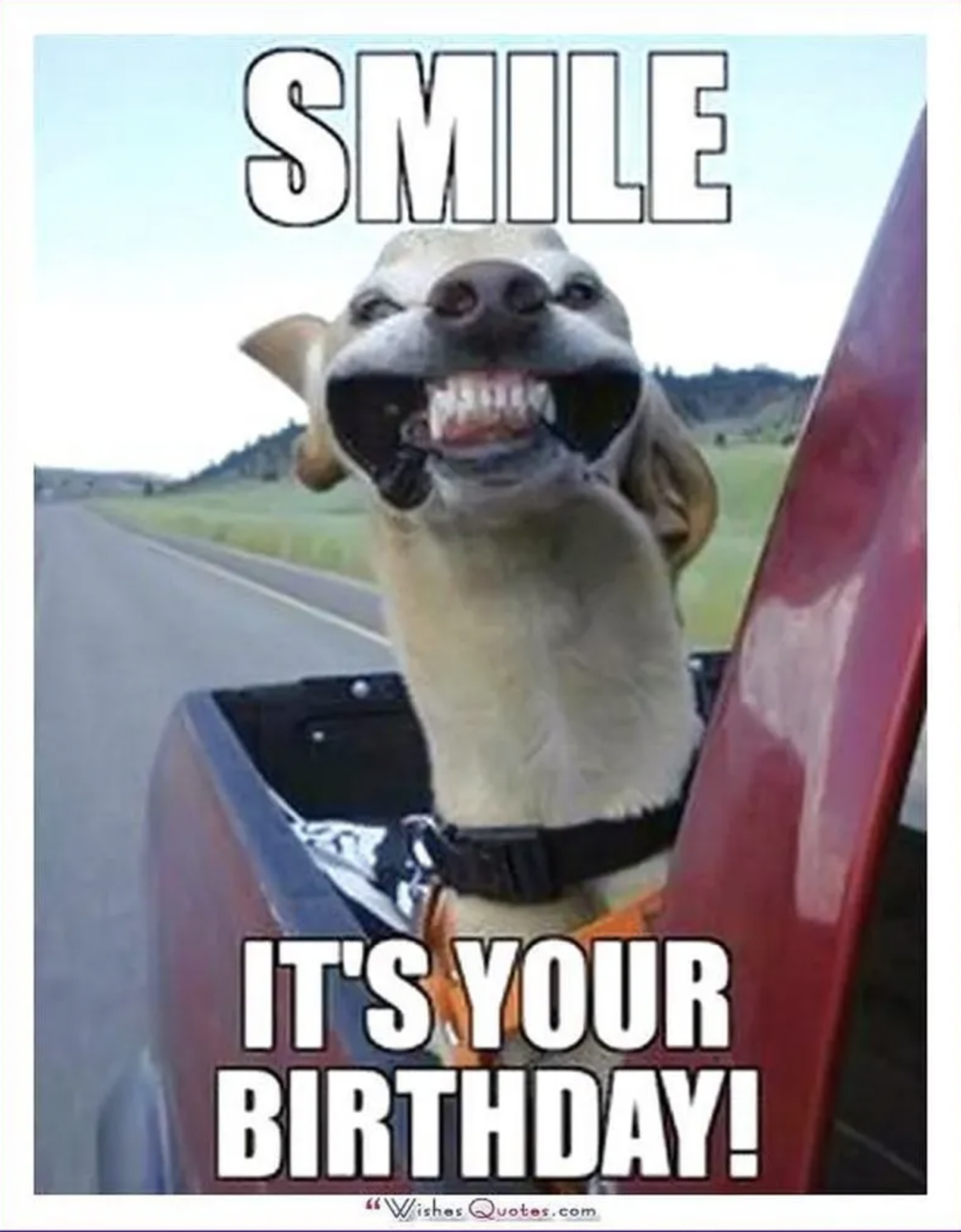 ---
5. You're depressed because you're getting old!
---
6. Can you hangout?
---
7. Cupcake is happy!
---
8. Let's drink!
---
9. Why wait till the candles go out…?!
---
10. When waiters clapping and walking towards you!
---
Here are some viral Dog Birthday Memes on TikTok
---
---
---
---
Related Articles: