Dog Food Golden Retriever Labrador Retriever
Top 4 Dog Foods for Labs
The Labrador Retriever, known for its friendly and outgoing personality, has a rich history rooted in the rugged terrain of Newfoundland, Canada. Originally bred to assist fishermen in pulling in nets and retrieving fish the breed quickly proved to be a valuable asset in hunting game birds as well.
Even if your Lab has never even seen a duck or a pheasant, they still need the same essential nutrition they would if they were a bird dog. Here, I'm talking about the best dog food for Labs, any of which fully meet the biological needs of these gorgeous dogs.
Related Articles:
Labrador Retriever Nutrition
Labrador Retrievers need the same general nutrition that all dogs require. Facultative carnivores, dogs thrive on meat-based protein plus added nutrients from fresh fruits, vegetables, and grains.
The most basic questions you should ask yourself when narrowing down the type of dog food you want to feed your Labrador Retriever include:
Is your Labrador Retriever a puppy (3–14 months), an adult (up to 8), or a senior (8+)?
How big is your Labrador Retriever? They are typically large dogs, around 55–80 lbs.
How active is your Labrador Retriever?
Does your Labrador Retriever have any health concerns?
If you have a healthy Labrador Retriever, it's still important to account for potential health concerns associated with the breed. Labrador Retrievers may be particularly prone to:
Obesity which leads to joint problems, diabetes and heart disease,
Hip and elbow dysplasia
Cancer – especially lymphoma and mast cell tumors.
Vision Problems like Progressive Retinal Atrophy (PRA) and cataracts
Knowing this when selecting a dog food can help to inform which micronutrients are most important to you.
Best Dog Food for Labs
Excellent dog foods come in all different shapes, sizes, and types, which is why this list includes the best dog food for Labs in every category: raw, air-dried, fresh-frozen, and kibble.
1.Best Raw: We Feed Raw Beef Recipe
With We Feed Raw, you can choose from an impressive variety of raw recipes with plenty of different proteins, so you can switch it up or cater to your dog's dietary requirements. The recipes are packed with protein and nutrients from meat (muscle), bone, and organs.
For Labs specifically, this recipe incorporates vitamin A supplements (for healthy eyes), manganese sulfate (for healthy bones), and natural calcium from ground bone.
Save 25% off your first subscription trial box.
| | |
| --- | --- |
| First 5 Ingredients | Beef Heart, Beef Liver, Beef Kidney, Beef Necks (with bone), Flaxseed |
| Food Type | Raw, grain-free |
| Guaranteed Analysis (crude) | 12.2% Protein – 10% Fat – 1% Fiber – 68.8% Moisture |
| Feeding Instructions | Feed 1.2 lbs (or 19.2 oz) per day, or 0.6 lbs (or 9.6 oz) per meal* |
| Cost Per Meal | $5.86 per meal* – $264.00 for 27 lbs. (best option for savings) |
What Reviewers Say:
---
2. Best Air-Dried: Sundays For Dogs Beef Recipe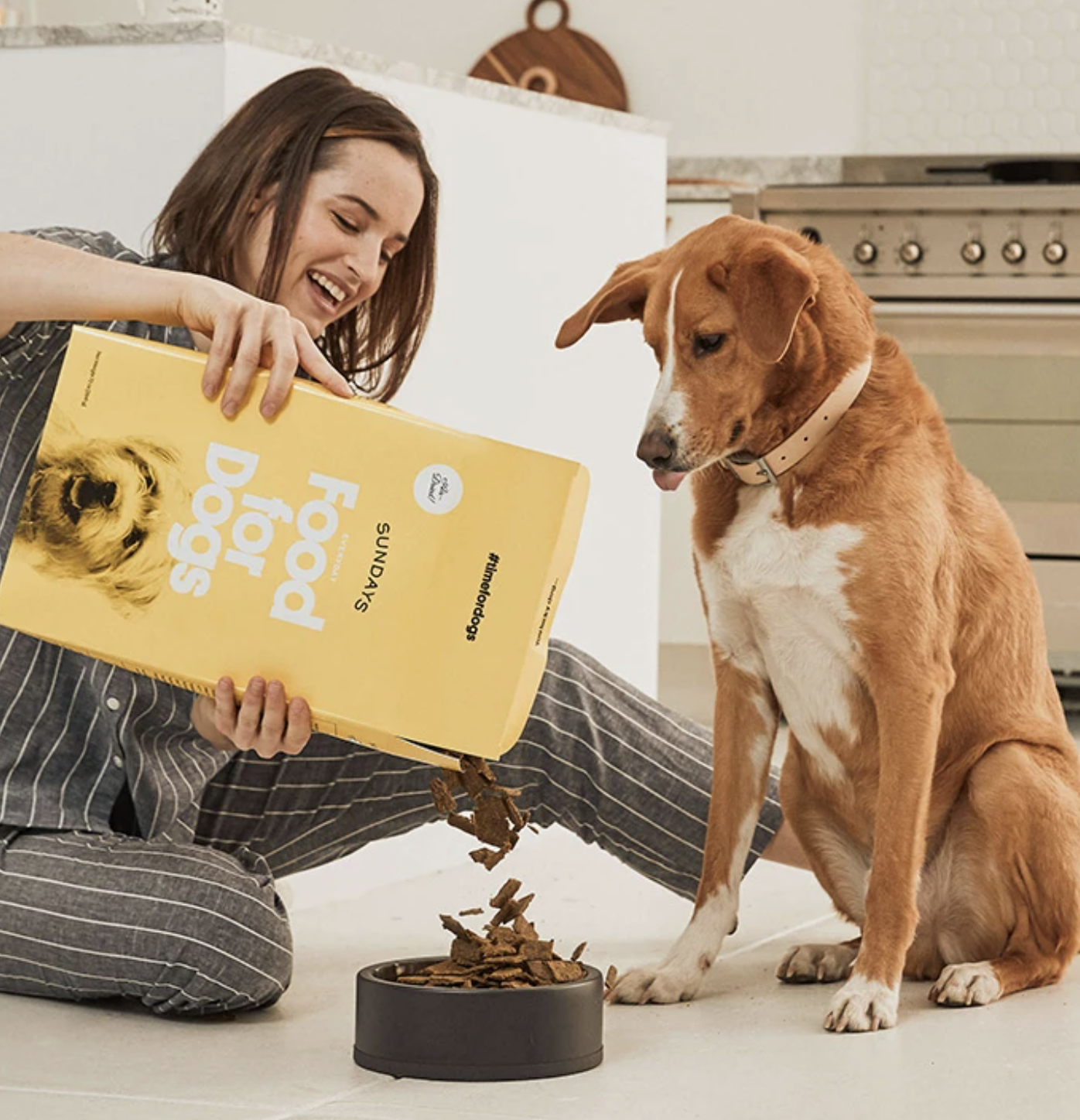 If you struggle to get your Labrador Retriever to eat their food, but they love treats, they'll probably love Sundays For Dogs. Air-dried in small pieces that look, taste, and feel like jerky, Sundays For Dogs can also be used as training treats if you're working on teaching your Labrador Retriever new tricks, or they just deserve an extra snack at the end of a long hard day of naps. 
Other than the delicious recipe, we think Sundays For Dogs deserves consideration for best food for Labrador Retrievers thanks to the turmeric to reduce inflammation, blueberries for antioxidant and immune support, and tart cherries to protect the joints. 
Get 35% off your first order + free shipping w/ code ROCKY35!
| | |
| --- | --- |
| First 5 Ingredients | Beef, Beef Heart, Beef Liver, Beef Bone, Quinoa |
| Food Type | Air-dried, grain-inclusive without wheat, peas, corn, or legumes |
| Guaranteed Analysis | 30% Protein – 20% Fat – 3% Fiber – 15% Moisture |
| Feeding Instructions | Feed ½ cup (2.2 oz.) per day or ¼ cup (1.1 oz.) per meal* |
| Cost Per Meal | $1.92 per meal* – $69 for 72 oz. (best option for savings) |
What Reviewers Say:
---
3. Best Fresh-Frozen: The Farmer's Dog Beef Recipe
If your Lab prefers to eat "human food," they'll absolutely love the fresh-frozen food from The Farmer's Dog. Made with wholesome, delicious, and limited ingredients, each recipe has everything your Lab needs to thrive, and we guarantee they'll never turn their nose up at the flavor.
To keep Labrador Retrievers healthy, the beef recipe includes carrots for vision health and salmon oil for healthy bones and joints.
| | |
| --- | --- |
| First 5 Ingredients | USDA Beef, Sweet Potato, Lentils, Carrot, USDA Beef Liver |
| Food Type | Fresh-frozen, grain-inclusive without wheat or corn |
| Guaranteed Analysis (crude) | 11% Protein – 8% Fat – 1.5% Fiber – 72% Moisture |
| Feeding Instructions | Customized for your pet! |
| Cost Per Meal | Determined by your dog's meal plan – plans start at $2 per day |
What Reviewers Say:
---
4. Best Healthy Kibble: Spot & Tango Beef & Barley UnKibble
Kibble is undeniably the easiest type of dog food to feed your Labrador Retriever. Easy to portion, mess-free, affordable, and crunchy, there's a reason kibble is the most popular type of dog food in the world. UnKibble from Spot & Tango is just as convenient as traditional kibble but includes only high-quality ingredients and zero filler.
For Labrador Retrievers specifically, we love that the Beef & Barley blend includes flax and fish oil for omega-3 fatty acids and carrots for vision health.
| | |
| --- | --- |
| First 5 Ingredients | Beef, Barley, Flax, Carrots, Green Beans |
| Food Type | Kibble, grain-inclusive without wheat or corn |
| Guaranteed Analysis (crude) | 26.58% Protein – 16.43% Fat – 3.18% Fiber – 2.04% Moisture |
| Cost Per Meal: | $2.49 per meal – $86.22 for 14 days of food* |
What Reviewers Say:

*Feeding instructions and cost analysis based on calculations for a 60 lb. Labrador Retriever with an average activity level.
---
Dog Food for Labrador Retrievers FAQ
Before we wrap up, let's talk about some of the most common questions Labrador Retriever owners have about feeding their dogs and the best dog food for labs. Chances are, you've probably asked one of these questions yourself!
Which is the best food for Lab puppies?
Labrador Retriever puppies can thrive on any of the dog foods we've listed above. In particular, we recommend Front of the Pack air-dried food, The Farmer's Dog fresh-frozen, and Spot u0026 Tango's UnKibble. 
Because The Farmer's Dog also offers customization for your pet's specific needs, this is a fabulous option for a growing puppy whose dietary needs change over time.
How much food should a Labrador Retriever eat?
Exactly how much your Lab needs to eat will depend on its weight, activity level, health, etc. However, on average, 60 lb dogs need around 880 calories per day. In terms of kibble, this usually works out to 2-3 cups per day. 
How much food should a Labrador Retriever puppy eat?
The amount of food your Labrador Retriever puppy needs will change as they grow, and the first year or so of their life will be spent steadily increasing their food intake. By around 6-7 months, Labrador Retrievers can be eating as much as their full-grown counterparts, while others won't reach this step until 8-9 months. 
Be sure to consult with your vet when you get a new puppy–they can help you to create a feeding plan, and monitor their growth. 
Should Labrador Retrievers eat grain free?
Feeding your dog a grain-free diet is a personal decision that should be made based on your Lab's specific needs, and the advice of your veterinarian. Some vets believe that grain-free diets can be detrimental to canine health, while others are on-board with grain-free, raw, and non-kibble diets. 
There is no rule that says Labs should eat grain-free, but they can live very happy lives on grain-free diets. 
How often should I feed my Labrador Retriever? 
Labs do well on a twice-per-day feeding schedule, once in the morning and once at night. Some people choose to feed three smaller meals throughout the day, but a twice-per-day routine will work well for most dogs.  
Also, you can find 4 best dog food brands for corgis here!