3 Vegetarian Dog Food Recipes You Can Make At Home
Does your dog have an allergy to meat? If so, you might want to look into a vegetarian diet! Dogs that can't eat meat can thrive on a carefully balanced vegetarian or plant-based diet, but it's not as simple as feeding your dog a few handfuls of salad and hoping for the best.
In this guide, we're sharing what you need to know about feeding your dog a vegetarian diet, plus simple homemade dog food recipes that are all meat-free.
Why Would You Feed a Dog Vegetarian Dog Food?
Dogs are carnivores who do best on a diet heavy in animal protein. However, like humans, dogs can be allergic to almost anything, including meat! In these cases, where a dog is unable to eat meat or animal protein, their owners will need to transition them to a vegetarian diet. This should be a decision that you make with the help of your veterinarian, who will be able to help diagnose your dog's allergies and help you create a balanced nutritional plan for your dog.
This will likely mean that you will need to learn some homemade vegetarian dog food recipes. Vet-approved vegetarian dog food recipes are nutritionally balanced, but because they don't include meat, you may find that you need to offer certain supplements to your dog while they're on a meat-free diet.
Should YOU Feed Your Dog a Vegetarian Diet?
For most dog owners, the answer to this question is no. Dogs can eat veggies– and should, because of the nutrients and fiber content. There's a reason that lots of the very best dog foods include vegetables in their ingredients. But dogs are primarily carnivores and need a high percentage of protein in their diet. When you feed them a vegetarian diet, it can be hard to get the right amount of protein in there, unless it's from eggs or dairy.
Benefits of Feeding Vegetarian Dog Food
There are several benefits to a plant-based diet for your dog. Veg food recipes, when properly balanced, can give your dog all the nutrients they need. Additionally, they are a great way to deal with an extremely common health problem: skin allergies.
After fleas, the top cause of itchy, painful skin conditions in dogs is food allergies. A vegetarian diet can solve this problem if your dog is allergic to the protein in meat.
Some other benefits of feeding veg food recipes for dogs include:
Reduction of kidney stones
Reduction of bladder stones
Better for dogs with liver disease
Can help with weight control
Can help with digestion
1. Plant-Based Dog Food Recipe: Black-Eyed Pea Stew with Tofu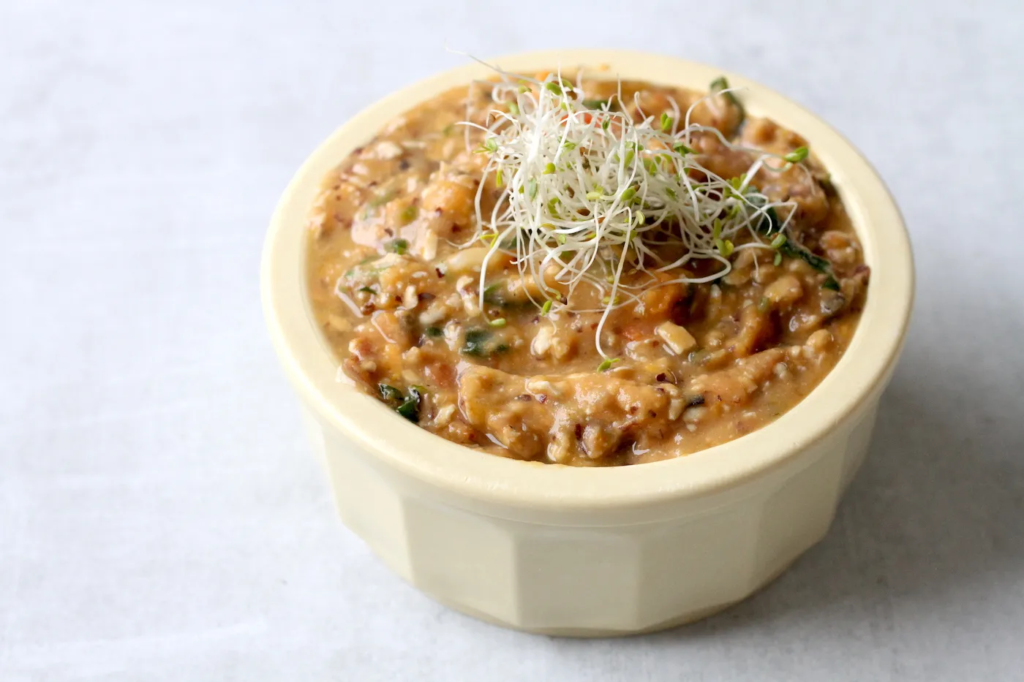 Image source: Active Vegetarian
This is one of our favorite homemade veg dog food recipes. It uses black eyed peas as a source of both protein and dietary fiber and includes tofu for calcium.
Ingredients
1½ cups dried black eyed peas
1 sweet potato
3 regular potatoes
4 carrots
1 tofu
1 cup spinach
2 tbsp dulse flakes
2 tbsp cold-pressed hemp seed oil
1 scoop of The One nutritional supplement to garnish
Directions
The night before you prepare this recipe, soak the black eyed peas for at least 4-6 hours.
Prepare the ingredients: cube the sweet potato and regular potatoes, slice the carrots, chop the spinach, and shred the tofu.
Drain the peas and rinse.
Place peas in a large pot with 6 cups of water and bring to boil on medium-high. Cover and reduce heat to a simmer for about 45 minutes or until peas are tender. Add extra water if needed.
Mix in shredded tofu, potatoes, carrots and 2 more cups of water. Simmer on medium heat for 25 minutes.
Remove from heat and allow to cool for 10 minutes.
Add the dulse flakes and hemp oil. Stir through until well combined.
Let cool before serving.
Important Notes
You can store the leftover food in an airtight container in the refrigerator for 3-5 days, or freeze it for up to 3 months. Keep in mind that this recipe includes no preservatives, so it won't last nearly as long as commercial dog food.
---
2. Vegetarian Dog Food Recipe with Eggs: Mini Doggie Frittatas
Eggs are found in many homemade dog food recipes, vegetarian recipes included! Many veg recipes for dogs include these protein powerhouses. For this recipe, you will need a silicone mold and a baking sheet to put it on.
Ingredients
Olive oil, for greasing the mold
Finely chopped dog-friendly veggies (the original recipe used spinach)
2 large eggs (you may need more depending on the size of your mold)
1/4 teaspoon ground turmeric
Pinch ground black pepper
1 scoop of The One nutritional supplement to garnish
Directions
Preheat oven to 400ºF. Grease silicone mold with olive oil.
Prepare your veggies by chopping or shredding them. Add some veggies to each cup in your silicone mold.
Crack two eggs into a liquid measuring cup and beat.
Add turmeric and pepper to eggs and mix.
Pour egg mixture over veggies, filling each silicone cup 3/4 way full. The eggs will puff up when baking.
Bake in the oven for approximately 20 minutes.
Remove from the oven, let cool, and then remove frittatas from the mold.
Important Notes
You can include all kinds of veggies in this recipe, including shredded spinach, finely chopped kale, shredded zucchini, shredded carrots, finely chopped red bell pepper, or finely chopped broccoli that's been pulsed in a food processor to create a rice-like texture.
---
3. Vegetarian Dog Food Recipe with Yogurt
This dog food recipe uses yogurt as a source of calcium and protein, and has lots of dog-friendly veggies and fruit!
Ingredients
1 cup cooked black beans
1 cup cooked quinoa
¼ cup chopped spinach
¼ cup chopped butternut squash
¼ cup chopped apple
¼ cup chopped pear
¼ cup chopped zucchini
¼ cup plain yogurt
2 tbsp. low-fat cream cheese
Directions
Cook the quinoa according to instructions on the package.
Mix all ingredients together in a large bowl.
Important Notes
You can use canned or dried beans– but make sure to rinse the canned beans or to use a brand without added sodium.
---
Nutritional Supplements To Add To Vegetarian Dog Food
Because a homemade vegetarian diet will not provide your dog with all the nutrients they need, you need to add supplements to their food.
Daily
The One by Front of the Pack
Made with a blend of 12 clinically-proven ingredients, it targets your dog's physical and cognitive health. Formulated by expert vet nutritionists, it offers eight essential benefits including support for resilient joints, heart health, mental sharpness, digestion and immunity, mental sharpness, anxiety and fresh breath.
As Needed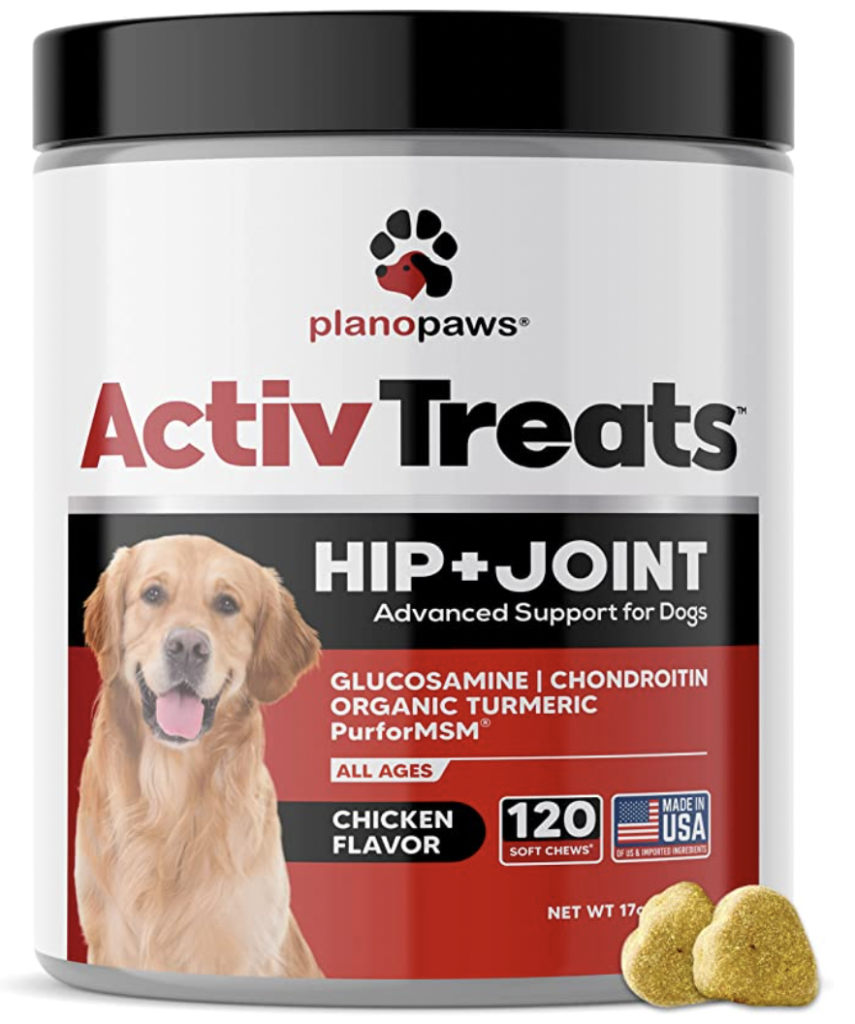 ---
Best Store-Bought Vegetarian Dog Food
Save yourself a little time, and ensure your dog is getting well-balanced meals by purchasing your vegetarian dog food from the store! Here are two options dog owners trust.
1. Wild Earth Complete Protein Formula
Easily the most reviewed and popular plant-based dog food, Wild Earth's Complete Protein Formula is fully plant-based, nutritionally balanced, and developed by canine nutritionists and veterinarians.
First 5 Ingredients: Dried Yeast, Chickpeas, Peas, Oats, Pea Protein

Guaranteed Analysis (crude): 31% Protein — 10.5% Fat — 5% Fiber — 10% Moisture

Food Type: Kibble
2. Natural Balance Vegetarian Plant-Powered Dog Food
Featuring simple ingredients, Natural Balance's limited-ingredient plant-powered dog food features primarily rice, oats, and peas and is lower in protein overall than other similar options. Relatively well-reviewed, some dog owners have mentioned that the formula is a little oily, so dogs with sensitive stomachs might want to skip this formula.
First 5 Ingredients: Brown Rice, Oat Groats, Pearled Barley, Peas, Potato Protein

Guaranteed Analysis (crude): 18% Protein — 8% Fat — 5% Fiber — 10% Moisture

Food Type: Kibble
Vegetarian Dog Food FAQs
Do you have questions about feeding your pup a plant-based diet? Here are some of the top questions that curious pet parents have about vegetarian dog food!
What can I feed my vegetarian dog?
If you have chosen to feed your dog a vegetarian diet, there are lots of things you can feed them. Eggs are a great choice for a non-meat protein source and are included in many vegetarian dog food recipes. You can use the BalanceIT pet food calculator to figure out a balanced diet that will help you feed your vegetarian dog.
What is the best vegetarian dog food brand?
If you don't want to follow homemade vegetarian dog food recipes, a very popular vegetarian dog food brand is Wild Earth's Complete Protein Formula. Read above for more information about this dog food.
Can a dog survive on a vegetarian diet?
Yes, a dog can survive on a vegetarian diet. However, you need to make sure that it is balanced and has no ingredients that make your dog sick; for example, many veg food recipes for dogs contain grain, which can irritate your dog's skin, ears, and eyes. 
Should I switch my dog to a vegetarian diet if I am a vegetarian?
No! Unless your dog is allergic to meat and animal products, you should NOT switch them to a vegetarian diet. If you eat a vegetarian diet and don't feel comfortable feeding your pet animal products, it is a better idea to get a naturally vegetarian pet like a rabbit, bird, or tortoise. 
---
Related Articles