These Dogs Ride The Bus Like Humans!
The Internet Can't Get Enough of This Dog Bus: How a Local Alaskan Couple's Playgroup is Taking Over Social Media
Meet Amaru, a 5-year-old rescue dog who waits patiently on his family's front lawn in Skagway, Alaska for the bus to arrive each morning. He's part of a play group organized by Mo Mountain Mutts, a local dog walking and training business run by a husband-and-wife duo, Mo and Lee Thompson.
But it's not just their off-leash pack walks that are gaining attention, it's the videos of their regular dog pickup routine. A recent TikTok video of dogs confidently boarding the bus on their own with big wagging tails was viewed over 50 million times. Amaru can be seen eagerly awaiting the bus, and happily leaping in when the door opens.
Once on the bus, the dogs sniff around, greet their fellow passengers and head to their designated seats, which the Thompsons have trained them to do. Seats are chosen based on factors such as the dog's personality, age and manners. Mo also does a small obedience drill and passes out treats for good behavior.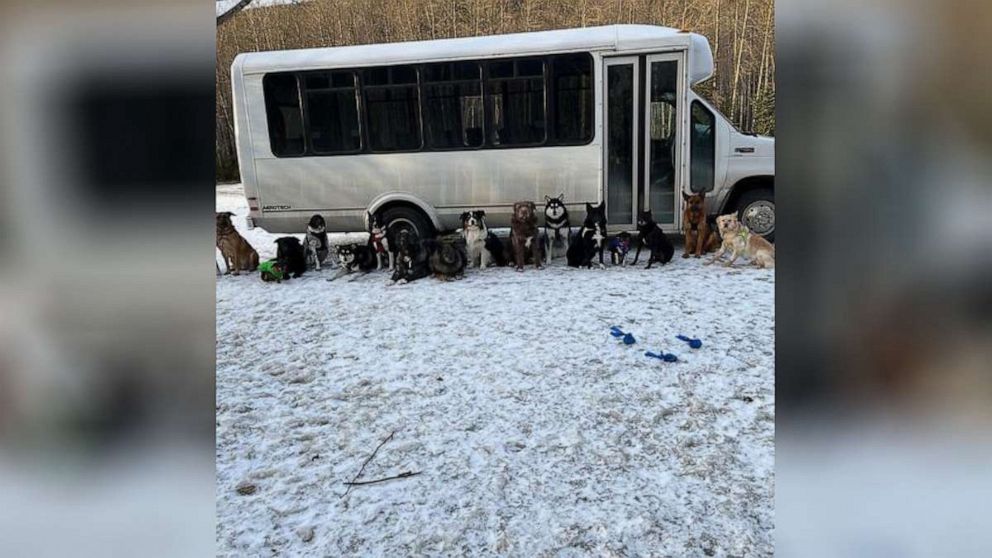 Mo and Lee regularly film portions of their bus rides and walks and share them on social media. They've gained a huge following with over 237,000 followers on Instagram, and 1.3 million followers on TikTok, but their videos reach far more people than that. Amaru has become a fan favorite, with comments like "Amaru wants to socialize" and "All my friends tease me that he's going to leave home and go to Hollywood."
Fans of the dog bus say the videos are a guaranteed mood boost. Mo and Lee never expected to start a dog walking business or move permanently to Alaska, but it seems like fate had other plans for them and their furry friends."