Pet Products Backpacks Crates & Carriers
The Best Dog Backpacks for Summer 2023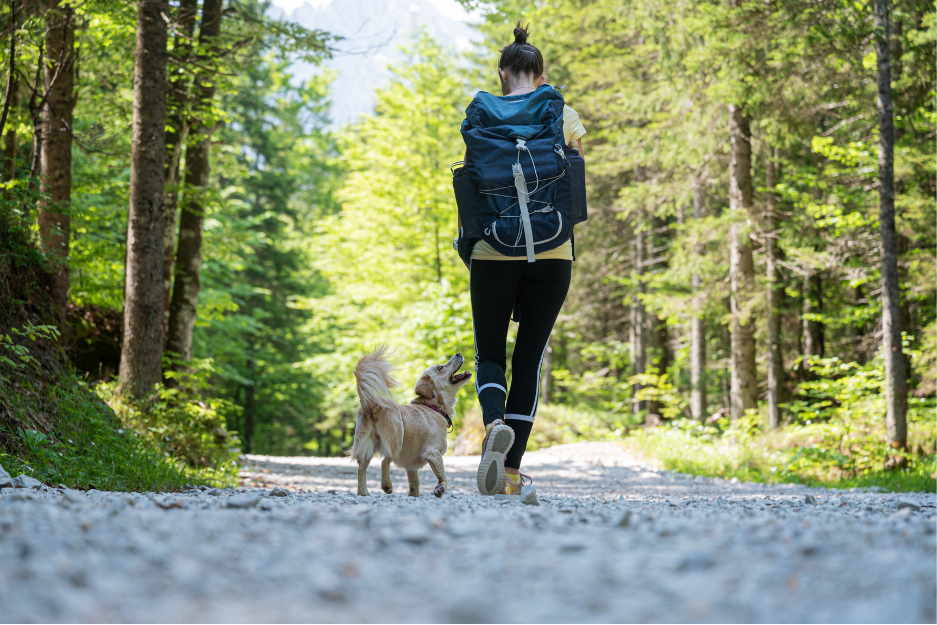 As it warms up, many of us are hitting the trails and going hiking! There's nothing quite like an amazing outing on a great day, but it's even better when we get to share it with our pups!
Some dogs are hiking fanatics that love to trek long distances with their humans. Other dogs are a little less enthusiastic about that much exercise or have mobility issues that make it hard or dangerous for them to tackle difficult terrain.
If your dog falls into the second category, don't worry, you can still include your pup on your summer nature outings! A dog backpack offers you a simple, safe way to bring your furry friend along, even if they're getting older or are unable to walk the whole way.
We've chosen three options and our best overall pick, so keep on scrolling to learn more!
1. The Pecute Dog Carrier Backpack
When you're looking for a dog backpack carrier, you want something that gives your best bud room to lay down and get comfy. For pooches that weigh up to 18 pounds, one of the best picks is the Pecute Dog Backpack Carrier. At $54.99, this affordable pick is a great choice for owners of small pups.
In addition to the carrier, this nifty bag comes with a variety of storage options and functional features. Reviewers love its side pouches, which are great for storing small bottles and keys.
| | |
| --- | --- |
| The Pros | The Cons |
| A breathable, airy mesh enclosure | Will not fit medium or large dogs |
| Durable construction | Plastic fabric may overheat in extreme temperatures |
| Light and portable | The bottom is not as durable as the rest of the bag |
| Affordable | |
2. The Fur Cadet Dog Backpack
We've got options for big dogs, too! This awesome backpack is an affordable multifunctional pick for mid-sized pups. Reviewers note that they've happily trekked with dogs of up to 40 pounds in this pack. The Fur Cadet Dog Backpack Carrier is $69.97, and the company also offers a larger size.
See also  The Best Enzyme Cleaner for Dog Urine Rated
A collapsible water bowl and potty pads are also included with the Fur Cadet dog backpack.
| | |
| --- | --- |
| The Pros | The Cons |
| Durable and comfortable | May be hard to get a wiggly pup inside |
| Fits larger dogs; an even larger option is also available | Not recommended for hiking in extremely hot weather due to low ventilation |
| Portable and compact | |
| Budget-friendly | |
| Plenty of extra storage space | |
3. The Kurgo Dog Backpack
Topping out at a whopping $159.99, the Kurgo dog hiking backpack line may not be the most affordable option, but it's well worth the expense! These amazing packs let your pup peek out and watch while keeping them safely secured inside. The Kurgo G-Train is suitable for pups up to 25 pounds, and the Kurgo Nomad comfortably fits pups of 15 pounds or less. If your dog is particularly squirmy, however, the Kurgo line will be a bit of a challenge, as these options offer less wiggle room than mesh or expandable carriers, such as the Pecute dog backpack.
| | |
| --- | --- |
| The Pros | The Cons |
| Secure and comfortable | One of the priciest options on the market! |
| Available in two sizes | Only available for small or medium dogs |
| Plenty of storage space | May overheat in extremely hot conditions |
| A fun little peeping hole at the top! | Not the best for squirmy dogs |
| Extremely durable | |
4. Our Top Pick: The K9 Sport Sack
Finally, we have our top spot pick: the K9 Sport Sack. This amazing dog backpack is available in four sizes, and it's perfect for a wide range of pups. Lightweight, breathable, and adaptable, there's nothing quite like the K9 Sport Sack.
See also  13 Novel Proteins That Dogs with Allergies & GI Issues Can Eat
All of these amazing features come with a price, though. These high-quality dog hiking backpacks weigh in at $129.95, and the Knavigate line is $174.95. All of these bags are well worth the price, though, and reviewers are absolutely in love with how durable, comfortable, and easy to put on these dog backpacks are.
| | |
| --- | --- |
| The Pros | The Cons |
| Extremely durable | High price point |
| Very comfortable | May not be comfortable for dogs with back issues |
| Offered in a range of sizes and fits most dogs | Not the best option for particularly squirmy pooches |
| Breathable for you and the pup | |
| Simple walk-in construction | |
Backpack for Carrying Large Dogs
Unfortunately for big dog owners, most dog backpacks are designed for carrying small and medium dogs. However, big dogs need to be carried for many of the same reasons small dogs need to be carried. They could be elderly, have limited mobility, or simply need a little help on a hike. Dog backpacks are also helpful for traveling with your dog, especially in places where dogs are required to be in a carrier.
We have two backpack options for carrying large dogs.
Fur Cadet Dog Backpack is available in two sizes: medium and large. The large size fits dogs up to 23" long. For reference, the average American Pitbull Terrier has a back length of approximately 20".

K9 Sport Sack backpacks come in SIX sizes so you can get the best fit for your breed. For large dogs, we recommend the three largest sizes.
Large: for dogs 20-23" long (e.g. Corgi)
X-Large: for dogs 23-26" long (e.g. Australian Shepherd)
XX-Large: for dogs 26-29" long (e.g. Goldendoodle)
Backpack for Carrying Pregnant Dogs
It is not safe to carry your dog in a backpack while they are pregnant. Lifting a pregnant dog should be avoided, and when absolutely necessary you should avoid putting any pressure on the dog's belly. Overstimulating and carrying a dog while pregnant can be bad for their health and the health of their puppies.
If you must transport your pregnant dog and she cannot walk, a kennel is the safest option.
How to Choose the Best Dog Backpack
At the end of the day, no dog carrier backpack is perfect for every dog. You'll need to consider your dog's individual personality and habits. Some dogs will prefer mesh bags, which allow for them to move around. Other pups will be perfectly happy on your back! Every dog backpack carrier will also present a bit of a learning curve, so be sure to grab one before you plan on going. This gives your pup plenty of time to get used to being in the bag.
No matter which option you pick, be sure to bring along plenty of water and treats!
Let's quickly go over the products we discussed again:
Name of backpack
Why I love it
Price & link to buy
1. The Pecute Dog Carrier Backpack


-A breathable, airy mesh enclosure
-Durable construction
-Light and portable
-Affordable

$54.99

2. The Fur Cadet Dog Backpack

-Durable and comfortable
-Fits larger dogs; an even larger option is also available
-Portable and compact
-Budget-friendly
-Plenty of extra storage space
$69.97

3. The Kurgo Dog Backpack

-Secure and comfortable
-Available in two sizes
-Plenty of storage space
-A fun little peeping hole at the top!
-Extremely durable
$159.99

4. ⭐️Our Top Pick⭐️
The K9 Sport Sack


-Extremely durable
-Very comfortable
-Offered in a range of sizes and fits most dogs
-Breathable for you and the pup
-Simple walk-in construction
$129.95


See also  Gift Guide: Top Gifts Your Dog Will Go Crazy For
Top Rated Dog Treats Every Dog Will Love