Love at First Sight: Winky, the One-Eyed Wonder, Captures Hearts and Finds a New Family
Pet rescue advocate Rocky Kanaka recently shared a heartwarming story of a rescue dog named Odin, who was originally named Winky. Odin had a tough start in life and was found as a stray on the streets before being taken to Animal Friends of the Valley.
Winky's Video Went Viral
Despite having only one eye, many people wanted to adopt Odin after Rocky featured him in a video on his YouTube channel, which quickly went viral. Thanks to the video's success, there were numerous applications to adopt Odin, but Cheyenne and Eric were ultimately chosen to adopt him.
"Rescue dogs come with their issues, but they also come with so much love to give."

Cheyenne
What Adopters Need To Know BEFORE Adopting
According to Cheyenne, there are three essential things that potential adopters need to know before taking in a rescue dog:
"Firstly, rescue dogs require patience and time," she explained. "They come with various issues, and you can't place expectations on them. You need to give them time to adjust to their new home, which can take up to three months. Don't compare your new dog to your previous pets or place any past expectations on them."
Next, Cheyenne also emphasized the importance of slowly introducing a new pet to the family and children, which can lead to a higher chance of success in the adoption process. "You need to take time to introduce the new pet to all family members and create a comfortable and safe environment," she said.
Finally, adopters must put in the time and effort required to train the dog and help them reduce anxiety. "Providing chew toys and seeking professional help from a trainer is essential to aid the dog's adjustment process," Cheyenne advised.
When asked about Odin's medical history, Cheyenne explained that they didn't know much, but during his neuter surgery, they discovered that he had no eye in his eye socket, only eye pulp. "They cleaned it out and sewed him up, and he is recovering well," she said. "Odin also had some teeth pulled during the surgery."
Cheyenne and her partner, Eric, have always had dogs and love adventuring with them. They were initially planning on fostering Odin, but after two weeks, they fell in love with him and decided to adopt him. Odin was a stray found on the street and dropped off at Animal Friends of the Valley.
Love At First Sight
At first, Odin was shy and timid, but gradually became more comfortable with his new family. They separated him from their other dog, Skye, for about a month so that he could get accustomed to his new surroundings and slowly become familiar with Skye. Over time, Odin's energy levels increased, and he became more playful and comfortable with his new family.
"We just fell in love with him & I just knew that we needed to help this little guy"

Cheyenne
One of the most rewarding parts of this journey has been watching Odin grow and thrive in his new home. Cheyenne and her family have worked with him to teach him new commands, and he has become more confident and responsive to their training. They have also seen Odin become more lighthearted and happier as he has settled into their home.
Odin Was Scared
Cheyenne shared that at first, Odin acted scared and timid with his tail tucked between his legs, but over a few days, he started to become more comfortable with them and Skye. "Now, we've had him for over a month, and he has more energy on walks and runs around with his tail wagging. He just looks brighter and happier," she said.
Odin's ongoing sniffles have required ongoing attention and care, and they believe it was an upper respiratory infection. He was treated for it twice with antibiotics, but he still has the sniffles a month later, although the discharge is getting less and less. Cheyenne and her family have been committed to providing him with the love and support he needs to overcome any health issues.
Odin Eats A Raw Diet
Cheyenne shared that Odin is thriving in their home and living his best life. He loves his sister Skye, treats, and walks. He's grown more lighthearted, and they can tell that he's happier as he's transitioned into their home.
To help him become stronger, Odin is on a raw diet with supplements for immune support. We Feed Raw is the top raw dog food delivery service, sourcing ingredients from trusted U.S. farmers and New Zealand for pasture-raised and grass-fed venison and lamb . If you're interested in the best-quality ingredients, give it a shot. Save 25% off your first subscription trial box.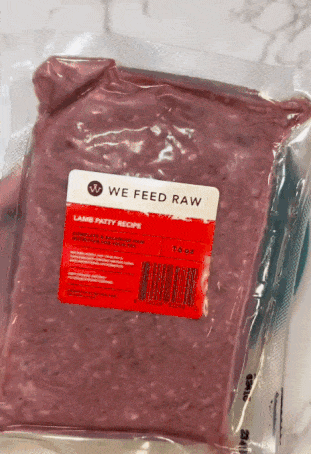 Cheyenne's experience with adopting a rescue dog like Odin has been positive, but it requires patience, time, and effort. It's vital to introduce the dog slowly to the family and invest in training and providing stimulation to promote a successful adoption. Cheyenne's story is a testament to the joy and love that rescue dogs can bring to their new homes.
Top Rated Toys Every Blind Dog Should Have In Their Toy Box