Breeds Doodle Newfoundland Poodle
The Newfiedoodle,The Trendiest 'Doodle' This Year
Newfoundlands and Poodles have been some of the most popular dog breeds for decades, and for good reason. They're intelligent, social, and great with kids. So, what happens when you mix the two? You get the Newfiedoodle, an emerging designer breed that takes all the best elements from both breeds. The result is a dog that's sweet, loyal, and enjoys learning – everything you could want in a family dog!
If you're looking to adopt a Newfiedoodle, it's worth knowing some basic information about them. To help you get started, we've put together a few examples of Newfiedoodles as well as info about their behavior, health, and what you need to raise one!
5 Adorable Newfiedoodles on Instagram
To give you an idea of what life is like with this unique dog breed, take a look at some of the internet's favorite Newfiedoodles!
1. Vino
Vino is an F1 Newfiepoo who loves his family, adventures, and of course, plenty of pets. Follow his page to see his everyday adventures and life with his family!
2. Eleanor Rigby "Nori"
Nori is a two-year-old Newfiedoodle who lives with her humans, their baby, and her two dog sisters. She loves going on walks, playing, and visiting the beach!
3. Leo
Leo is a two-year-old Newfiedoodle from Boston who enjoys a life of adventure with his human! Some of his favorite places are the lakes, beaches, and national parks!
4. Lars
Lars is one year old who lives with his human and Shiba Inu sister. He tends to live a more relaxed lifestyle. However, like any dog, he still enjoys playing games like fetch and chase!
5. Ella
Ella the Newfiedoodle is a giant, fluffy bundle of joy. She spends her days with her human and dog cousin Tula! When she's not relaxing at home, she's running around outside and living the perfect dog life!
Newfiedoodle Basic Info
Here are some of the basic facts you should keep in mind when adopting a Newfiedoodle!
What is a Newfiedoodle?
Though it's a hybrid breed, the Newfiedoodle isn't always a 50/50 split between Poodle and Newfoundland. There are a number of subtypes within the Newfiedoodle breed which we've laid out below.
What's an F1 and F2 Newfiedoodle?
The Newfiedoodle is a new breed which means that ethical breeders are only just starting to classify their pups. Here's a quick overview of this method of classification:
| | |
| --- | --- |
| Program | Parentage Details |
| F1 | Purebred x Purebred (e.g. Newfoundland x Poodle) |
| F1b | Purebred x F1 Newfiedoodle (e.g. Poodle x F1 Newfiedoodle) |
| F2 | F1 Newfiedoodle x F1 Newfiedoodle |
| F2b | F1 Newfiedoodle x F1b Newfiedoodle |
| F3/Multigenerational | Closest purebred is great-grandparent or older |

It's important to remember that later generations do not guarantee the perfect puppy! Newfiedoodles of the first generation can also be wonderful companions. Every dog is an individual, just like every person. Dogs are all unique and nothing can guarantee that any pup will perfectly match the breed standard.
Newfiedoodle Temperament
As a cross between Poodles and Newfoundlands, Newfiedoodles share behavioral traits with both. Traits such as their intelligence and affectionate nature are shared by both parent breeds. However, there are some unique traits that they get from one or the other. These include
Poodle:
Newfoundland:
Generally, Newfiedoodles are a calm, sweet breed. Even so, they're also extremely protective of their favorite people. Thus, it's important to make sure they have time to get to know any new guests. However, they'll warm up quickly and be just as happy as ever!
Newfiedoodle Size
Like their pure Newfoundland cousins, Newfiedoodles aren't small dogs, though they are a bit smaller. Once they're full-grown, they'll be somewhere between 28 inches tall and range from 80-150 pounds. Before you adopt, be sure you have enough space to raise a large dog!
Newfiedoodle Health
Because they're a hybrid breed, Newfiedoodles are less susceptible to many common diseases that affect Poodles and Newfoundlands. However, that doesn't mean there aren't diseases that affect them. They're generally more vulnerable to heart and bone diseases, especially as they get older. Be sure to keep an eye out and check in with your vet regularly.
Where Can You Buy a Newfiedoodle?
If you want to buy one, there are plenty of reputable breeders across the country. However, as with all premium-bred dogs, keep in mind that you'll have to pay a hefty price. Instead, we recommend finding one to adopt! Aside from being cheaper and simpler, adoption allows you to give an animal a loving family and a home. Check in with your local dog rescue or with doodle-specific rescues such as IDOG Rescue.
Newfiedoodle FAQ
Still have questions? Keep reading to learn more about Newfiedoodles!
How Big Does A Newfiedoodle Get?
A full-grown Newfiedoodle stands at around 28 inches tall and weighs between 80-150 pounds.
How Much Does A Newfiedoodle Cost?
Due to the precise breeding process required for a litter of Newfiedoodles, you should expect to pay around $1,000-$1,500 for a puppy.
Are Newfiedoodles Hypoallergenic?
No. There is no such thing as a hypoallergenic dog. Dogs that are low-shedding (like Poodles) drop less dander. However, people can still be allergic to them. Newfoundlands are not low-shedding breeds and have two major periods of shed throughout the year. Since the Newfiedoodle is a mix of these breeds, there's no guaranteeing what kind of coat they'll have.
What Is The Best Poodle Cross Breed?
There's no such thing as the "best" dog breed, but some can be better than others for certain humans. If you want a large, calm dog that's willing to learn and is highly affectionate, the Newfiedoodle is the dog for you.
Are Newfiepoos Calm?
Yes. They're often called gentle giants and for good reason. They're extremely calm and friendly, meaning they won't bark as often as many other breeds.
What is the best food for your dog?
The three foods that are super healthy and that almost every dog loves, even the pickiest dogs, are:
1. The Farmer's Dog.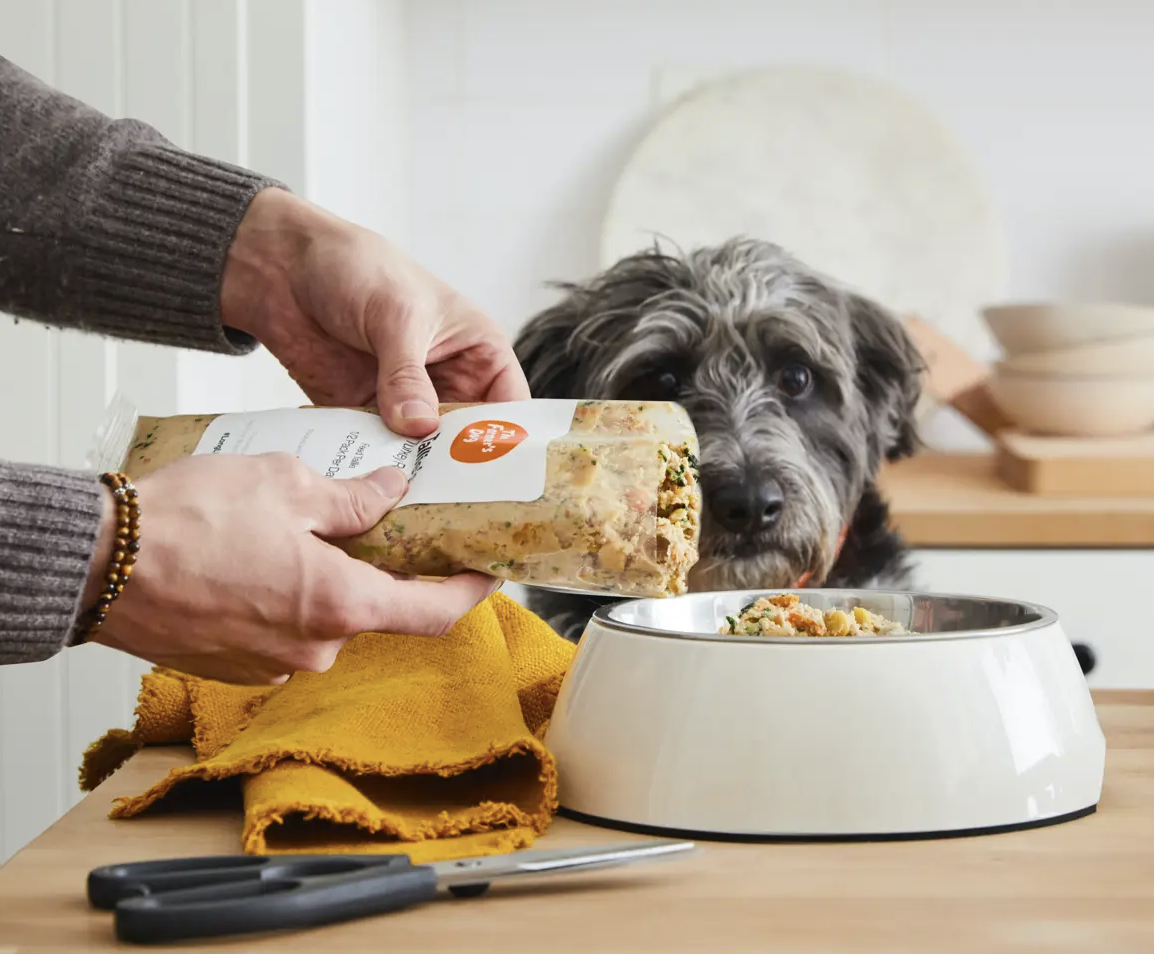 This is a fresh-frozen food that's delivered to your home in just the right amounts for your dog. There are a number of fresh frozen dog foods available on the market and I tested them all. The Farmer's Dog came up the winner with my picky dogs. You can see the fresh frozen food test here.

Save 60% on your first order
—
2. Sundays Food For Dogs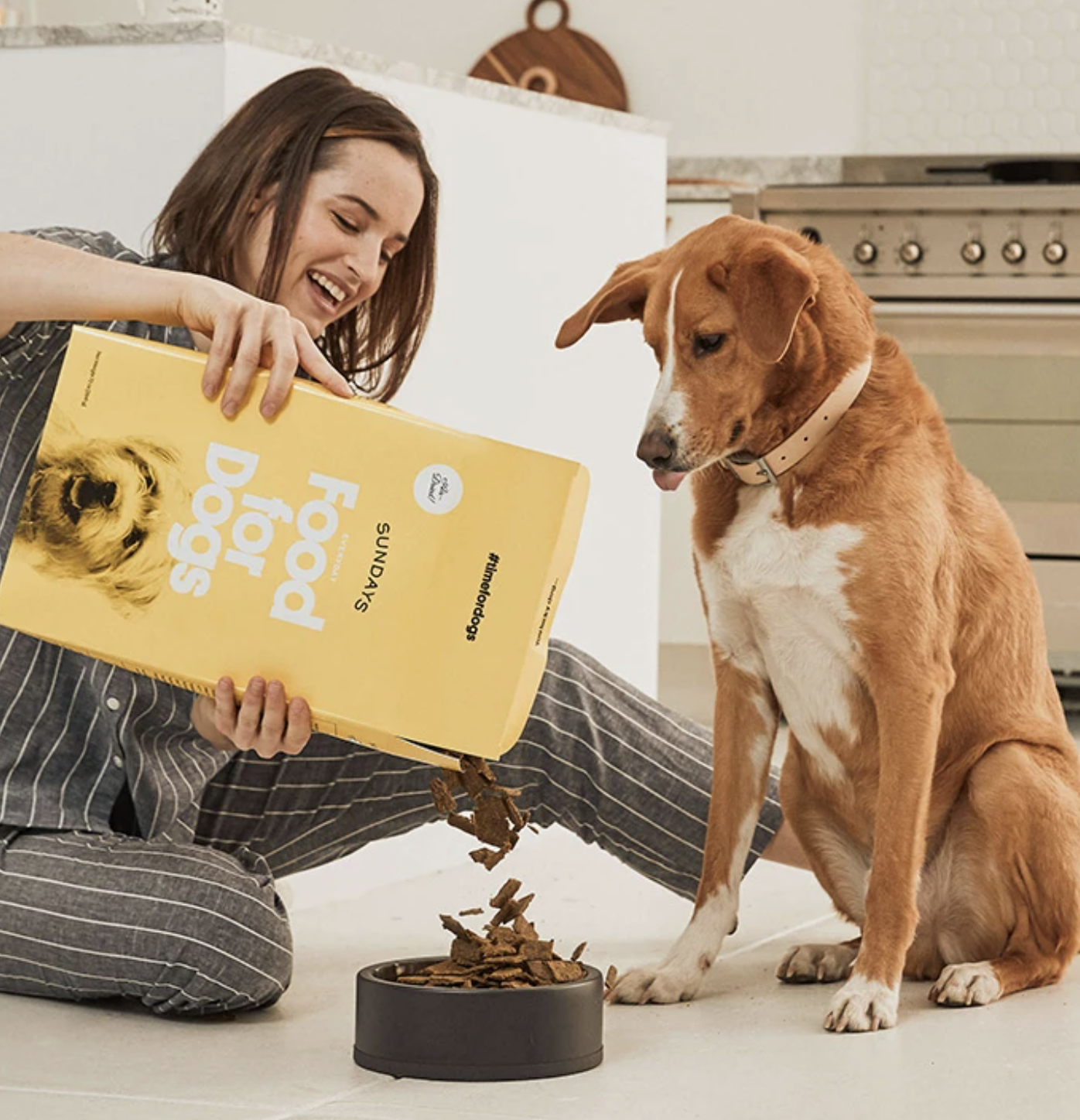 This is an air-dried food. It has the convenience of kibble (just pour it in the bow) but is much much healthier. It's like little pieces of jerky, so dogs go crazy for it. There are a number of air-dried foods on the market. My dogs tested 3 of them. You can see the results of the air-dried food test here.

Get 35% off your first order + free shipping w/ code ROCKY35

3. We Feed Raw.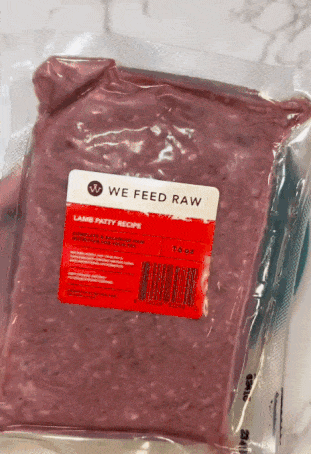 This raw food for dogs comes delivered to your home is perfectly sized portions for your pup. They primarily source their ingredients from trusted U.S. farmers, with two exceptions: venison and lamb. These ingredients are sourced from New Zealand, where some of the highest-quality and most ethically raised venison and lamb can be found. Pasture-raised and grass-fed and finished, we highly recommend trying these formulas if you're interested in the best-quality ingredients. Save 25% on your first order.

Supplements: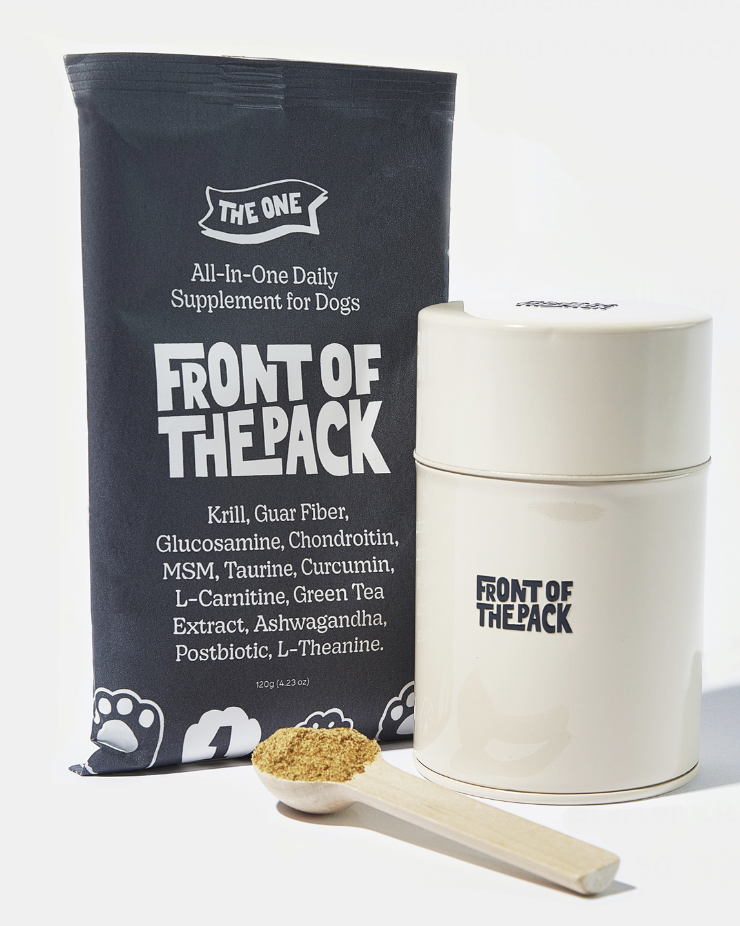 I highly recommend using a supplement on your dog's food, not matter what you feed them, to ensure the meal is balanced and they are getting all the right supplements to help them stay healthy. The supplement I use is called The One from Front of the Pack. It has 12 ingredients that have been clinically-proven to keep your dog's joints, skin, heart, digestion, and even their breath in tip-top shape. It's also a powder, so easy to sprinkle on your dog's food. For a limited time, when you buy one month you get a second month free.

Have you heard about fluffy Frenchies?! Find out more here.