Long-Haired Dapple Dachshunds are the 'Tiny Supermodels' of the Dog World
Dachshunds are the smallest breed in the hound group, and have some of the shortest legs of any dog in the world! Sometimes called a big dog in a small dog's body, the Dachshund comes in an array of colors and patterns that make it an attractive pooch for the aesthetically inclined. The dapple Dachshund is particularly coveted amongst Dachshund lovers, and it's no wonder—dapple Dachshunds sport stunning splatters of tri-coloring that make every individual entirely unique.
Here, we're focusing on the long-haired dapple Dachshund in particular, and sharing everything you need to know about owning this loving yet independent breed.
Meet 5 Long Hair Dapple Dachshunds
If you can't quite imagine what the "dapple" pattern looks like, imagine no more! Here are five beautiful examples of long-hair dapple Dachshunds who have devoted followings on Instagram.
1. Curtis
Curtis (left) is a 3-year-old long-haired dapple Dachshund from Johannesburg, ZA. Curtis has a younger brother, Archie (right), a 2-year-old long-haired cream piebald Dachshund! These stunning brothers love to swim, play on the beach, and explore with their humans.
---
2. Doughall
Doughall is a 4-year-old dapple long-haired mini Dachshund who lives in Cape Town, ZA with his sister Darcy! A dignified little fellow, Doughall is a fine example of how thick and luxurious the Dachshund's fur can be!
---
3. Bumper
This handsome chocolate fellow is a long-haired dapple mini Dachshund from Dublin, IE where he lives with his sister, Binky, a miniature long-haired cream Dachshund. Bumper loves to go everywhere with mum and dad, and is usually sporting the latest fashions!
---
4. Wilfred
Hailing from Dallas, TX, 2-year-old Wilfred is a gorgeous dappled long-hair mini Dachshund with beautiful red accents! A touch of a drama-king according to his humans, Wilfred likes to make his opinions known!
---
5. Alfie
Alfie (right) is a 3-year-old silver and tan long-haired dapple Dachshund from Northern Whales. Dottie, his sister, is also a dapple, but she's a smooth short-haired Dachshund. Take a look at the difference in the length of their coats!
---
Long-Haired Dapple Dachshund Basic Info
If you're looking for a small dog whose look makes a glamorous impact, the long-haired dapple Dachshund might just be your perfect pup! No two dapple Dachshunds look quite alike, and they certainly stand out in a crowd of standard Dachshunds.
While dapple Dachshunds can also be short-haired, long-haired dapple Dachshunds have just a touch more drama and are a touch more rare. Available in standard and mini, long-haired dapple Dachshunds aren't exactly a dime a dozen, and you'll need to exercise some patience if you want to have one of your own.
We know the dapple Dachshund is beautiful, but don't let the glamor blind you. Dachshunds are active, independent, sometimes stubborn little dogs who require lots of care, attention, and stimulation.
Long-Hair Dapple Dachshund Temperament
Extremely loving dogs, long-hair dapple Dachshunds develop deep connections with their families and often make excellent pets for people with young children. Sturdy despite their short stature, Dachshunds are always ready to adventure or get into mischief, making them a good choice for families that like to stay active.
Despite their friendly disposition, Dachshunds can be territorial, independent, and stubborn, which can make them tough to train especially for first-time dog owners. True to their hound nature, Dachshunds love to smell and get into everything, so their owners will need to be prepared to manage their natural impulse to investigate.
Long-Hair Dapple Dachshund Size
Dachshunds come in two sizes: standard and miniature.
The standard long-haired dapple Dachshund weighs between 16—32 lbs and stands at around 8-9 inches at the shoulder.
The miniature long-haired dapple Dachshund weighs 11 lbs or less and stands at only 5-6 inches at the shoulder.
Long-Hair Dapple Dachshund Health
Dachshunds are generally healthy dogs, especially for a smaller breed. However, they are prone to a number of health issues related specifically to their unique physiology.
Because of their long backs, long-hair dapple Dachshunds can be prone to back injury and disc degeneration. Similarly, their short legs take on a lot of strain, and the breed is prone to developing joint problems, particularly in the knees and elbows. Finally, dog breeds with long drop ears—like the Dachshund—may be more susceptible to ear infections.
Dapple Dachshunds are not prone to any specific health issues, but they should not be bred to other Dachshunds carrying the dapple gene.
Risks of Breeding Dapple Dachshunds
Double-dapple (or double-merle) dogs are dogs whose parents both carry the dominant dapple gene. Unfortunately, most double-dapple Dachshunds are often born with serious and sometimes lethal birth defects including:
Partial or complete blindness
Improperly formed or missing eyes
Partial or complete deafness
Missing or deformed ears
In addition to these health issues, double-dapple Dachshunds don't have the same speckled appearance as their single-dapple counterparts. Double-dapples are almost entirely white with just a few spots of color here and there.
Single-dapple Dachshunds—or Dachshunds with one dapple and one non-dapple parent—do not have these health issues.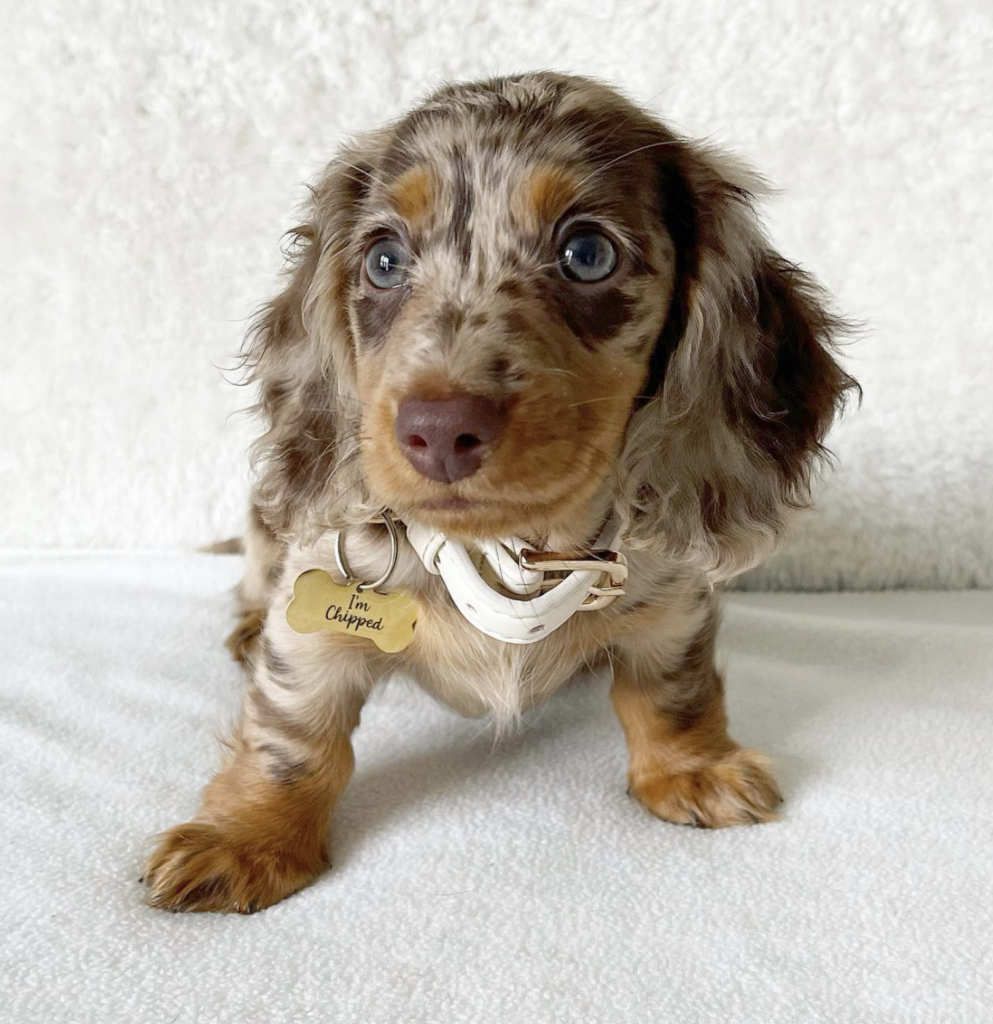 Where Can I Find a Reputable Long-Haired Dapple Dachshund Breeder?
When purchasing a purebred dog breed like the long-haired dapple Dachshund, it's important to do your research. Not only do you want to make sure you are spending your money on a puppy with carefully tested and selected genetics, but you also want to make sure you are supporting an ethical breeder.
Try starting on the American Kennel Club Marketplace where you can search for puppies from trusted breeders. While the AKC Marketplace is relatively reliable, you should still independently research the breeder you select to ensure they are the right fit.
If you want to adopt instead of buying a long-haired dapple Dachshund, try searching for breed-specific rescues like the Dachshund Rescue of North America. It's also always worth making a trip to your local humane society or animal shelter—you might just find your new best friend!
Long-Haired Dapple Dachshund FAQ
There's a lot to learn about the long-haired dapple Dachshund, and we are only covering the tip of the iceberg! To try to give you a little more insight into what it takes to own this breed, we're answering some of the internet's most frequently asked questions.
What is the difference between merle and dapple Dachshunds?
Merle and dapple Dachshunds are the same thing! This splotchy, spotty pattern is called dapple when used to describe Dachshunds but is called merle when used to describe other breeds. If you're on the hunt for a long-hair merle Dachshund, you might want to change your search to use the term "dapple" instead, since this is the appropriate word for this breed. 
Are dapple long-haired Dachshunds rare?
Sort of! Long-haired Dachshunds are slightly less common than their smooth-coated siblings, but they're not exactly rare. The long-hair gene is recessive, which means both parents must carry the gene for all the puppies to have long hair. 
Dapple is a dominant gene, so only one parent needs to be dapple to produce dapple puppies. In fact, because of the risks associated with double-dapple genes, breeders should never breed two dapple Dachshunds together.
So, to produce a long-haired dapple Dachshund, both parents must carry the recessive long-haired gene, and one must carry the dominant dapple gene. Because of the specific circumstances needed to breed these pups, long-haired dapple Dachshunds are relatively rare.
Do long-haired dapple Dachshunds shed?
Yes! Long-haired dapple Dachshunds are moderate shedders. Some long-haired Dachshunds have thicker coats that drop more fur, while others have thinner, silkier coats that are a little easier to maintain. Both varieties can benefit from regular brushing and visits to the groomer. 
Are long-haired dapple Dachshunds hypoallergenic?
No! Dachshunds are not hypoallergenic or low shedding. 
How big are miniature long-haired dapple Dachshunds? 
Miniature long-haired dapple Dachshunds weigh 11 pounds or less. They stand about 5-6 inches high at the shoulder.
Why can't you breed 2 dapple Dachshunds?
Double-dapple Dachshunds—or the puppies produced when you breed two dapple Dachshunds together—are often born with serious birth defects. In many cases, these defects are so severe that the puppies do not make it to adulthood. 
Do dapple Dachshunds have problems?
While double-dapple Dachshunds are often born with serious health problems, single-dapple Dachshunds are generally healthy dogs! As long as they are bred correctly and have only one parent that carries the dapple gene, dapple Dachshunds shouldn't have serious health issues.
What's the difference between a dapple and a double-dapple Dachshund?
A dapple Dachshund (or single-dapple Dachshund) has one parent that carries the dapple gene. A double-dapple Dachshund has two parents that carry the gene. Double-dapples are often born with lethal health issues, while single-dapples are not. Ethical breeding programs strictly prohibit the breeding of double-dapples, so be sure to do your research when selecting a breeder. 
What is the best food for your dog?
The three foods that are super healthy and that almost every dog loves, even the pickiest dogs, are:
1. The Farmer's Dog.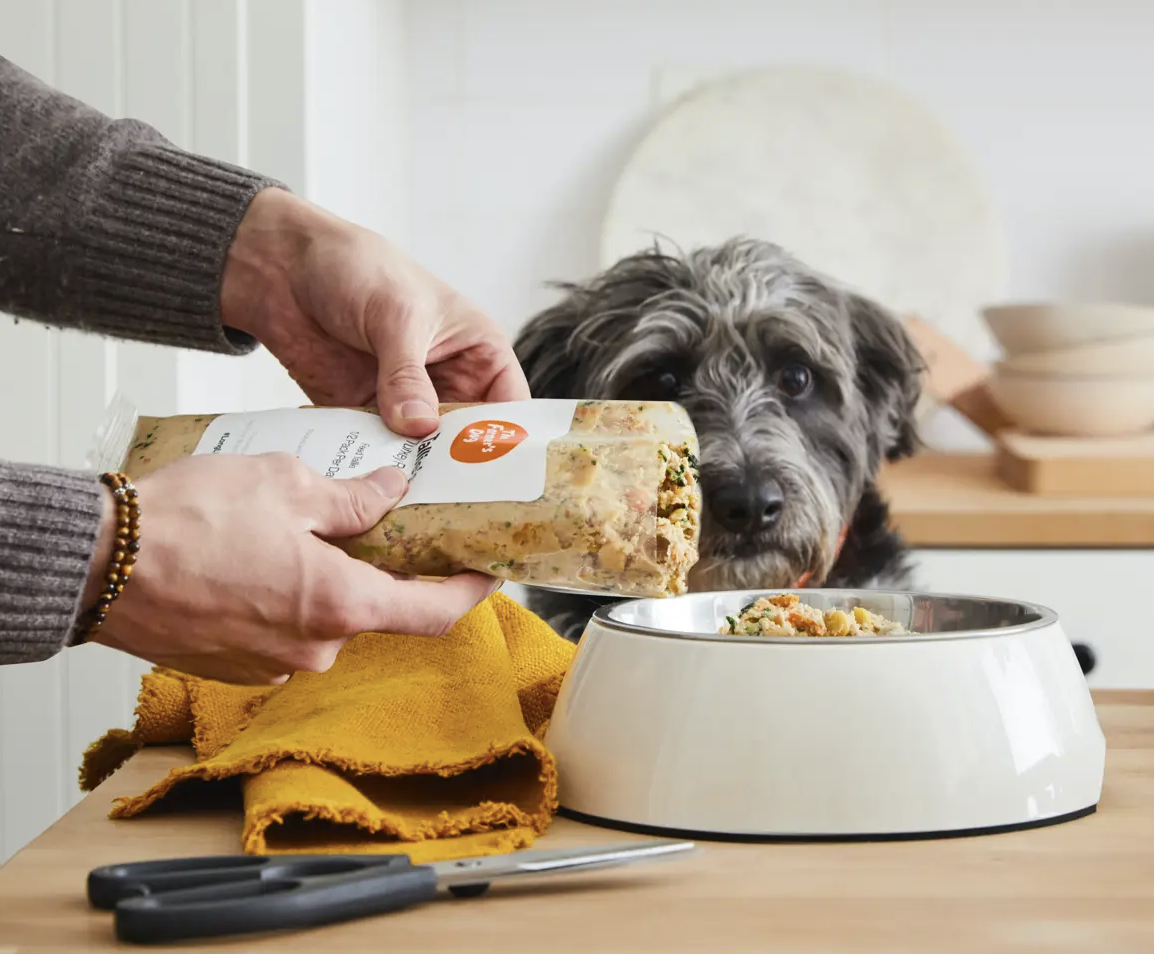 This is a fresh-frozen food that's delivered to your home in just the right amounts for your dog. There are a number of fresh frozen dog foods available on the market and I tested them all. The Farmer's Dog came up the winner with my picky dogs. You can see the fresh frozen food test here.

Save 60% on your first order
—
2. Sundays Food For Dogs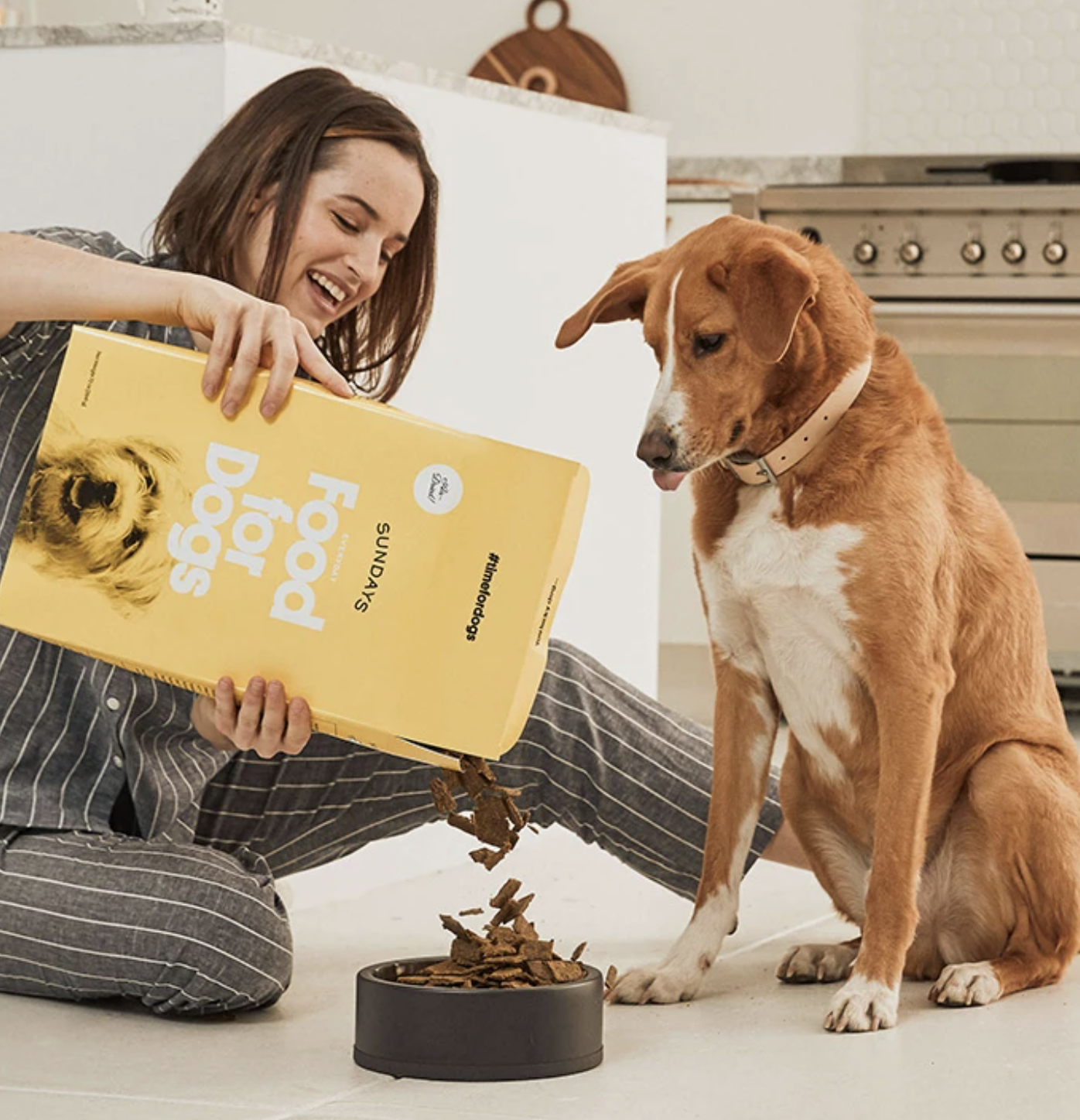 This is an air-dried food. It has the convenience of kibble (just pour it in the bow) but is much much healthier. It's like little pieces of jerky, so dogs go crazy for it. There are a number of air-dried foods on the market. My dogs tested 3 of them. You can see the results of the air-dried food test here.

Get 35% off your first order + free shipping w/ code ROCKY35

3. We Feed Raw.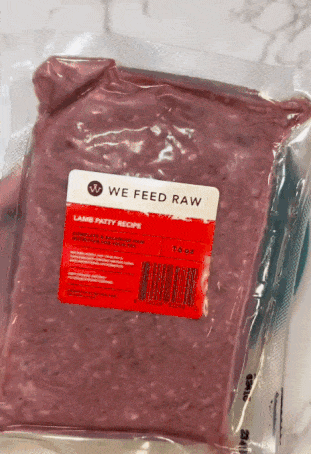 This raw food for dogs comes delivered to your home is perfectly sized portions for your pup. They primarily source their ingredients from trusted U.S. farmers, with two exceptions: venison and lamb. These ingredients are sourced from New Zealand, where some of the highest-quality and most ethically raised venison and lamb can be found. Pasture-raised and grass-fed and finished, we highly recommend trying these formulas if you're interested in the best-quality ingredients. Save 25% on your first order.

Supplements: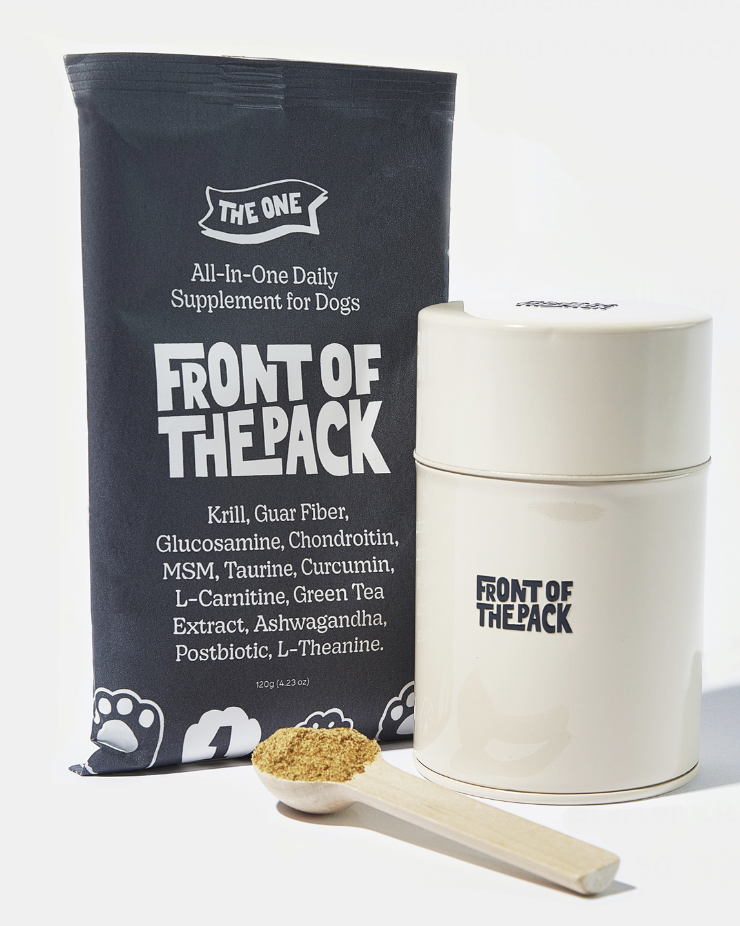 I highly recommend using a supplement on your dog's food, not matter what you feed them, to ensure the meal is balanced and they are getting all the right supplements to help them stay healthy. The supplement I use is called The One from Front of the Pack. It has 12 ingredients that have been clinically-proven to keep your dog's joints, skin, heart, digestion, and even their breath in tip-top shape. It's also a powder, so easy to sprinkle on your dog's food. For a limited time, when you buy one month you get a second month free.

Related Articles: