Blind & Deaf Senior Dog Protects Lost Toddler for 15 Hours!
Not being able to find a child is every parent's worst nightmare, so when 3-year-old Aurora of Queensland, Australia disappeared from her home, her family was understandably terrified.
3-Year-Old Gets Lost In Wilderness
Aurora had wandered off into the bushland, an enormous expanse of wilderness marked by rough terrain and thick grasses, shrubbery, and trees. Surviving in the bushland can be difficult for even seasoned campers, hikers, and wilderness experts, and for a 3-year-old, it could be downright deadly.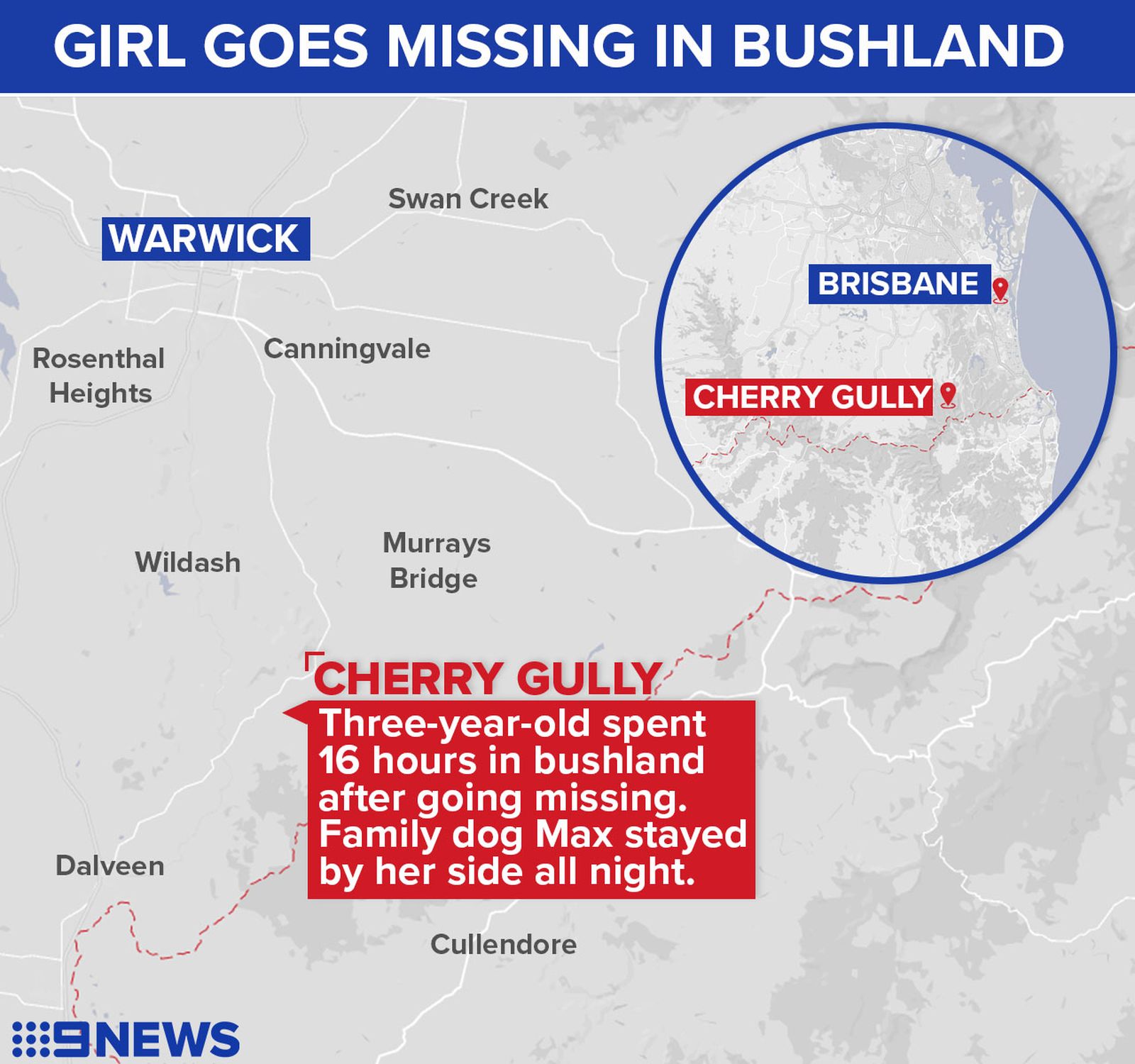 Via 9news
Thankfully, Aurora wasn't alone. Max, the family's 17-year-old Blue Healer had traipsed into the bush with the toddler and was patiently tending to her while a search party was being assembled.
Meet Max. He's 17 years old, deaf and blind
Via 9news
Despite being deaf, partially blind, and pushing 20, Max stayed with Aurora for 15 long hours in the bush. By the end of the ordeal, the weather had started to turn, with temperatures dropping and rain beginning to fall. Cold, tired, and afraid, Aurora curled up in the underbrush. Max curled around her, doing his best to protect her and keep her warm.
Max Stayed With The Toddler for 15 Hours Keeping Her Warm at Night
Via 9news
At last, the search party got close enough to be within earshot, and Aurora started calling for help. In the thick undergrowth, however, it was near impossible to locate the sound. Again, Max stepped in, following the sounds of the search party, he was able to find them on a small path. Thankfully, this group included Aurora's grandmother, who instantly recognized the family dog.
This Senior Dog Found The Rescue Party and Led Them To The Child
Max helped lead the searchers to the place where Aurora was hiding from the rain. Despite his age, deafness, blindness, and exhaustion from the day's adventure, Max didn't rest until Aurora was safely back with their family. Thanks to his loyalty and bravery, Aurora was safe and unharmed when she was found, and this story gets to have a happy ending!
Max, of course, has been heralded as a hero! Receiving praise from admirers around the globe, Max was even made an Honorary Queensland Police Dog for his tremendous bravery.
Seriously, what did we do to deserve dogs?
About Rocky Kanaka
I'm a pet rescue advocate, Emmy-nominated host and creator of my own show. My passion is sharing stories about rescue dogs, pet adoption, fostering, and volunteering because I believe that every dog deserves a loving home.
I'm a dog dad to a rescued boxer named Flip, a blind Cane Corso named Kobe, and a senior terrier-mix named Zoey, along with the many foster dogs I help on their way to their forever home.
Enjoy magical transformations, heart-warming rescues and meeting unique people and their incredible dogs.