Watch Shelter Dogs' Adorable Reaction to a Thanksgiving Feast Surprise
The Joy of Giving: A Thanksgiving Like No Other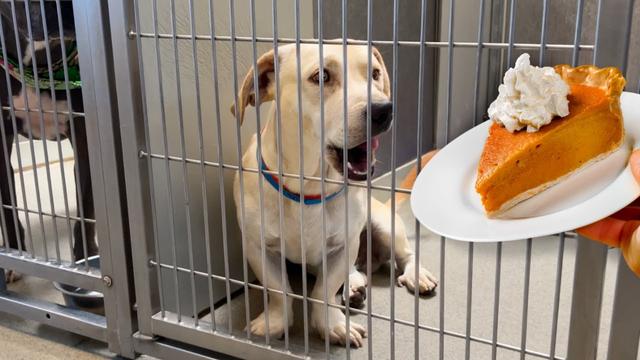 As I stepped into the shelter, the air was filled with an unmistakable sense of excitement and anticipation. It wasn't just any day at the shelter; it was Barksgiving – our unique twist on Thanksgiving, but for dogs. Surrounded by Kelly, Cheryl, and Alexis, we were ready to turn an ordinary day into something extraordinary for these deserving pups. (watch full video above)
The Feast Begins: Sharing Love One Treat at a Time
We laid out an array of treats from my dog bakery – pumpkin pies, pot pies, and festive drumsticks, all specially crafted for our four-legged friends. The first to partake in our Barksgiving feast was a Bull Terrier, eagerly awaiting its share of the feast. As we dished out mashed potatoes and bone broth gravy, the shelter filled with a sense of joy and gratitude. Each dog had its moment, savoring treats made with love and care.
Heartfelt Connections: More Than Just a Meal
As we moved from kennel to kennel, each dog's story touched my heart. From a husky with striking blue and brown eyes to an eight-year-old pit bull named Dumpling, each had a unique tale. Some were strays, others had been through tough times, but all were united in their need for love and a forever home. This wasn't just about feeding them; it was about connecting with them, understanding their stories, and giving them a moment of pure happiness.
The Magic of Barksgiving: Spreading Cheer and Hope
The response from the dogs was overwhelming – tails wagging, eager eyes, and gentle takes. It was a reminder of the simple joys in life and the power of giving. As we continued, each dog brought a new story, a new reason to smile. From shy pups to those who couldn't get enough of the treats, every moment was a testament to the spirit of Barksgiving.
An Invitation to Make a Difference: Adopt and Love
As we wrapped up our Barksgiving feast, I couldn't help but reflect on the impact of our little celebration. These dogs, each with their own personality and charm, were waiting for someone to take them home. I urged everyone to consider adoption, to open their hearts and homes to these wonderful animals. Whether it was a playful husky puppy or a gentle German Shepherd, each deserved a family to call their own.
Related Articles